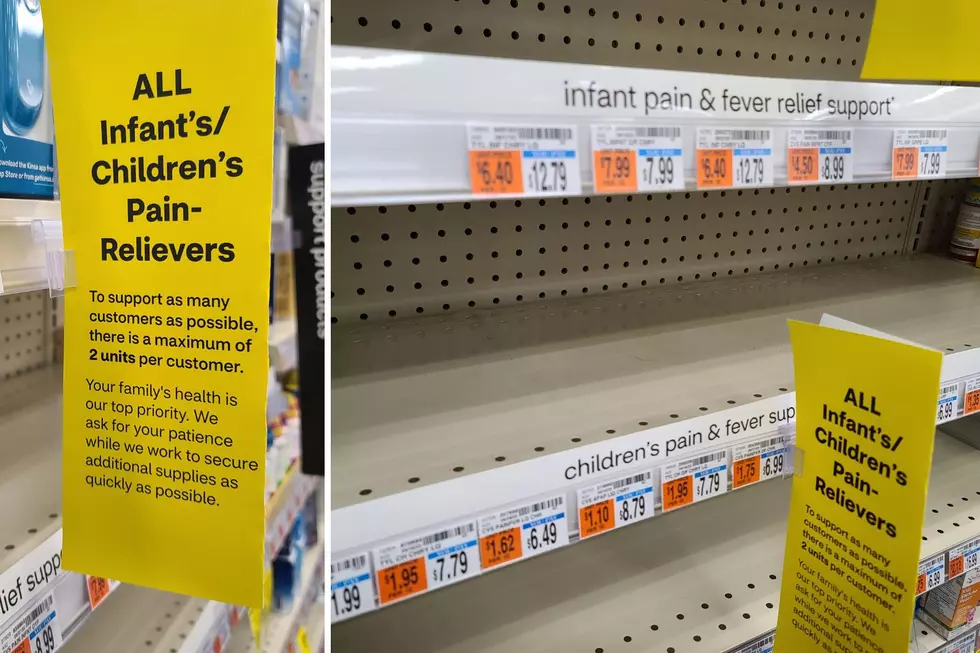 Drug Makers: Kids Medication Shortages in New Hampshire Due to Demand
Empty shelves at a CVS store (Dan Alexader, Townsquare Media)
As the "tripledemic" of RSV, flu, and COVID-19 have increased, parents have struggled to find children's medications to help their kids with the recovery due to high demand.
CVS and Walgreens have put limits on the sale of children's pain relief products online and in their store. CVS is limiting in-store purchases to two units per day. Walgreens is limiting purchases to six over-the-counter fever reducers per transaction, according to a CNN report.
"Due to increased demand and various supplier challenges, over-the-counter pediatric fever reducing products are seeing constraint across the country," Walgreens said in a statement to CNN.
On Sunday, Democratic NY Sen. Chuck Schumer, the Senate majority leader, demanded the FDA investigate the shortage that has resulted partially because of demand created by the "tripledemic."
"Tylenol, Robitussin, Motrin, ibuprofen are the hardest meds to find this holiday season," Schumer said Sunday, according to New York TV station WABC TV. "It's easier to get some of the hottest toys than to get these things."
The Consumer Healthcare Products Association, which represents three major manufacturers of children's pain and fever medications, said their members are working round the clock to alleviate the shortages.
"The reason for the scarcity of OTC children's pain relievers at certain retail locations is a direct result of the recent and rapid increase in demand driven by a rise in pediatric cases of respiratory illnesses including the flu, COVID, and RSV," CHPA said in a statement.
The group suggested that parents choose a different brand with the same ingredients or consider a different formulation like chewables vs. liquid for children over the age of two.
The New Hampshire Department of Health & Human Services is monitoring the shortages, especially acetaminophen and ibuprofen, spokeswoman Laura Montenegro told Seacoast Current.
"Manufacturers have been working to increase production. We encourage Granite Staters to purchase only what they need to allow for other families to be able to buy necessary medications for their family at a time when respiratory illnesses are circulating," Montenegro said.
Contact reporter Dan Alexander at Dan.Alexander@townsquaremedia.com or via Twitter @DanAlexanderNH
Best New England Ski Mountains for Advanced Skiers
What ski mountains are the best mountains in New England for advanced and expert skiers/snowboarders? See the most difficult/best mountains for those looking for some difficult terrain.