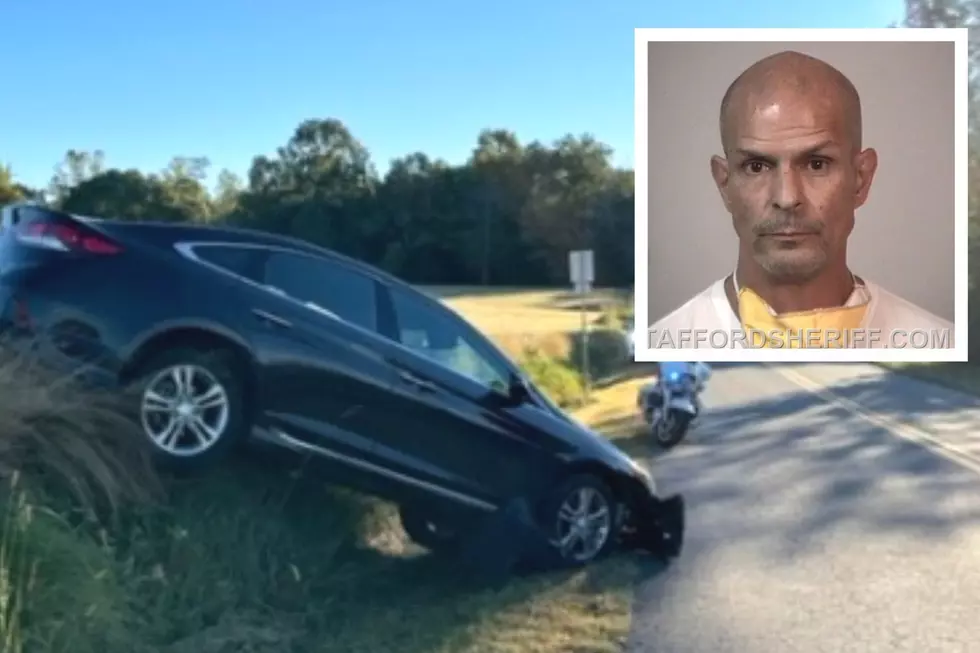 Somersworth, NH, Man Escapes VA Crash on a Garbage Truck
Car driven by William Pandolfi (inset) in Virginia involved in a crash 9/28/22 (Stafford County, VA Sheriff's Office)
A Somersworth man who is a registered sex offender in New Hampshire tried unsuccessfully to escape a crash scene in Virginia by hopping onto a garbage truck on Thursday.
The Stafford County, Virginia, Sheriff's Office said William Pandolfi, 57, drove a 2018 Hyundai Sonata through a field and got stuck while going down a small embankment to get onto another road. Pandolfi, who was the only person in the car, jumped onto the passing truck, but got off when the driver stopped.
Pandolfi told police later he saw the escape in a movie.
When a sheriff's officer saw Pandolfi walking along a road and ordered him to stop, he instead ran into a wooded area. The officer followed Pandolfi when he became entangled in the thorns of a briar patch and surrendered, according to the Sheriff's Office.
Pandolfi was charged with driving under the influence, hit and run, and a traffic lane violation. He was held at the Rappahannock Regional Jail on a $10,000 bond.
Criminal History in New Hampshire
Pandolfi was charged with aggravated felonious sexual assault on a victim under 18 and two counts of sexual assault added to the New Hampshire Registration of Criminal Offenders Search, formerly known as the Registered Offenders Against Children
In 2018, Panfolfi was charged with groping a transgender individual in a Somersworth restaurant, according to a Union Leader report.
A jury found Pandolfi not guilty on the charge of obstructing the report of a crime, but deadlocked on the two counts of sexual assault, attempted sexual assault, burglary, and kidnapping.
Contact reporter Dan Alexander at Dan.Alexander@townsquaremedia.com or via Twitter @DanAlexanderNH
The Coolest Collections From the People of New Hampshire
These are real collections from people in New England!