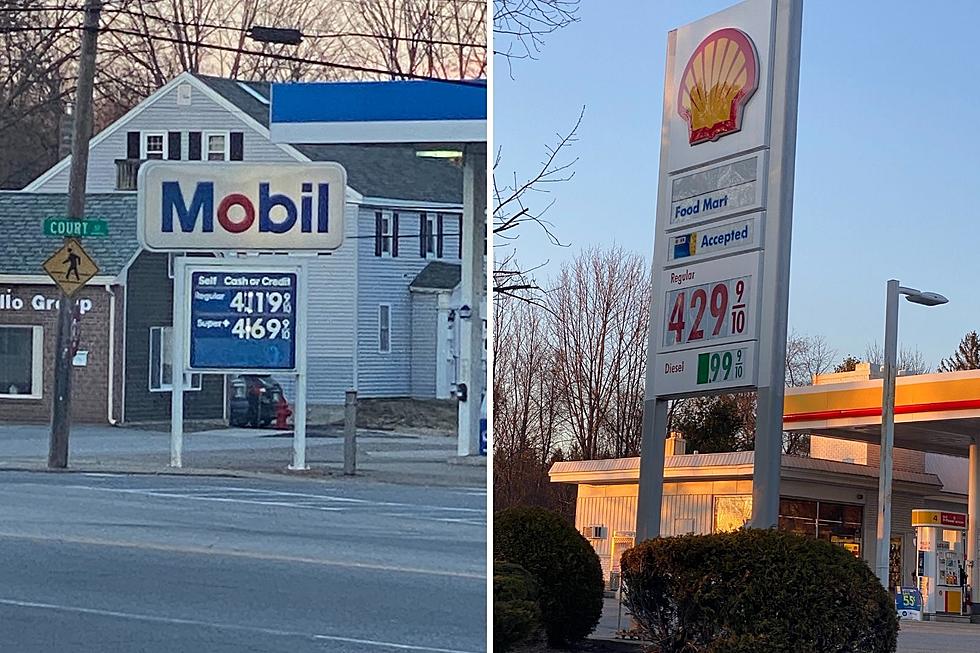 Why Do Gas Prices Keep Dropping in NH?
Gas prices in Dover 3/21/22 (Jolana Miller, Townsquare Media)
While Seacoast gas prices are still in record territory, they have dropped from their highs of just a week ago. Is that a trend that will continue?
The average price of regular in New Hampshire was $4.196 on Tuesday, down seven cents from a week ago according to a AAA survey of prices. Maine's average was also $4.195, down also down six cents and the cheapest in New England, while Massachusetts' average is $4.269, down eight cents from Thursday.
"The primary reason for that is the lower global price of crude oil which peaked shortly after the Russian launch of the war in Ukraine. It's now more than $20 lower and hovering around $105 a barrel domestic," AAA Northern New England spokesman Pat Moody told Seacoast Current.
Another reason is that gas demand is defying the seasonal trends that are usually present during this time of year that drive up prices, like the switch to summer blends and refinery maintenance.
"What we're seeing and suspecting is that the uptick in gas prices has created a drop in demand and people may be driving a little less in our surveys. We saw that 59% said they would change their driving habits," Moody said.
Despite their frustration at higher prices, customers are not taking it out on their local gas station, according to Kevin Daigle, Presdent and CEO of the New Hamsphire Grocer's Association.
"We have an educated customer," Daigle told Seacoast Current. "I think everybody realizes it's not your local shop selecting to raise the price because the shop on Main Street and the shop on Elm Street, they're the same. Everybody's rising at that same rate. It's not the owners deciding to make a profit."
Still Buying Coffee with Gas
Daigle said people are creatures of habit and despite the higher price at the pump, they are still going inside for their usual coffee and lottery tickets.
"If my habit is to stop at my local convenience store and top off the tank and maybe get a breakfast sandwich, they're continuing to do that," Daigle said.
In fact, Daigle said stores have recovered from the height of the pandemic when no one went inside.
The Five Things That Determine the Price of Gas
Daigle said there are five components that affect the price of a gallon of gas: the price of crude oil, the refining of the gasoline, the gas tax, transportation from the refinery to the pump, and the profit for the gas station.
"Over 50 percent is that cost of crude oil," Daigle said. "Your next segment is transportation of that gasoline from refinement to ground at your convenience store. Transportation of any good like the cereal on your shelf to the milk in your bottle and the gas you put in your tank, that's all delivered to you by a truck that's fueled by gas."
Relief for Home Heating Oil Customers
It's not just the price at the pump that's going up. Oil and natural gas prices have climbed too.
Sens. Jeanne Shaheen and Susan Collins joined a bipartisan group of legislators from the House and Senate asking the U.S. Department of Health and Human Services to take additional steps to reduce energy costs.
The legislators are concerned about the ability of the Low Income Home Energy Assistance Program (LIHEAP) to offer help and to start preparing for next winter.
"We respectfully request that you work with the Department of Energy to determine the impacts Russia's invasion of Ukraine will have on the home energy prices of low-income Americans for the remainder of this fiscal year and next. We also ask that you make recommendations for additional funding for LIHEAP, including supplemental and contingency funding, to minimize the impacts," reads the letter.
Contact reporter Dan Alexander at Dan.Alexander@townsquaremedia.com or via Twitter @DanAlexanderNH
Trending Stories for Seacoast Current (March 14-20, 2022)