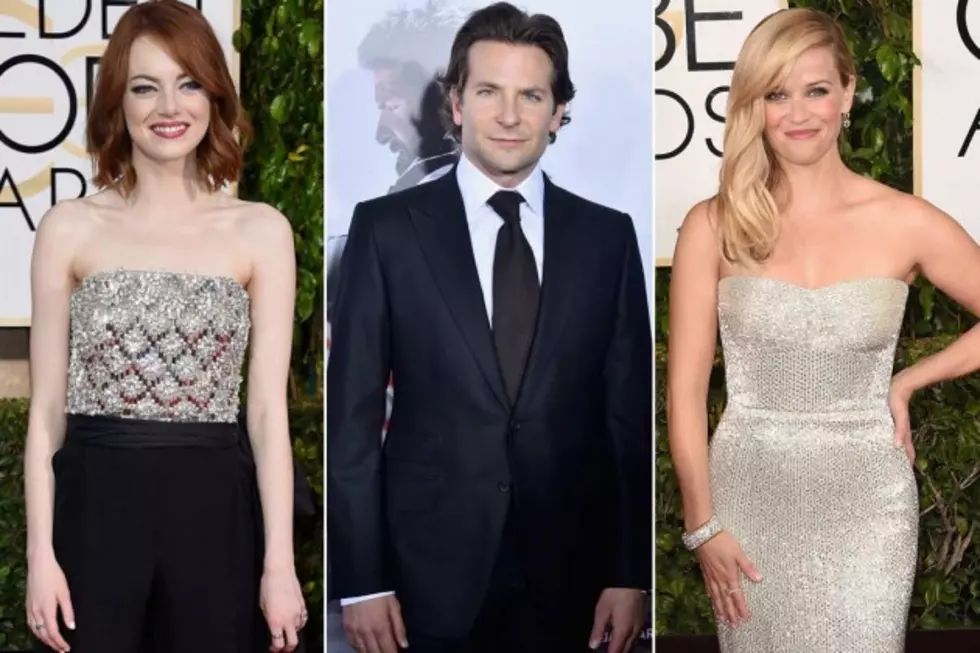 2015 Oscar Nominations — See the Full List
Frazer Harrison / Theo Wargo / Jason Merritt, Getty Images
The 2015 Oscar nominations are officially here!
Some of our fave A-listers received the honor of being in the running this year, like Emma Stone (Best Supporting Actress for 'Birdman'), Bradley Cooper (Best Actor for 'American Sniper') and Reese Witherspoon (Best Actress for 'Wild'). Other standout nominees include John Legend and Common for Best Original Song for 'Glory' from 'Selma,' Rosamund Pike for Best Actress (thanks to her chilling performance in 'Gone Girl'), Eddie Redmayne for Best Actor for 'The Theory of Everything' and more.
Check out the full list of nominees below, and be sure to tune into the Oscars on Feb. 22 at 8:30PM ET.
'American Sniper'
'Birdman'
'Boyhood'
'The Grand Budapest Hotel'
'The Imitation Game'
'Selma'
'The Theory of Everything'
'Whiplash'
Wes Anderson, 'The Grand Budapest Hotel'
Alejandro González Iñárritu, 'Birdman'
Richard Linklater, 'Boyhood'
Bennett Miller, 'Foxcatcher'
Morten Tyldum, 'The Imitation Game'
Steve Carell, 'Foxcatcher'
Bradley Cooper, 'American Sniper'
Benedict Cumberbatch, 'The Imitation Game'
Michael Keaton, 'Birdman'
Eddie Redmayne, 'The Theory of Everything'
Marian Cortiallard, 'Two Days, One Night'
Felicity Jones, 'The Theory of Everything'
Julianne Moore, 'Still Alice'
Rosamund Pike, 'Gone Girl'
Reese Witherspoon, 'Wild'
Robert Duvall, 'The Judge'
Ethan Hawke, 'Boyhood'
Edward Norton, 'Birdman'
Mark Ruffalo, 'Foxcatcher'
J.K. Simmons, 'Whiplash'
Patricia Arquette, 'Boyhood'
Laura Dern, 'Wild'
Keira Knightley, 'The Imitation Game'
Emma Stone, 'Birdman'
Meryl Streep, 'Into the Woods'
Best Animated Feature Film
'Big Hero 6'
'The Box Trolls'
'How to Train Your Dragon 2'
'Song of the Sea'
'The Tale of the Princess Kaguya'
'Everything is Awesome' from 'The LEGO Movie,' Shawn Patterson
'Glory' from 'Selma,' Common and John Legend
'Grateful' from 'Beyond the Lights'
'I'm Not Gonna Miss You' from 'Glenn Campbell: I'll Be Me'
'Lost Stars' from 'Begin Again,' Gregg Alexander, Danielle Brisebois, Nick Lashley and Nick Southwood
Best Makeup and Hairstyling
'Foxcatcher'
'The Grand Budapest Hotel'
'Guardians of the Galaxy'
'The Grand Budapest Hotel'
'Inherent Vice'
'Into the Woods'
'Maleficent'
'Mr. Turner'
'Birdman'
'The Grand Budapest Hotel'
'Ida'
'Mr. Turner'
'Unbroken'
Best Foreign Language Film
'Ida,' Poland
'Leviathan,' Russia
'Tangerines,' Estonia
'Timbuktu,' Mouritania
'Wild Tales,' Argentina
Alexandre Desplat, 'The Grand Budapest Hotel'
Alexandre Desplat, 'The Imitation Game'
Johann Johannsson, 'The Theory of Everything'
Gary Yershon, 'Mr. Turner'
Hans Zimmer, 'Interstellar'
'American Sniper'
'The Imitation Game'
'Inherent Vice'
'The Theory of Everything'
'Whiplash'
'Boyhood'
'Birdman'
'Foxcatcher'
'The Grand Budapest Hotel'
'Nightcrawler'
'Captain America'
'Dawn of the Planet of the Apes'
'Guardians of the Galaxy'
'Interstellar'
'X-Men: Days of Future Past'
Best Documentary, Short Subject
'Crisis Hotline: Veterans Press 1'
'Joanna
'Our Curse
'The Reaper
'White Earth'
Best Documentary, Feature
'Citizen Four'
'Finding Vivian Meyer'
'Last Days in Vietnam'
'Salt of the Earth'
'American Sniper'
'Boyhood'
'The Grand Budapest Hotel'
'The Imitation Game'
'Whiplash'
'American Sniper'
'Birdman'
'The Hobbit - Battle of Five Armies'
'Interstellar'
'Unbroken'
'American Sniper'
'Birdman'
'Interstellar'
'Unbroken'
'Whiplash'
'The Grand Budapest Hotel'
'Imitation Game'
'Interstellar'
'Into the Woods'
'Mr. Turner'
Best Live Action Short Film
'Aya'
'Boogaloo and Graham'
'Butter Lamp'
'Paraveneh'
'The Phone Call'
'The Bigger Picture'
'The Dam Keeper'
'Feast'
'Me and My Moulton'
'A Single Life'
See Emma Stone + More Celebs' Yearbook Photos