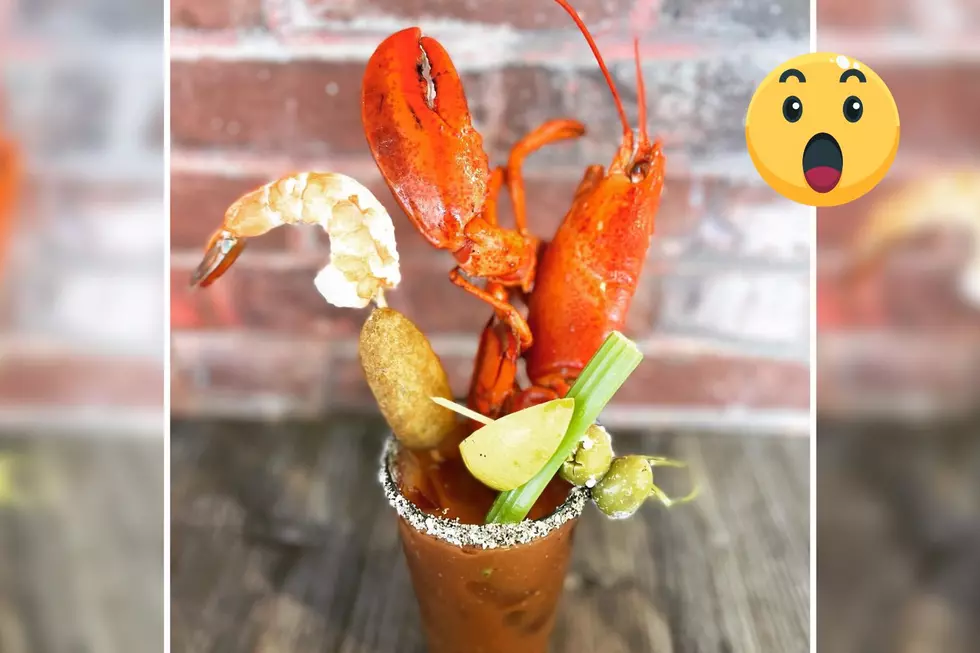 Bloody Mary in Newburyport, MA, is Garnished With a Full Lobster
Sea Level Newburyport via Facebook, Canva
Perhaps you've heard me express my love for Bloody Marys on the air, but in case you haven't, BIG FAN OVER HERE!
I have loved Bloodys for as long as I can remember. When I first turned 21, I didn't really grasp the fact that a Bloody Mary was more of a brunch/daytime drink, so I would order them out at the bar at night. Finally my older brother told me that people don't really do that, and it was pretty weird behavior. That's what siblings are for.
A Bloody Mary is so much more than tomato juice, horse radish, and vodka these days. If you can dream it, you can put it in your bloody! It almost seems like restaurants are in a battle with each other to see who can concoct the most insane Bloody, and I am HERE FOR IT.
A friend who knows about my Bloody obsession sent me this video. It's a brunch place in San Diego called "Farmer's Table".
As you can see, their "Barnyard Bloody" comes with an entire fried chicken as a garnish. A WHOLE DANG CHICKEN! That is both so unnecessary and so amazing at the same time.
I have been on a quest for many moons to find the best, most extravagant Bloody in New Hampshire.
A few months ago, I found the Loaded Bloody Mary at The Tumbledown Farm to Fork. This bad boy has a hard boiled egg, pepperoncini, bacon, shrimp, a slider, sausage link, and more. If you have one of these, who needs an entrée?
Just when I thought I had seen it all, a friend of mine sent me THIS! Behold, the Big Daddy Bloody from Sea Level in Newburyport:
Have you tried this creation? Did it go down smooth? Let us know in the comments, I need details!
12 Things People Say When They Hear You're From New Hampshire
25 Fun Things to do at a Portsmouth, New Hampshire, Bachelorette Party
Portsmouth, New Hampshire, has become a very popular bachelorette party destination. Planning a bachelorette can be overwhelming so we have highlighted all of the best restaurants, breweries and activities our little city has to offer. Get ready for a weekend you and your girlfriends will be reminiscing about for years to come!