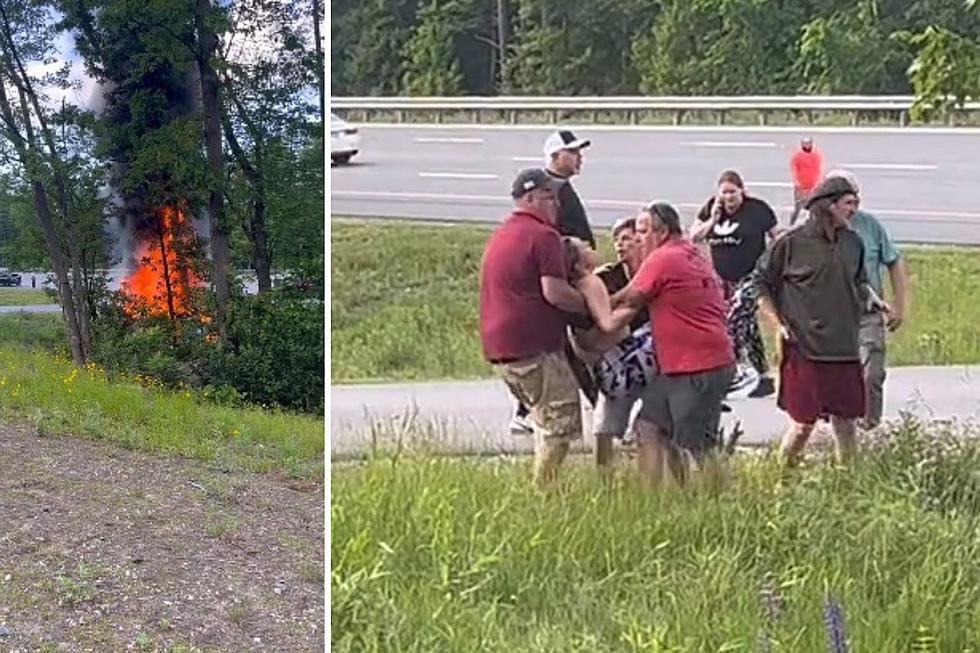 Boston, Massachusetts Photographer Performs Heroic Act Straight Out of a TV Show
Sharman Sacchetti via Twitter
It's a scene from movies and television shows that we've seen all too many times -- someone is either trapped or at risk in a car fire, and people gather together to help save their lives before it's too late.
In fact, the FOX show 9-1-1 took an interesting spin on this scenario back in Season 2, when one of the main characters on the show, Buck, became trapped underneath his station's fire truck and strangers came together to help the rest of his team lift the truck up high enough to drag him to safety.
Unfortunately, often too many times, life can imitate art, which was the scenario in New Hampshire a couple of days ago when a WCVB Channel 5 Boston news crew was covering a story in Manchester about the tragic information that recently came out about Harmony Montgomery, when they came to another possible tragic event.
Car fire on I-93 in Londonderry, New Hampshire
According to Channel 5, reporter Sharman Sachetti and photographer Ted Cooper were traveling southbound on I-93 on Tuesday evening when they came across not only an SUV on fire in the Londonderry stretch of the highway but also an injured woman right near the burning vehicle.
Without thinking twice, Ted hopped into action with a couple of other good samaritans to bring the woman to safety away from the fire.
After getting the woman to safety (who, according to Channel 5, suffered no life-threatening injuries although still serious ones), naturally, the reporter/photographer team went to work getting the details, where they discovered a construction worker helped get the woman out of the vehicle and two off-duty firefighters were involved carrying her to safety.
Truly a group of heroic, selfless people that deserve their props and love. Because without their help and putting their own lives in harm's way, who knows what the outcome of this story could've been.
Thankfully, we'll never have to find out.
Here Are 17 Things In Maine That Will Bite You
Here in Maine, there are plenty of critters that can take a bite out of you if they do desire.
LOOK: TV Locations in Every State