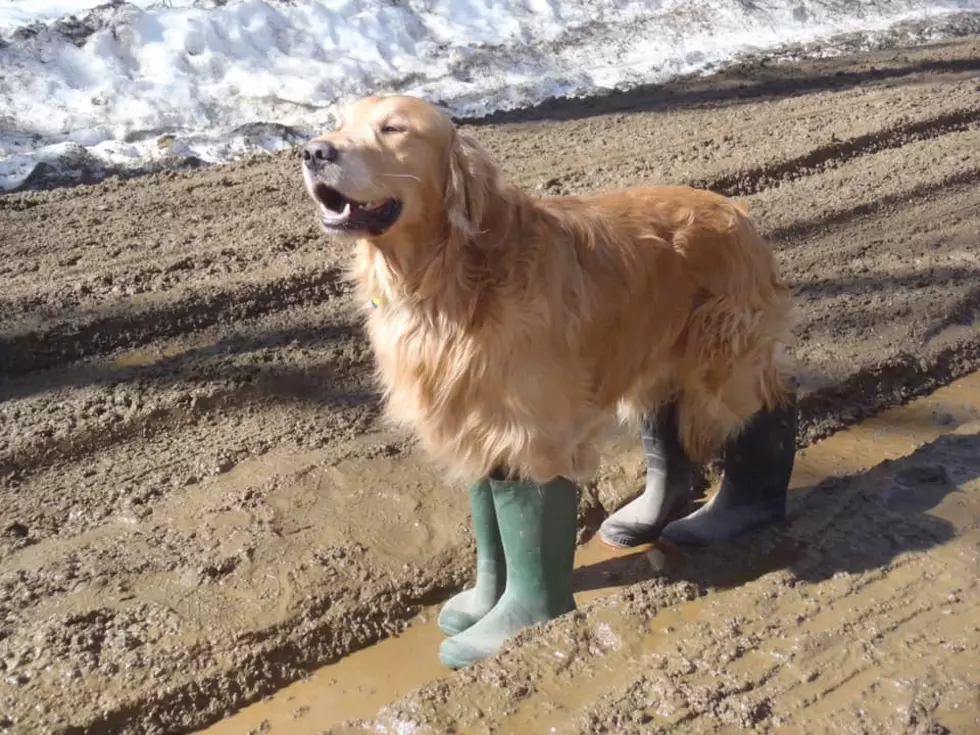 Gabriel the Golden from Canaan, NH, Wants to Remind You it is Mud Season
Charlene Swainamer via Facebook
Gabriel the Golden Retriever from Canaan, New Hampshire, is a vision. His owner Charlene snapped this photo and it practically broke the internet!
Gabriel is making mud season look good with his stylish boots and expression of pure delight. A Facebook user named Rebecca described it perfectly:
"This photo captures the essence of mud season perfectly; enjoying the warmth and sun and believing in drier days ahead. Just look at that face, pure pleasure!"
Charlene was kind enough to share the pic with us on the U Local New Hampshire Facebook page. It is so epic that WMUR featured it on the news the morning! Gabriel, you're famous! Don't forget the little people!
This is my first year living in New Hampshire and I am quickly learning that there are five seasons in the Granite State. Fall, Summer, Winter, Spring and MUD! If you are new to mud season like me, here are some fun facts I learned today:
In rural Northern New England, the transitional period between Winter and Spring means that many snow covered roads are on their way back to dirt, but in-between, it creates lots and lots of mud. Though mud season is fun to joke about, it can cost towns with lots of dirt roads a pretty penny. Sometimes dirt roads needs to be entirely reengineered. According to Wikipedia, this  could run as high as $140,000 per mile in the state of Vermont. OUCH. Some people think driving in mud season is fun if they have a vehicle equipped for "mudding". Others, like myself, find it treacherous.
I wish you a speedy and safe mud season and may we all be as prepared as Gabriel the Golden Retriever.
LOOK: Answers to 30 common COVID-19 vaccine questions
While much is still unknown about the coronavirus and the future, what is known is that the currently available vaccines have gone through all three trial phases and are safe and effective. It will be necessary for as many Americans as possible to be vaccinated in order to finally return to some level of pre-pandemic normalcy, and hopefully these 30 answers provided here will help readers get vaccinated as soon they are able.
Here are 50 of your favorite retail chains that no longer exist.