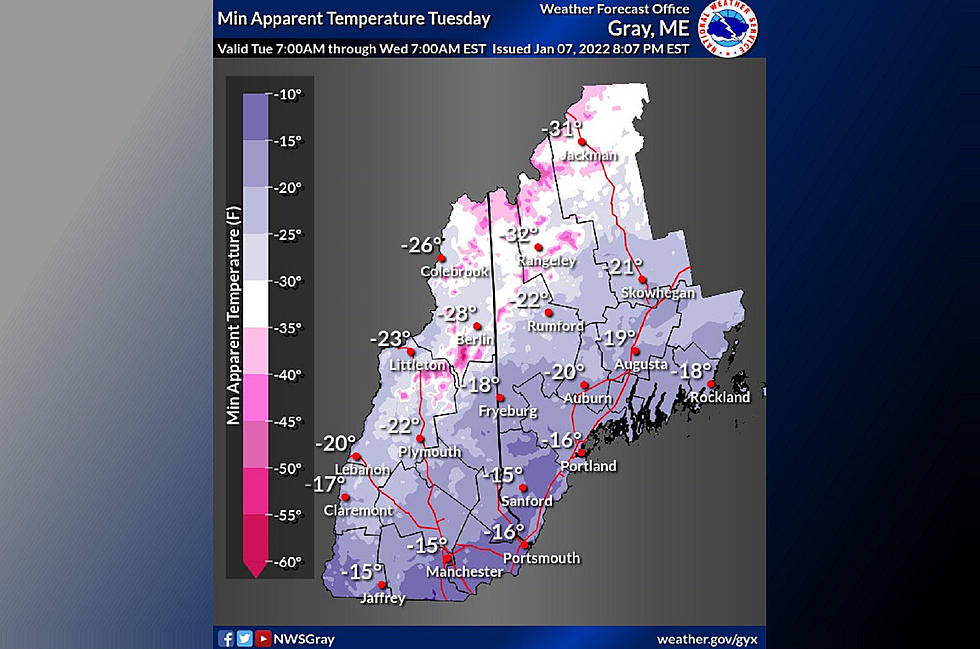 How Low Will It Go? NH and ME Brace For Bitter Cold
Wind chill map for Tuesday 1-11-21 (NWS Gray)
The coldest weather in three years will settle over the Seacoast Monday night and Tuesday, with the wind creating a wind chill well below zero.
An Arctic cold front will drop south Monday afternoon, possibly bringing some snow showers as it passes through. The front will open the gates to the coldest air the Seacoast has had since 2019, meteorologist Derek Schroeter at the National Weather Service in Gray, Maine told Seacoast Current.
Low temperatures Monday night will drop to zero across the area and then inch up to a high of 10 on Tuesday in Portsmouth. Interior regions will remain in the single digits thank to northwest winds 5 to 15 mph, with gusts as high as 20 mph.
"It's the coldest air mass we've seen in a couple of years," Schroeter said. "In interior areas where there's a Wind Chill Advisory, we expect the wind chill to drop to -20 around daybreak Tuesday morning."
The dangerously cold wind chill could cause frostbite on exposed skin in as little as 10 minutes, according to Jennifer Harper, director of the state Department of Safety Division of Homeland Security and Emergency Management
Harper suggested during the severe cold:
Stay indoors as much as possible.
Wear several layers of loose-fitting clothing when outdoors, including hat, scarf and gloves.
If clothing becomes wet, remove it immediately.
Return indoors when shivering.
Bring animals indoors.
A One Day Stay
The good news is that the air mass will move out Tuesday night as winds shift to the southwest.
"We're still looking at a low of 3 in Portsmouth, 3 in Manchester, and zero in York County Tuesday night. During the day on Wednesday, the southwest winds will continue to pump warmer air into the area. We'll warm back up to the freezing mark Wednesday afternoon," Schroeter said.
These weather patterns are becoming more active, and there's a threat of snow for the Seacoast during the upcoming weekend and next week due to some coastal storms.
"Right now, models are all over the place in terms of whether one of these storms can track up the coast and bring us some snow. There's also a fair amount of data saying these storms may stay too far off the coast to hit us," Schroeter said.
Contact reporter Dan Alexander at Dan.Alexander@townsquaremedia.com or via Twitter @DanAlexanderNH
Remember the Immortal Bob Saget in These Photos From the 2000s
America's Dad may be gone, but he surely will never be forgotten for all the funny he brought and the good he did.