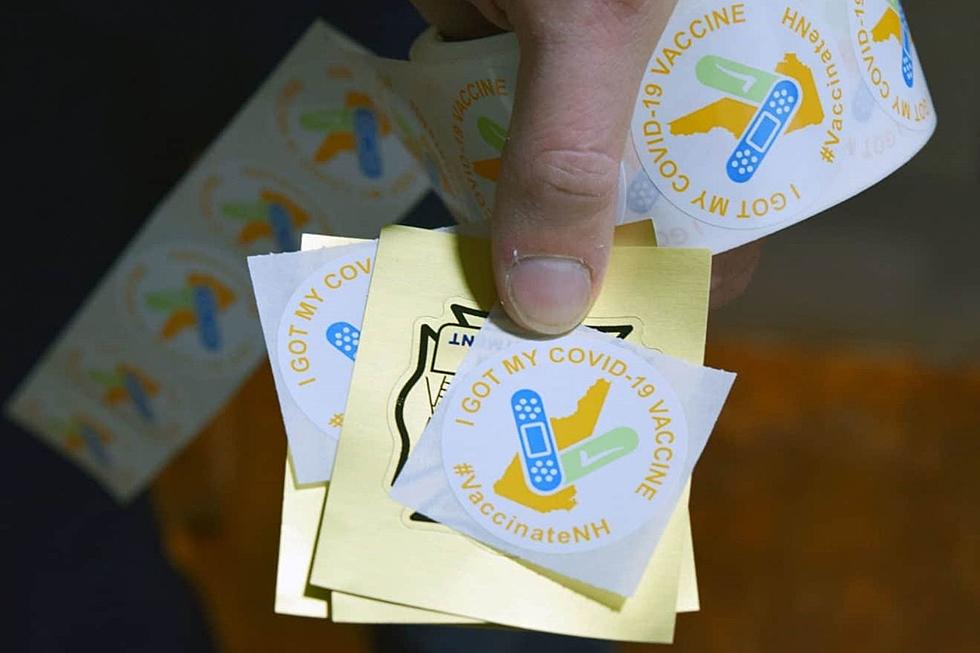 Is the COVID-19 Winter Surge Really Ending in NH?
COVID-19 vaccine sticker (Rochester Public Schools)
New Hampshire has changed the hours for its COVID-19 vaccination sites, some hospitals have adjusted their visitor policies, and the state had eliminated the ability of schools to provide remote learning for all students as the state appears to be coming out of the winter surge.
Gov. Chris Sununu said as much during the State of the State address, which he delivered in person for the first time in two years this week.
"We're moving forward as a state with the mindset that COVID may be here for quite
some time — and we can manage," the governor said.
The number of hospitalizations has dropped to 108 with 846 new cases bring the number of active cases statewide to 3,073 as of Friday, according to the the New Hampshire Department of Health and Human Services.  The number of fully vaccinated residents has remained just under 60% at 56.8%.
Many of the precautions and mandates put in place during the surge are coming down.
The state did not have a statewide mask mandate in place during the winter surge but allowed businesses and municipalities to require mask use. Portsmouth lifted its mandate during the week.
Exeter Hospital adjusted its visitation policy Tuesday to allow patients to have visitors again. Patients may see one visitor at a time who is at least 18 years old.
The city of Boston ended its proof of vaccine requirement for businesses and restaurants on Friday effective immediately.
New Hampshire's state Board of Education and the Legislature's Joint Committee on Administrative Rules ended the option of remote learning because of the pandemic by approving rules on Friday allowing remote education only in cases of bad weather.
Are Things Moving Too Quickly?
State Sen. Tom Sherman, D-24th who has formed an exploratory committee for a run for governor, is pleased at what he sees in terms of the numbers but believes everyone needs to remain "vigilant and smart" and aware of possible new variants.
"This is wonderful news. We're seeing the positivity rates drop, we're seeing hospitalizations drop, we're seeing deaths drop. Hopefully, those who have survived the omicron and delta variants now have some degree of immunity, so we're probably getting closer to where we need to be on immunity," Dr. Sherman told Seacoast Current.
The COVID-19 virus has proven to be unpredictable when it comes to long-lasting immunity, according to Sherman. He is concerned about how long the vaccine offers protection and how future variants of the virus will behave.
"When I think of who is protected, I think people who have had the infection or had a vaccination or booster within the past six months. And that I think is pretty solid," Sherman said.
The omicron variant affected people in different ways, making some very sick and others hardly feel its effects. It was much less severe than the Delta variant, but far more contagious.  But how much protection against a future variant will be offered by existing immunities?
"The perfect storm would be a virus that is highly contagious, severe in that when you get sick you really, really get sick, and is sneaky enough to get around immune defenses. All of that is possible with COVID-19," Sherman said.
Sherman, who is based at Exeter Hospital, trusts the decision to resume some visitation.
"I trust the caution that they show, and if they are ready to admit visitors and have them come in, that's wonderful for patients. They would only do it if they were in a position where they felt really confident that it's not going to put anybody at an increased risk," Sherman said.
Remote Learning Decision is "Short Sighted"
Sherman is less pleased by the remote learning vote, calling it "short sighted" and compared it to the ability for a business to mandate COVID-19 vaccination for its employees.
"You're taking away the ability for schools to protect themselves and to protect their students and their teachers if they have another outbreak," Sherman said. "It shows the Department of Education has not thought this through and they're not allowing schools all the arrows in their quiver necessary to fight back against a resurgence of COVID."
Sherman has a bit of common ground with Sununu in their shared belief that businesses should be able to mandate the COVID-19 vaccine for workers. But, they separate over a bill signed by Sununu that prohibits government entities such as UNH from requiring it.
"I think we should be letting facilities, venues, municipalities, hospitals, make their own decisions at this point based on what they're seeing in their communities. That's also the New Hampshire way," Sherman said.
Fixed State Vaccination Center Hours Change
Beginning Monday, the vaccination sites operated by ConvenientMD will be open Monday to Sunday from 12:00 p.m. to 7:00 p.m. The vaccination sites operated by On-Site Medical Services will be open from Monday to Saturday from 12:00 p.m. to 7:00 p.m.
Rochester Vaccination Site
Monday – Saturday, 12:00 p.m. to 7:00 p.m.
Spaulding Commons
306 North Main Street
Rochester, NH 03867
Stratham Vaccination Site
Monday – Sunday, 12:00 p.m. to 7:00 p.m.
28 Portsmouth Avenue
Stratham, NH 03885
The other fixed locations and their revised hours are:
Ashland Vaccination Site
Monday – Saturday, 12:00 p.m. to 7:00 p.m.
13 West Street
Ashland, NH 03217
Berlin Vaccination Site
Monday – Saturday, 12:00 p.m. to 7:00 p.m.
161 E Milan Road
Berlin, NH 03570
Claremont Vaccination Site
Monday – Saturday, 12:00 p.m. to 7:00 p.m.
367 Washington Street
Claremont, NH 03743
Concord Vaccination Site
Monday – Sunday, 12:00 p.m. to 7:00 p.m.
273 Loudon Road
Concord, NH 03301
Keene Vaccination Site
Monday – Sunday, 12:00 p.m. to 7:00 p.m.
27 Key Road
Keene, NH 03431
Laconia Vaccination Site
Monday – Saturday, 12:00 p.m. to 7:00 p.m.
17 Church Street
Laconia, NH 03246
Manchester Vaccination Site
Monday – Sunday, 12:00 p.m. to 7:00 p.m.
840 Hooksett Road
Manchester, NH 03104
Nashua Vaccination Site
Monday – Sunday, 12:00 p.m. to 7:00 p.m.
34 Northwest Blvd.
Nashua, NH 03063
Salem Vaccination Site
Monday – Sunday, 12:00 p.m. to 7:00 p.m.
315 South Broadway
Salem, NH 03079
Contact reporter Dan Alexander at Dan.Alexander@townsquaremedia.com or via Twitter @DanAlexanderNH
You Can Spend the Night in These 8 Lighthouses in New England
These eight lighthouses offer overnight stays so you can fully immerse yourself in the keeper life on the coast.