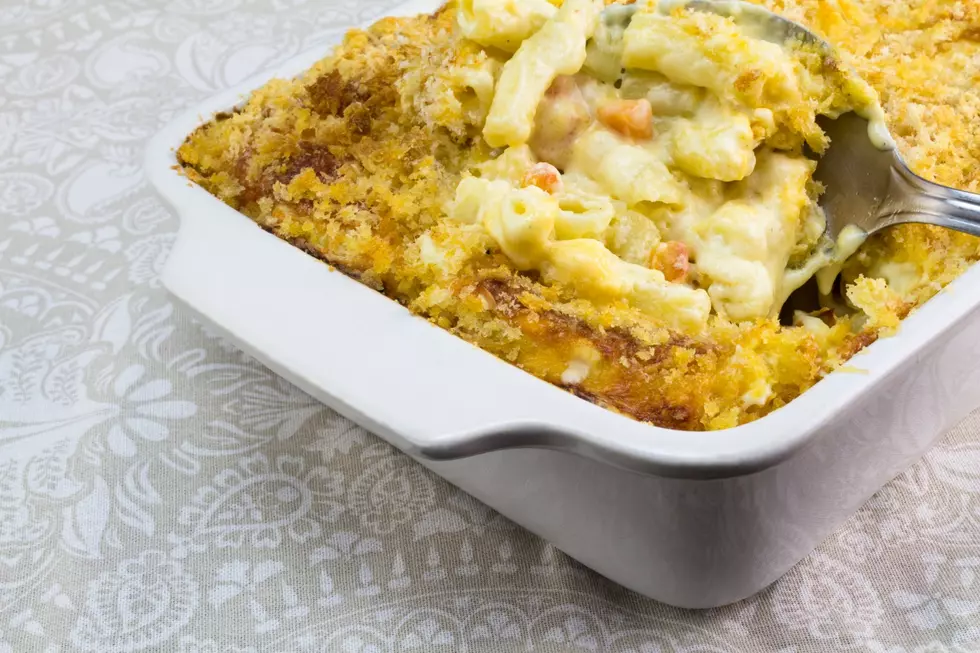 This Mac-n-Cheese Sounds Perfect On A Snowy NH Day
Thinkstock
I'm thinking if you have to be snowed in all day why not eat something really good...like Mac-n-Cheese. And I'm not talking about that stuff out of a box. Look Kraft Mac-n-Cheese is a staple of every kid's diet. But you're a grown up now. It's time to make REAL mac-n-cheese.
I love to cook. So I scoured the internet for the perfect mac-n-cheese recipe. I found this one for Five Cheese Baked Mac-n-Cheese on Buzzfeed...along with a bunch of others. haven't tried it yet...but I'm thinking today or tomorrow sounds like the perfect day for it. Take a look...and if you have a favorite recipe for a snowy day...I'd love to see it.
Ingredients:
1 lb dry gemelli pasta (can substitute elbow macaroni)
3 tablespoons unsalted butter
1 tablespoon, minced garlic
3 1/2 tablespoons all purpose flour
2 cups whole milk
2 tablespoons fresh lemon juice
3 ounces white extra sharp cheddar cheese, shredded
3 ounces Gruyere, shredded
3 ounces Havarti, shredded
3 ounces Manchego, shredded
1.5 ounce Parmesan cheese, grated
12 ounces cooked bacon, crumbled
2 tablespoons chives, thinly sliced
topping:
3 slices sourdough bread, crusts removed and cut into 1/4 inch cubes
1/4 cup (1/2stick) unsalted butter
2 tablespoons chives, thinly sliced
1 tablespoon unsalted butter melted
salt and pepper to taste
Directions:
1. For topping: Toss all ingredients together in a mixing bowl until all cubes are coated in butter. Lightly season with salt and pepper. Set aside until ready to use.
2. Preheat oven to 375°F.
3. Fill a large pot with water and bring to a boil. Once the water comes to a boil add a generous amount of salt (2½ – 3 tablespoons) and then the pasta.
4. Boil pasta for 10 to 12 minutes or until al dente, stirring occasionally. Drain pasta and set aside in a large mixing bowl.
5. Melt butter over medium heat in a medium saucepan. Add garlic and sauté for 30 seconds. Sprinkle flour over butter mixture and whisk together. Allow mixture to cook for 2 to 3 minutes.
6. Whisk milk into flour mixture and continue to whisk until fully incorporated and no lumps remain. Allow mixture to simmer until thick enough to coat the back of a wooden spoon, 3 to 4 minutes.
7. Place all shredded and grated cheeses into a mixing bowl and toss together with lemon juice.
8. Stir cheese into the béchamel sauce and stir until cheese just melts and creates a smooth sauce.. Season with salt and pepper.
9. Fold cheese sauce into pasta until just combined. Fold in bacon and chives until completely mixed.
10. Pour macaroni into a buttered 8"x8" baking dish and spread evenly. Sprinkle the top with the buttered cubes of sourdough and bake for 20 to 25 minutes.
11. Remove from oven and allow macaroni and cheese to cool for about 7 minutes before serving.