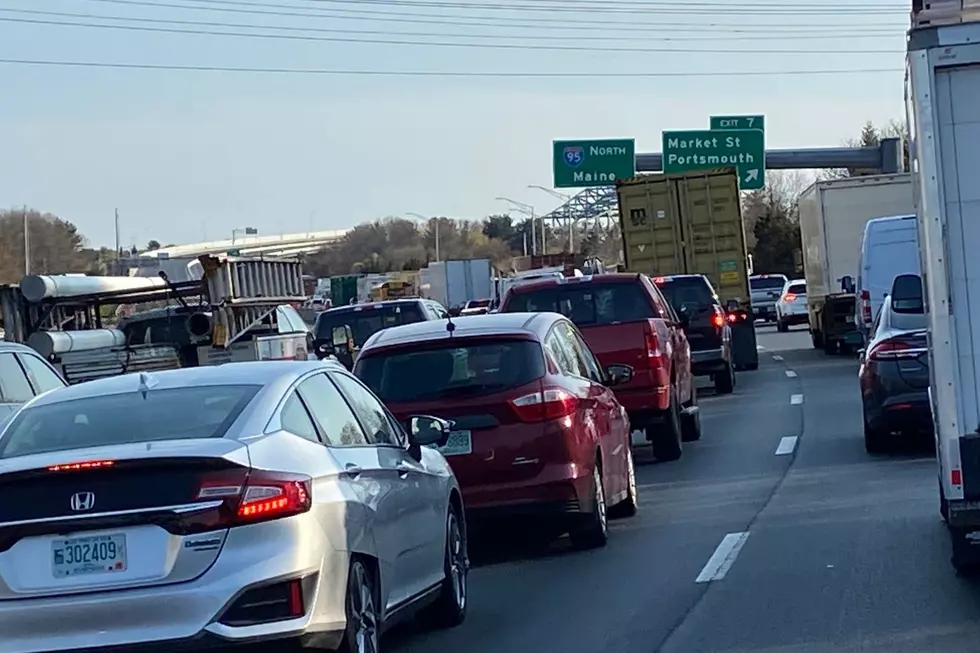 Why Was the Entire Route 95 Piscataqua River Bridge Closed?
Northbound traffic on Route 95 in Portsmouth 5/5/22 (Jaad Naamani, Townsquare Media)
A fluid situation on the Piscataqua River Bridge forced police to make the decision to close the Route 95 crossing between Maine and New Hampshire during Thursday morning's commute.
The closure brought traffic to a standstill on both sides of the bridge, creating big delays through downtown Portsmouth as drivers tried to use the other bridges. Thousands were late for work, missed appointments, and had their routines disrupted.
"We understand that the public was inconvenienced, but we would like to thank them for their patience which helped contribute to a successful outcome," Maine State Police spokeswoman Shannon Moss said in a statement.
Maine State Police found a New Hampshire man along the northbound lanes having a "mental health crisis" around 6:30 a.m, according to Moss. He was jumping from the bridge to the jersey barriers and then onto the catwalk underneath the bridge, according to Moss, where he could have fallen 100 feet with the wrong move.
The northbound lanes were initially closed, but traffic noise made it difficult for negotiators to hear the man in person or on the phone. Around 8 a.m., the decision was made to close the southbound lanes as well.
Around 10:30 a.m., the man surrendered to police and was placed into custody. Once an investigation into the incident is complete, the York County District Attorney will determine whether any charges will be filed, Moss said.
New Hampshire State Police, Portsmouth Police, Rye Police, the Portsmouth Fire Department, the Maine Turnpike Authority, and the New Hampshire DOT all assisted Maine State Police during the incident.
If you feel you or someone you know may be in crisis, call the National Suicide Prevention Hotline, 1-800-273-TALK, or the Portsmouth Regional Hospital crisis-suicide hotline at 603-433-5370.
Contact reporter Dan Alexander at Dan.Alexander@townsquaremedia.com or via Twitter @DanAlexanderNH
Trending Stories for Seacoast Current (April 25-May 1, 2022)