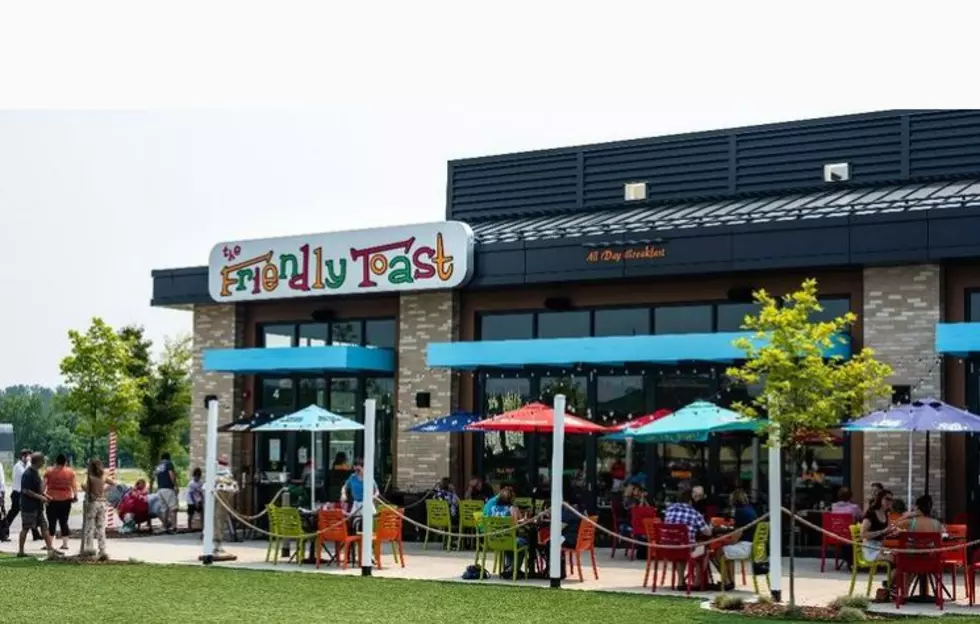 Famous Brunch Spot The Friendly Toast Opens Restaurant in Dedham, Massachusetts
Friendly Toast via Instagram
Dedham, Massachusetts, officially has another breakfast joint in the area, this one with serious accolades and 25+ years of established popularity.
The Friendly Toast is a very unique breakfast, lunch, and brunch restaurant that opened in Portsmouth, New Hampshire, in 1996.
It is one of my favorite breakfast spots to go to with family and friends, and absolutely after a night of drinking.
Check them out as a top 20 hangover cure restaurants here.
Their operation in Portsmouth in 1996 grew to have eight locations: Portsmouth, NH, Back Bay, MA, Bedford, NH, Burlington, VT, Burlington, MA, Danvers, MA, North Andover, MA, Chesnutt Hill, MA, and now...
The Friendly Toast has officially opened their ninth location in Dedham, Massachusetts.
The Dedham location will be about 4,000 square feet and will accommodate 140 guests in the dining and bar areas, according to a Boston Business Journal article.
Of course the location will still have the incredible, fun vibe that is in all of the Friendly Toast restaurants.
If you are not familiar with the vibrant green walls and funky artwork...
I am serious when I say that the employees energy and spirit matches the funky artwork, colors, and energy of the facility...
The food has that same, vibrant, funky, and fun energy too...
Dedham is getting a killer breakfast and lunch joint here. The Friendly Toast does brunch right with a variety of super cool drinks including a full bar and mimosa flights.
"We are very excited to continue expanding our footprint in Massachusetts and to bring The Friendly Toast to Dedham and surrounding towns," said Eric Goodwin, co-owner of The Friendly Toast.
Check out the newest Friendly Toast spot at 688 Legacy Place, Suite 210, Dedham, MA. They will be open seven days a week.
Here Are 14 New Hampshire Restaurants That Have Been Featured on Food TV Shows
These Are 20 of the Best Mexican Food Restaurants in New Hampshire
These Are 19 of the Best Taco Places in New Hampshire
Whether it's "Taco Tuesday" or just another Saturday, here are 19 of the best taco places in New Hampshire for you to try.