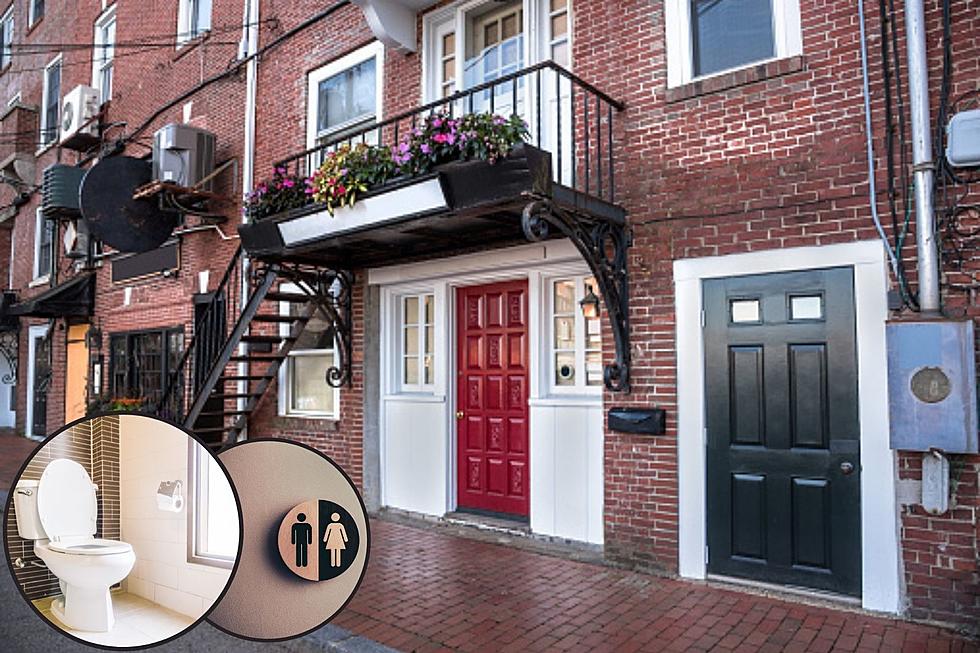 Hilarious Instagram Highlights the Best Places to Pee in Portsmouth, NH
Getty, Canva
I'm just going to kick this party off by saying I am a huge fan of the bathroom selfie. I don't care if they are out of style. If I am out to dinner and feeling myself, chances are I'm going to snap a quick bathroom selfie to document the moment. And if someone walks in and catches me red-handed, SO BE IT.
Last year, my bad selfie self struck again at the Portsmouth Music Hall when I was judging the Seacoast Culinary Challenge. The Music Hall's bathrooms are notoriously swanky and elegant. They also have a reputation of offering great selfie lighting. I can confirm that all of the above is true:
Then my pal Brittany commented on my pic saying, "Hey! That's my favorite place to pee in Portsmouth" and then she tagged @peeinginportsmouth. I thought Britt was just being a hilarious rascal, but to my surprise and delight, Peeing in Portsmouth is a real Instagram account. Of course, I proceeded to do a deep dive or a "thorough creep" as we call it on social media.
The bio made me giggle right off the bat:
A search for the Number One at Number One. Where to next? 🚽〽️ Friday Posts. Lurkers over likes, but likes are nice.
The person behind the account chooses to remain anonymous, which just adds to the novelty of it for me. I don't assume gender but he/she/they have some hilarious commentary on the potties around town. Every review begins with "I peed at ______ and I did a really good job".
Here are some of my favorite reviews:
The Statey
 "The ice, the cigarettes, and the pinball all cost .50 cents per serving."
BRGR BAR 
"Ths is a bar whr u cn get brgrs. I also enjy the trkr brgrs and the cherkin ternders."
You want to follow this account now, don't you? Excellent choice.
I slid into the DM's of the anonymous admin of "Peeing in Portsmouth" just to compliment their work and see if they minded if wrote a little piece on their account. They gave me their blessing and also a little backstory on the account.
Peeing in Portsmouth started back in August of 2021. The admin had a feeling it might gain momentum, but never expected the 2600+ followers. Everyone is so positive with their comments and messages in general.
Many have DM'd and emailed with appreciation on how 'useful' the account is. The pictures inform followers of a bathroom's handicap accessibility which people find extremely helpful. This admittedly isn't something the admin thought of when initially starting the page, but they are so happy the content has been helpful.
It's become a bit of a promotional page, which was also not anticipated but fully embraced. The admin loves supporting local businesses and raising people up in our community.
Foodie and restaurant/brewery accounts have been big supporters by following, liking, and sharing the content. Even City Council emailed them saying to "keep up the good work on Instagram."
They aren't sure how long they will keep up the account, but really enjoy staying anonymous. It's refreshing! The content us solely about the places they visit and not about showing off where they've visited personally.
See a bathroom around Portsmouth that hasn't been reviewed yet? Contact PeeingInPortsmouth@gmail.com
What 22 Things From New Hampshire Would Out-of-Staters Recognize?
25 Ways to Tell You are From New Hampshire
One Granite Stater can always sniff out another and these are some tell tale signs!