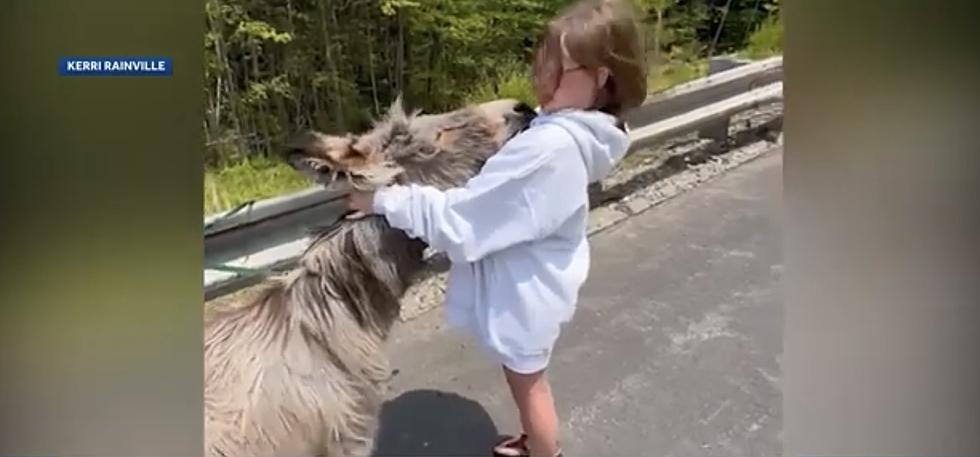 How a Little Girl Helped Corral Two Escaped Miniature Donkeys in New Hampshire
WMUR via YouTube
New Hampshire – famous for being a fugitive's haven. Walter White. Vito from The Sopranos. And now…Scout and his friend, Mr. Fuzzy Pants.
It all happened in the quiet town of Sutton, when two miniature donkeys decided to break away from their nearby home. You might call it "The Hee-Haw-Hank Redemption," or perhaps even "The Great Asscape."
Either way, it led to a search involving a mother, her daughter, and a construction crew that thankfully has a happy ending. But according to WMUR, it wasn't for lack of trying on the part of team donkey.
In true fugitive form, the donkeys split up. One headed south, the other north, no doubt with plans to one day reunite on a beach in Mexico…or in your garden to gnaw on geraniums.
Scout was first to get busted, turned in by a construction crew. And a similar fate awaited the other miniature donkey…on the lamb.
That's when a motorist and her young daughter used leashes from their car to escort old Fuzzy off the road and out of harm's way. Then it was time for a little Good Cop/Bad Cop.
As told to WMUR, it was the little girl who would finally calm the little donkey. As her mother put it, she served as something of a "donkey whisperer," calming the animal as it realized that it was likely no match for speeding traffic.
If you see a miniature donkey on the loose, however, make sure someone calls animal control or the New Hampshire Fish & Game before taking leashes into your own hands.
7 Invasive Insect Species That Can Damage Crops and Other Plants in New Hampshire
In an effort to inform the public on the types of invasive species that are known to be found in their state, the USDA offers a handy dandy "
Pest Tracker
". This allows you to simply click the name of your state from the drop-down menu provided to see pictures of the different insects and weeds, along with descriptions of the type of plant life they target and the damage they can do if they're not dealt with.
Did You Know These 30 Animals Are on New Hampshire's Endangered Species List?