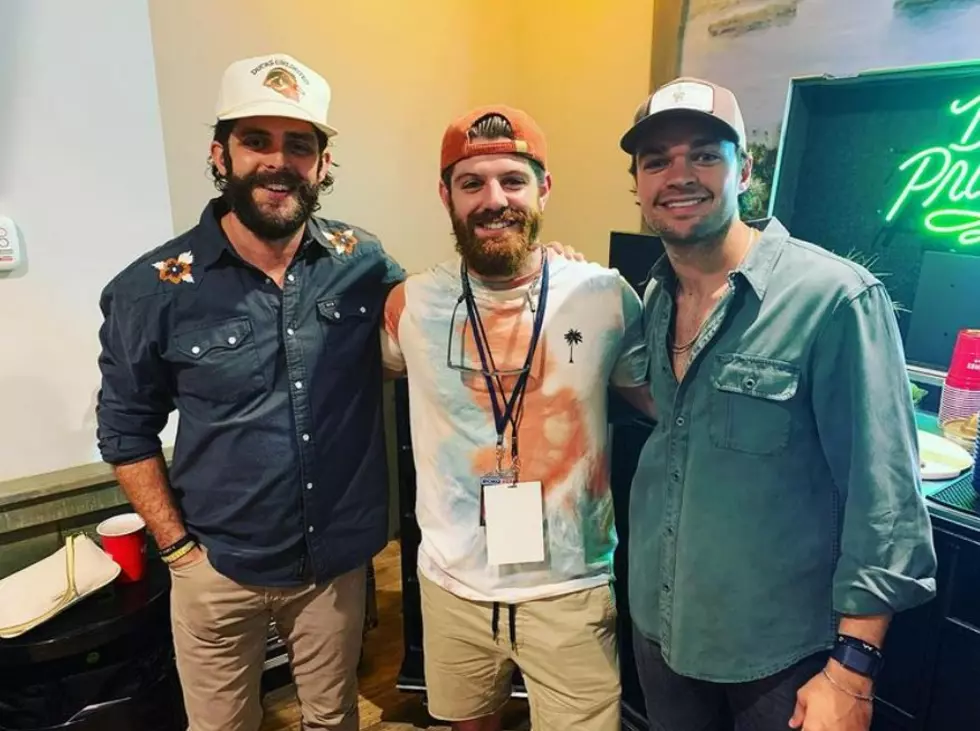 Logan Meets His Doppelganger, Thomas Rhett, and An Ancestry Tree is Coming
Logan Sherwood via Town Square Media
The moment you have been waiting for...or at least, the moment I have been waiting for.
After many months of being compared to Thomas Rhett, strictly based on looks, I finally got to meet him face to face Friday, June 17, 2022.
TR was starting his "Bring the Bar to You" Tour in Gilford, NH, with special guests Parker McCollum and Connor Smith.
Prior to the show I got to hang out and have a few pre-show drinks in the radio room. As I was fixing a drink, using TR's tequila Dos Primos, TR entered the room. He said hello to a few of the others in the room, and then we looked at each other.
After we introduced ourselves, I noticed that he was looking at me kind of funny, so I decided to break the ice.
I told him that people compare me to him and before I could finish he said, "oh $4!#, are we distant cousins?" As we shared a few chuckles, I pulled up the picture that compared us the best. He held my phone, zoomed in, and let out a "woah, man..." He looked at me, half curious - half smiling, and said, "are you Irish?"
After saying yes, we talked about doing an ancestral tree, like a 23andMe. We were mostly kidding.
I am sure we are not actually related. TR is not convinced.
I will let you be the judge. Yes, the long locks on me are gone, but does the beard and smile do it justice? COULD we be related?
Regardless, it was amazing to get to meet Thomas Rhett. He is as down to earth as they get. After meeting him briefly, I feel like I could watch a game with him and have beers weekly.
As far as our looks, based on his reaction, I would say he thinks we look similar too. What a complement...to me, of course.
20 Things to Know Before You Go to Bank of New Hampshire Pavilion
Concert Season at Bank Of New Hampshire Pavilion: Here are 20 Things To Know Before You Go.
The Birds of New Hampshire
With over 400 species of birds in NH, here are 30 amazing bird shots in the Granite State.
$14.9M Wolfeboro, NH, Estate is Beautiful & Private With Waterfront Amenities