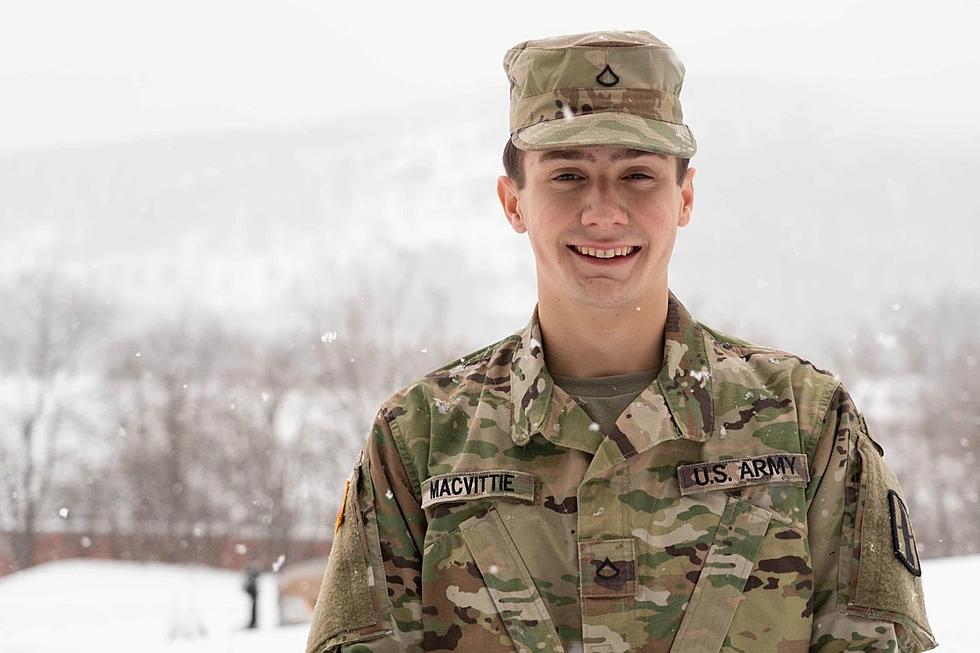 NH National Guardsman from Dover, NH Rescues Woman from Fire
Pfc. Liam MacVittie (Staff Sgt. Taylor Queen, 157th Air Refueling Wing, NHANG)
A member of the New Hampshire National Guard from Dover is being hailed as a hero for saving the life of a woman from a fatal fire on his way home from duty at the Coos County Nursing Home.
Pfc. Liam MacVittie, one of many Guardsmen stationed at facilities throughout the state to assist staff during the COVID-19 winter surge, had just started his three hour trip from his assignment at home in West Stewartstown on Feb. 7 when he saw smoke coming from a mobile home off Route 3 in Stratford.
After driving down a small dirt road, MacVittie, the member of the Charlie Battery 1-103rd Field Artillary Regiment, arrived at the fully engulfed home. He flung open a door, and started shouting for anyone who may have been inside.
Neighbor Walter Kostka noticed the commotion and the fire.
"I ran over and tried going in, but I got beat back from the heat and flames," said Walter Kostka, who said his sister lived in the mobile home with a man. "So I started pounding on the side with everything I had."
As a woman emerged from the smoke and flames, Kostka and MacVittle grabbed her got her out of the house. A second person in the house died in the fire.
Praise for Pfc.MacVittie
Kostka said had MacVittie not stopped, he wouldn't have been aware of the fire. Investigator Stephen Dennis of the state Fire Marshal's Office also praised MacVittie, and said the woman likely would not have survived if not for his stopping.
"I think my military training helped a lot," MacVittie said. "It helped me keep a clear mind and just focus on what needed to be done. It was just my duty as Guardsman and really just as a human being."
Sen. Jeanne Shaheen  tweeted that she was "grateful to he service of Pfc. Liam MacVittle for his brave actions."
The woman, whose identity was not disclosed, was taken to Weeks Memorial Hospital and later transferred to Massachusetts General Hospital.
The cause of the fire is under investigation.
Contact reporter Dan Alexander at Dan.Alexander@townsquaremedia.com or via Twitter @DanAlexanderNH
These Items Will Give You Nostalgia for Yoken's Restaurant in Portsmouth
Take a look back at these Yoken's family restaurant items from a menu to the famous treasure chest and "Thar She Blows" whale sign.