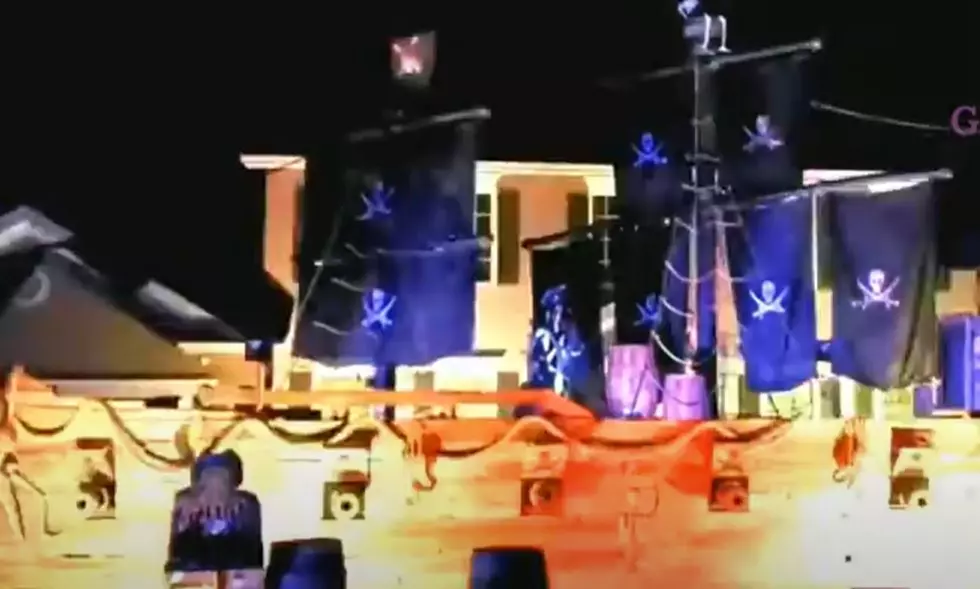 NY Dad Builds Daughter 50 Foot Pirate Ship For Halloween
You Tube
Ok,this father might just get the dad of the year award.
Tony DeMatteo of Rochester, NY spent a week building his daughter the coolest Halloween display ever.
DeMatteo tells CNN that his kids faces light up with any kind of Halloween decorations, so a few years he built a small pirate ship because his daughter loved the Pirates of the Caribbean movies.
This year, he decided bigger was better and doubled the size:
DeMatteo shared some pictures on his Facebook page which are awesome:
Not only is this ship amazing to look at, but DeMatteo even added music from the Pirates of the Caribbean Movies that was synchronized. There are working cannons, smoke, and even fire!
DeMatteo tells CNN that the boat was made from a lot of recycled materials like metal and wood.  He says it cost about $3000 to complete the whole project!
DeMatteo opened up the display to the public for a great cause.  He just anyone that wanted to come enjoy the giant display to bring a canned good or food donation for the community.
According to CNN, the community delivered and DeMatteo says his garage is now filled with donations.
DeMatteo also hired two professional pirates to hand out candy to the kids on Halloween.
Here's an up close video of the cannons that the kids got to check out!
I think this is amazing, not only did it make DeMatteo's daughter happy but brightened up the spirits of the entire community. Definitely getting my vote for dad of the year!
FOR SALE: Feast Yer Eyes on This Pirate Ship