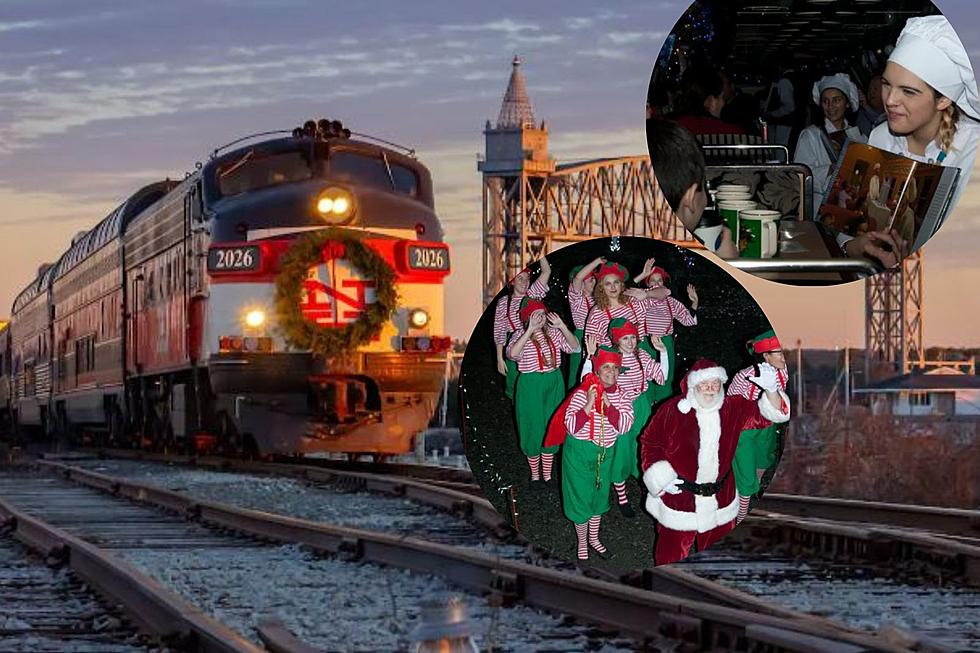 Ride the 'Polar Express of Massachusetts' Set to Take Off to the 'North Pole' Starting November 24
Polar Express Train Ride, via capetrain.com, canva
It is almost the best time of the year: the holiday season!
Even though it's early, now is the best time to plan all of your Christmas and holiday activities, especially the ones that require tickets and booking.
Well, the "Polar Express of Massachusetts" is one holiday activity you won't want to miss. At the very end of this article, you will see photos of the previous year's Polar Express so you can get an idea of what to expect.
Simply put, the "Polar Express of Massachusetts" is an hour-and-a-half train ride that brings Chris Van Allsburg's 1985 children's book to life, according to a Boston Uncovered article.
There are so many elements of this train ride that will make children and parents who love the book/movie feel the Christmas spirit through their bones.
This Christmas spirit starts at the train station, where elves will greet you. It only gets better from there.
You MUST have your golden ticket punched, just like the book and movie.
Of course there will be hot cocoa, as well as holiday music, dancing waiters, and chefs to perform classic carols, according to Boston Uncovered.
There is even a reading of Chris Van Allsburg's 1985 children's book, The Polar Express.
But the fun does not stop on the train. Like the book, guests will head to the North Pole, where they will see reindeer, Santa, and dazzling lights.
The location of the "North Pole" is not disclosed, in order to keep the spirit of Christmas alive!
"The train offers three seatings, standard, first class, and premium," according to Boston Uncovered. "Those in first class receive a limited-edition tumbler, and premium class passengers receive a special ceramic mug."
The price of seats ranges from $49-$109 based on age and location on the train. To see the pricing and book your experience, check out the official website.
"Massachusetts Polar Express"
Take a sneak peek at what to expect along the "Massachusetts Polar Express" sure to make your family get into the holiday spirit.
The Most Popular Christmas Movie in Each New England State
The website
Wishlisted
conducted a study by analyzing online search trends to determine the top Christmas movie in all 50 United States. Here's what came out on top...
Gallery Credit: Jon Rineman
Northern New England's Best Holiday Light Displays for 2022
Here are just some of the best holiday light displays you can find in Maine for 2022.