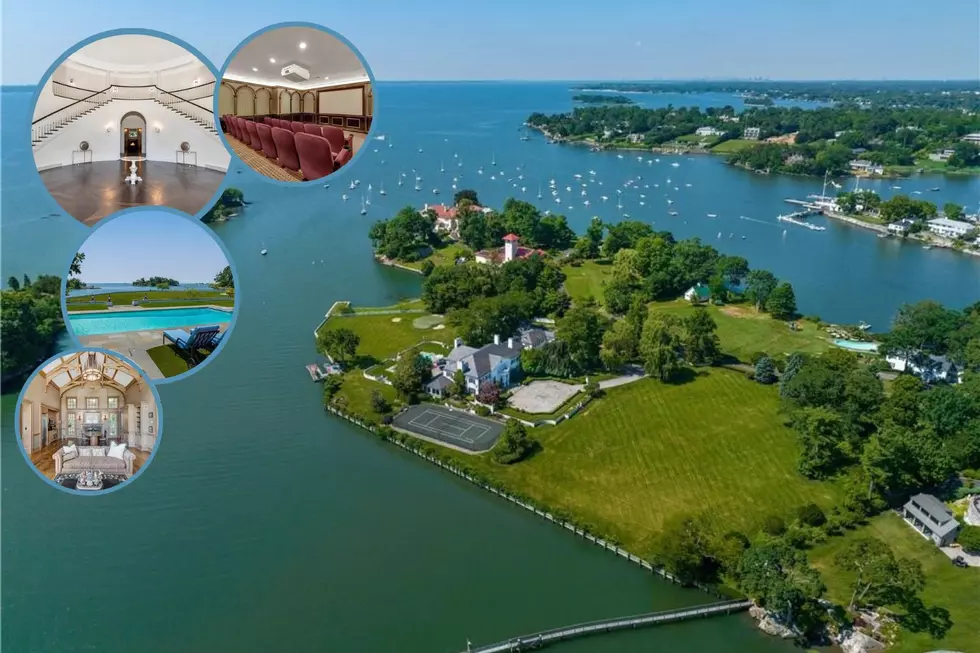 Tour the New England Mansion Ivana Trump Won in the Divorce That Just Won't Sell
Rob Johnson/Brown Harris Stevens
It's a stunning, 20,000-square-foot waterfront estate in Greenwich, Connecticut, perched on its own semi-private peninsula, so why won't it sell?  The current owners have been trying to sell it since 2014, and after being pulled off the market for a bit, it's back at almost half the price.
The current owners first put it on the market for $54 million.  They originally bought it from Ivana Trump in 1998 for just $15 million.  21 Vista Drive, listed by Rob Johnson with Brown Harris Stevens, is listing it for just under $30 million.
Sitting on nearly 6 acres, it truly is one of the most significant waterfront estates in Greenwich that includes over 750 feet of shoreline frontage,  Just wait until you see the views of the Long Island Sound.
According to the listing, there's a guarded gatehouse for extra privacy and security.  The gorgeous manicured landscaping is the home to gardens, a swimming pool, and a tennis court with easy access to the deep water dock.
Built in 1939, the soaring entry is fit for a queen with plenty of grandiose formal areas and family spaces, a 20-seat theatre, sprawling guest suites, and generous staff accommodations, according to the listing.
In all, the home has 11 bedrooms,16 bathrooms, and 8 wood-burning fireplaces. It also has an indoor lap pool for those chilly New England winters.  It truly is a magnificent home perched on its own semi-private peninsula just an hour outside New York City, and minutes from downtown Greenwich.
Get ready to lose your breath.
Tour the Connecticut Mansion Ivana Trump Won in the Divorce That Just Won't Sell
21 Vista Drive
in Greenwich, Connecticut is listed by Rob Johnson with Brown Harris Stevens
RANKED: Here Are the 63 Smartest Dog Breeds
Does your loyal pup's breed make the list? Read on to see if you'll be bragging to the neighbors about your dog's intellectual prowess the next time you take your fur baby out for a walk. Don't worry: Even if your dog's breed doesn't land on the list, that doesn't mean he's not a good boy--some traits simply can't be measured.