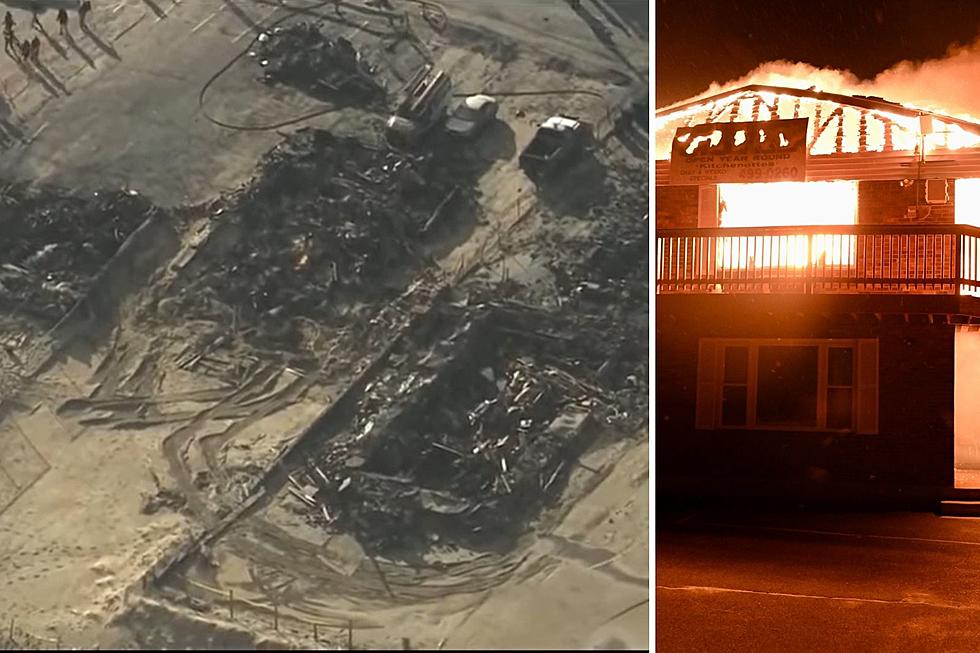 What Caused Salisbury, MA Hotel Fire?
Buildings after Salisbury motel fire (WCVB via YouTube); building burns during fire (Michael Kent via Twitter @MAFireMarshall)
The cause of the January fire that destroyed a hotel and five residential buildings in Salisbury is officially undetermined.
The wind-whipped fire broke out around 1:40 a.m. on January 17 along the right side of Michael's Oceanfront Motel near the front of the building, and quickly spread to adjacent buildings according to the investigation.
The fire was first reported by a Mass DOT employee who saw the flames and called 911. More than 100 firefighters and about 30 companies from Salisbury, Essex County and southern New Hampshire responded to the fire.
In a joint statement, Salisbury Fire Chief Scott Carrigan, Salisbury Police Chief Thomas W. Fowler, and Massachusetts State Fire Marshal Peter J. Ostroskey said that because of the "catastrophic damage" in the area where the fire started and surrounding structures, they were not able to rule out the improper disposal of smoking materials or an electrical event as potential causes of the fire.
Under the National Fire Protection Association's guidelines followed by Massachusetts investigators, they are required to classify a fire as "undetermined" if they are unable to eliminate all but one possible cause.
A fund created to assist those who lost their homes in the fire raised $83,000 in relief for 24 families, a three member committee that collected the funds told selectman at their meeting Monday, according to the Newburyport Daily News. $40,000 in gift cards were also donated.
Contact reporter Dan Alexander at Dan.Alexander@townsquaremedia.com or via Twitter @DanAlexanderNH
Trending Stories for Seacoast Current (March 21-27, 2022)