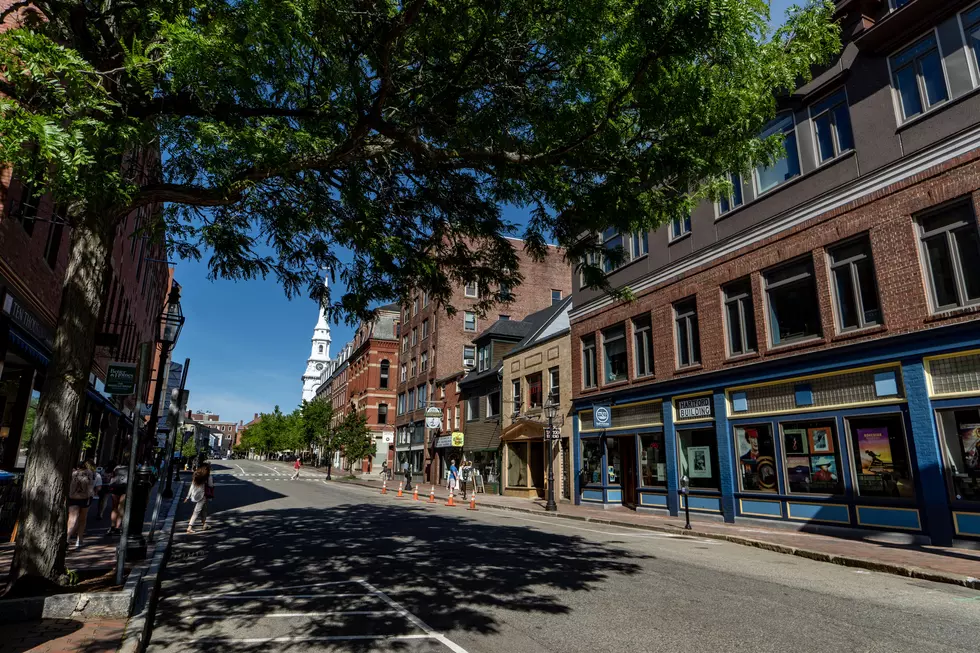 What to Expect at Portsmouth, New Hampshire's Market Square Day on June 10, 2023
Getty Images
My favorite weekend as a Portsmouth resident is here.
No, you do not need to be from Portsmouth to enjoy this incredible weekend. You just need to GO to Portsmouth.
That's right, Market Square Day is back for its 46th year on Saturday, June 10, 2023.
Starting in 1978, Market Square Day was "created to celebrate the renovation and beautification of Downtown Portsmouth and, in particular, Market Square," according to the Market Square Day event page.
The exciting weekend will bring approximately 60,000 people downtown for entertainment, artists, crafters, merchants, and more, according to the website.
If this is your first Market Square Day, what should you expect?
A lot.
First and foremost, traffic. Expect a lot of roads closed or detoured around downtown. Most of Downtown Portsmouth is shut down for pedestrians, according to the website.
This street will not be visible. It will be mobbed with good vibes and good times.
The day starts with a 10K, so expect to feel bad about yourself. Kidding. There will be a race in the AM, though, so be prepared.
From 9am – 4pm, there will be over 150 vendors as well as performances on the two musical stages. Local and regional musicians will be on stage nearly all day.
The entertainment, according to the website, is as follows:
The Maine Marimba Ensemble
11:30am – 12:15pm
The group will provide polyrhythmic arrangements of traditional and contemporary Zimbabwean music on handcrafted marimbas. How cool.
RMS5 (Rock My Soul 5)
12:45pm – 1:30pm
"Roots-based sound of rich vocal blends and soul-stirring harmonies with a repertoire that explores American music from the Delta blues of greats such as Blind Willie Johnson, to the folk gospel of Washington Phillips, to the more contemporary Americana music of Buddy Miller and the Band's Levon Helm," according to the website.
Vital Tones
2:00 – 2:45
Vital Tones is a mosaic of unique melodies, creative harmonies, and soul-filling lyrics.  With a blend of covers and original music, Chris Guzakowski, Stefanie Guzakowski, and Julie Alexander deliver a mixture of indie rock and Americana music.
The Rockingham Groove
3:15 – 4:00
An eclectic group of musicians from around New Hampshire and southern Maine, this group came together to have fun, entertain audiences, and play some of the best mix of R&B tunes from the past five decades.
If you are wondering what kind of vendors will be there, check out who has a booth here.
20 of the Oldest Restaurants in Portsmouth, New Hampshire, Still Going Strong
Here's what locals say are some of the oldest restaurants in the Portsmouth area. Be sure to go to the bottom to see which one's the oldest.
LOOK: Townsquare Portsmouth Townie Awards 2021
From a restaurant with a superstar chef that's got Guy Fieri vibes to an arcade with over 600 games, Townsquare Media Portsmouth is proud to present our picks for the 2021 Townie Awards. These awards highlight the most unique local businesses, people, places and things around New Hampshire.
A Walkable Three-Stop Brewery Crawl in Portsmouth, NH That's Easy
A short walk between each stop, this is a perfect afternoon brew crawl. If you are looking to spend a couple hours trying some local and different beers, give this route a go!