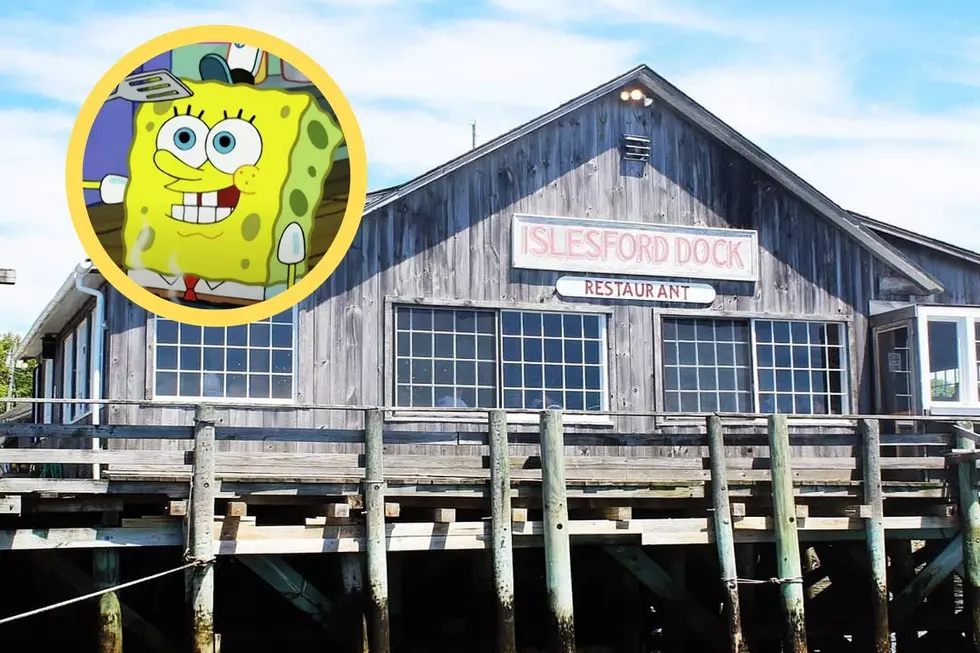 A Small Maine Island Restaurant Was the Inspiration for the Krusty Krab in 'SpongeBob Squarepants'
Islesford Dock Restaurant and Gallery via Facebook; SpongeBob SquarePants Official via YouTube
There's a very good chance you've seen an episode or two of the incredibly popular cartoon SpongeBob Squarepants. Even if you haven't, you know what the character looks like, and may even know that SpongeBob works in a restaurant called the Krusty Krab.
But even if you know those things, you may be surprised to learn that the inspiration for that restaurant in one of the greatest cartoons of all time is tied to the State of Maine.
According to the Bangor Daily News, it all started when SpongeBob creator Stephen Hillenburg spent some summers working at the Islesford Dock Restaurant on the Cranberry Isles in Maine. Stop if this sounds a little familiar, but Hillenburg worked as a fry cook (just like the character SpongeBob), and the Islesford Dock Restaurant shares a striking resemblance to the Krusty Krab in the cartoon series.
It's not a coincidence, either. During a court case in 2008, Hillenburg admitted that the inspiration for SpongeBob came from some events in his own life, including the summers he spent in Maine working at the Islesford Dock Restaurant.
Naturally, when it came to animating the restaurant, Hillenburg channeled the place where he spent so much time.
Sadly, Hillenburg lost his battle with ALS in in 2018 at age 57. His creation, the SpongeBob Squarepants empire, still continues on today.
And what about that restaurant on the Cranberry Isles that he used as some inspiration? That's still very much a thing as well.
Today, The Islesford Dock Restaurant and Gallery remains one of the few restaurants and art galleries in Maine that is exclusively accessible by boat.
Oh, and they don't serve Krabby Pattys, sorry.
---
13 Stores You Shopped At In Maine But Your Kids Have Never Heard Of
Any person who grew up in the 70's, 80's or 90's knows that shopping malls were everything but as times changes, so do stores. Here's a list of places people in Maine shopped at during those decades that your kids have probably never heard of.
LOOK: The top holiday toys from the year you were born
With the holiday spirit in the air, it's the perfect time to dive into the history of iconic holiday gifts. Using national toy archives and data curated by
The Strong
from 1920 to today,
Stacker
searched for products that caught hold of the public zeitgeist through novelty, innovation, kitsch, quirk, or simply great timing, and then rocketed to success.