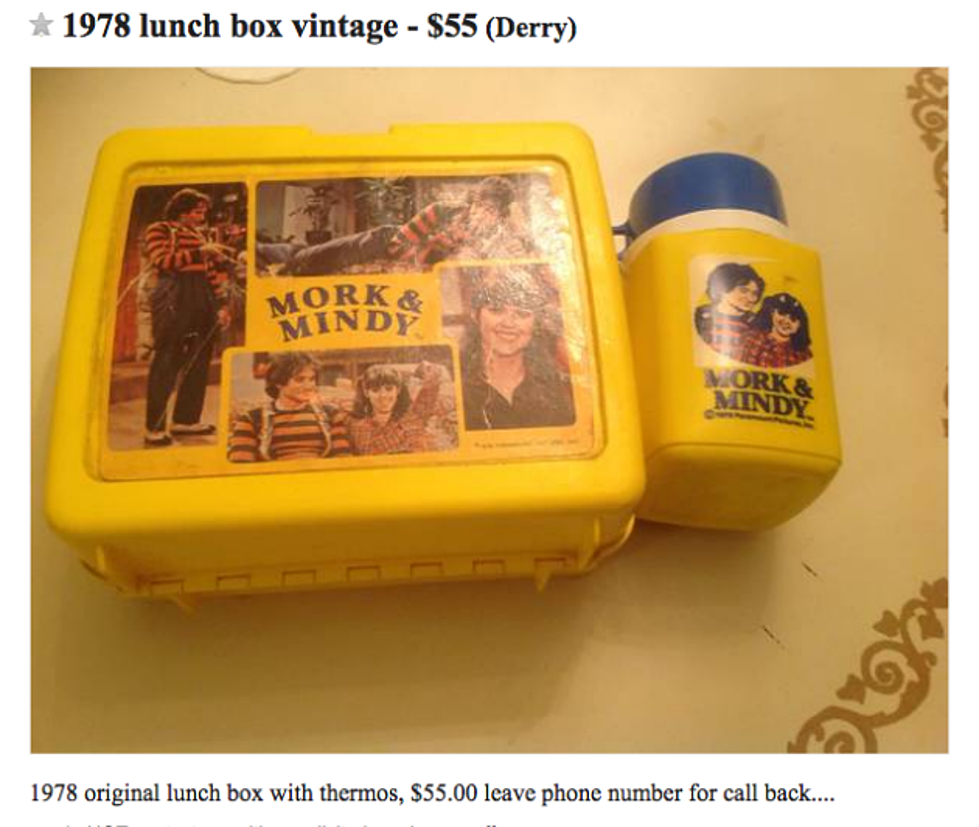 Check Out These Awesome Retro Lunch Boxes on NH Craigslist [PHOTOS]
NH Craigslist
From Mork to Mario and more, you'll want to start packing a cold lunch just so you can rock one of these too cool for school retro lunch boxes! Kids and their soft packs these days, they've got nothing on these old school classics. These were all found on NH Craigslist, although some do happen to be from Vermont and Mass as well. These are the ultimate back to school gifts for your kid-- or if they're not having any of it, for yourself!
MORK & MINDY
The show that launched Robin Williams career can be the lunch box that launches your day! Try drinking milk from your thermos using your finger just to mess with your 20-something coworkers.
MARIO BROTHERS
The world's most famous plumbers are joined by Yoshi and Toad in this amazeballs combo deal. What, no Bowzer? Yeah, well you can't have everything. Watch out for turtles on your way to school!
JABBERJAW
An underwater Scoobie Doo type of show featuring a shark leading a teenie band. Yeah, that makes sense! This Hannah Barbara classic was underappreciated in its day, but was picked up by Cartoon Network decades later.
CABBAGE PATCH KIDS
Nothing says the 80's quite like Cabbage Patch Kids! These creepy dolls were all the rage back when they became the go-to Christmas gift in 1983. Their popularity declined precipitously in the late 80's but given the renaissance of all things 80s they're popular again. And still a little creepy.
DOTS
I'm really not sure quite to think of this one. A lunch box honoring a brand of gumdrops? It's sort of cool but still odd. It isn't like DOTS were ever especially cool, they've been around since the 40's and have never really were a cultural phenomenon-- and yet, they have a cool something or other about them. It is a great lunchbox, isn't it?
EMERGENCY
I've never heard of this show that ran in the late 70's, but the lunchbox certainly caught my attention. My two year old is obsessed with all things firetruck and firemen, so on the surface the kid's might like this. But the side panel seems a little, shall we say, dark. Enjoy your Flaky Puff and this trauma scene that ends badly.
It really doesn't look like that guy made it, does it!?