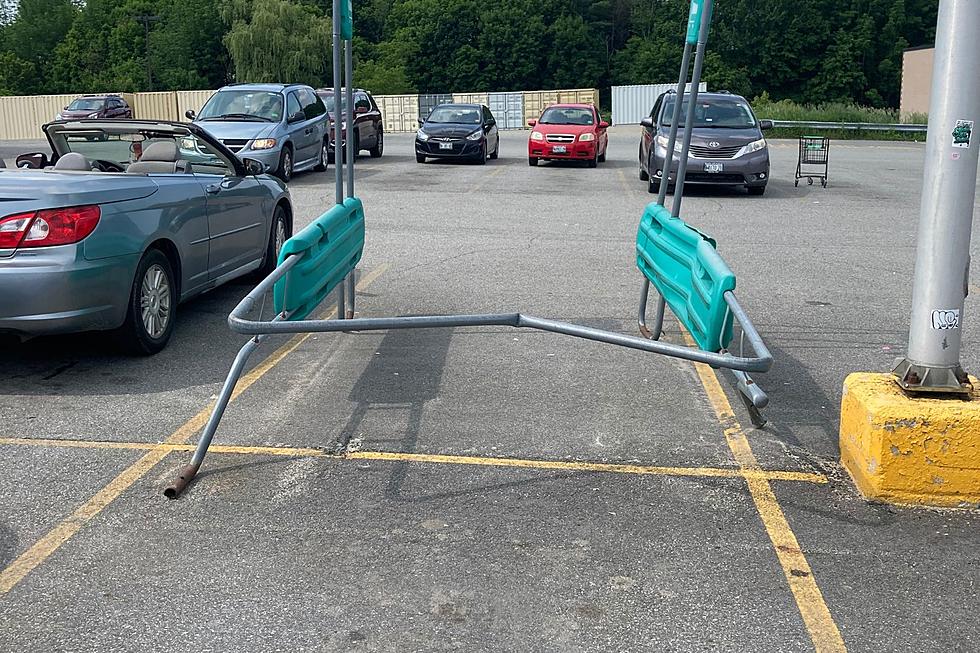 Check Out These Two Epic Driving Fails in South Paris and Lewiston, Maine
Courtesy Mark Smith
My son has his driving permit, and I'm currently in the process of riding with him as he works to get in 70 hours of driving before taking his driver's test. He's doing pretty well, but I'm always telling him to "stay alert" and "be aware of your surroundings."
That's good advice for all drivers, and advice that these two drivers should have taken to heart. Each of them recently got into accidents that could have easily been avoided.
The first one was at the Lewiston Family Dollar. As with most shopping parking lots, they have a cart corral. Well, they DID have a cart corral, until someone rammed their car into it.
This seems like it could be a classic "I thought the car was in reverse" situation. At least it didn't happen in front of the store.
The second accident happened on High Street in South Paris. High Street runs from South Paris to West Paris, and most of it is pretty straight. There's one big exception, though, where the St. Lawrence and Atlantic Railroad crosses High Street. Check out these tight curves at the crossing in the satellite view from Google Maps.
If you aren't familiar with the road and go zooming on High Street too fast, this happens.
You can tell this is a regular problem because they had to install a guardrail around the crossing signal. Both that and the signal were taken out when someone didn't negotiate that curve very well. There's really no excuse for this, as there is a road sign warning of the sharp curves as you approach them, indicating to take them at 15 mph.
I bet the railroad is getting really tired of replacing those signals.
New England Towns Named on List of Happiest Cities in U.S.
According to
WalletHub
, these New England towns are among the happiest cities in the country.
Gallery Credit: Jon Rineman
25 Places in Maine That Only Takes Cash
Gallery Credit: Lori Voornas