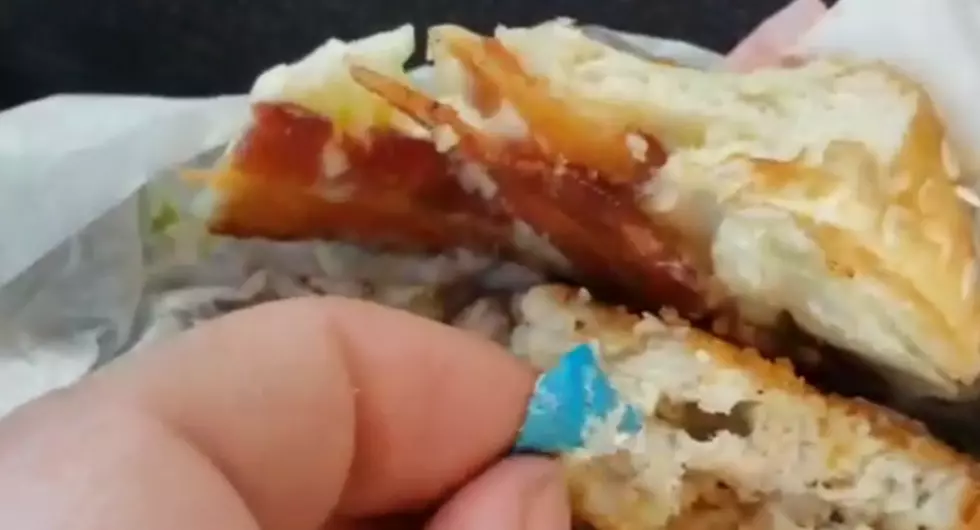 EWWW! Mainer Grossed Out By Object Found In Burger King Sandwich
Credit: WGME 13
The Belgrade, Maine woman took another bite into her sandwich, and saw something blue inside the patty.
Tracy Malloy told WGME News 13 she purchased an original chicken sandwich Monday at a Waterville, Maine Burger King. She was at the drive-thru, but reportedly decided to consume the sandwich right in the parking lot. "Took a bite and I looked down," Malloy said. "I'm like, 'Oh, what's that blue thing in my sandwich?' So, I took my finger and I touched it and it felt kind of rubbery."
"Yeah, it was pretty gross," Malloy to WGME News 13. She reportedly ate most of the sandwich before making the discovery. "Actually, there was chicken all through it," Malloy said. "Cause it was baked right in." She took a video of her pulling the video out of the sandwich.
She took what was left of the meal inside and showed te manager. Malloy reportedly received a refund. Also, she filed a report with Burger King's customer relations.
"And I haven't heard back from anybody yet."