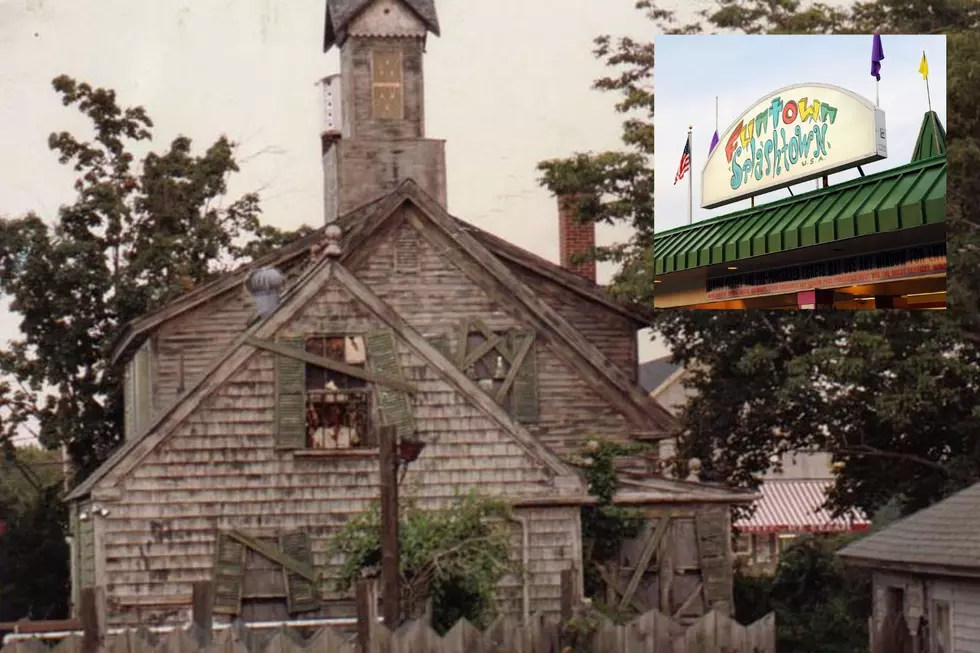 Funtown Hints at the Return of the Haunted Mansion in 2023
Canva (Facebook via Funtown Splashtown USA, the HauntedMansion.org)
In terms of amusement parks, the voice of the fans has never seemed more powerful than they do today. After Story Land rolled out their adults-only, 21+ nostalgia nights, fans of Funtown Splashtown USA in Saco, Maine, wondered out loud if the popular park would do something similar. After some logistics were worked out, Funtown listened and launched their first adults-only night this summer to great success. But there's another specific thing that fans of Funtown just haven't been able to let go of, and Funtown may just be listening.
Shared on Facebook by Funtown Splashtown USA, the park directed people towards a banner that has popped up outside the Fun Factory Arcade inside the park. If you can't quite make out what the sign says, it reads: "SOMETHIN' WICKED FUN IS COMING HERE IN 2023". In the background behind the lettering lies ominou-looking trees, the kind of trees you'd find outside of a haunted mansion.
While nothing is confirmed, it appears something with a scary theme is coming to Funtown Splashtown in 2023. While it could be something more broad, like transforming the park into a haunted walk in the fall, it seems more likely that Funtown is hinting towards the return of its once beloved Haunted Mansion.
If you've been left in the dark, the Haunted Mansion has remained one of Funtown's most talked about attractions despite the fact that it was never even technically part of Funtown. Instead, the Haunted Mansion belonged to the Cascade Water Park that later would become Splashtown. The Haunted Mansion was extremely popular during its 10-year run from 1986 to 1996 before it was shut down due to being a "high-risk attraction".
Is the Haunted Mansion returning to Funtown for 2023? We'll all know soon enough.
---
LOOK: Oldest Disneyland Rides From 1955 to Today
Stacker
, set out to compile a definitive list of every Disneyland attraction you can enjoy today and ranked them by their age. Using real-time data from
Touring Plans
, Disney archives, and historical news releases and reviews, our list starts with exciting recent park additions and stretches back to the oldest opening-day classics. This list focuses on the original Disneyland Park, so you will not see any rides from its neighboring California Adventure located just across the promenade. Read on to discover the oldest Disneyland rides you can still ride today.
12 Activities in Maine Your Kids Will Actually Want to Do This Summer
Kids enjoy a lot of things but for summertime fun, it all comes down to 5 groups; amusement/water parks, animals, sports, learning, and the beautiful outdoors. If you're looking for some serious family fun this summer, start checking these off your bucket list.