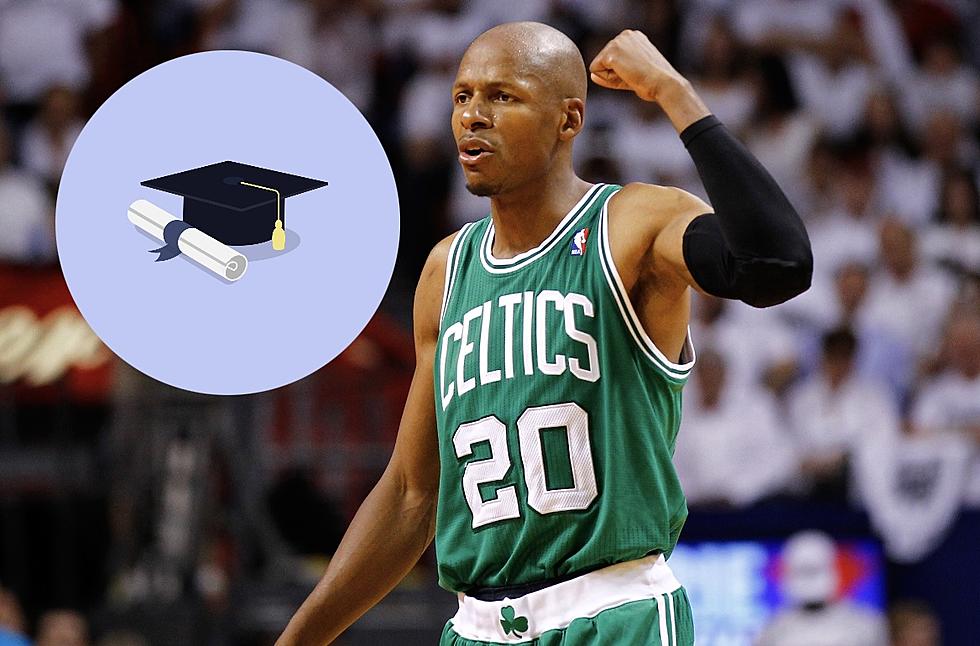 Got It: Celtics Legend Ray Allen Completes His College Degree in New England
Photo 1 Credit: Getty Images Photo 2 Credit: Getty Images
Just a year after he was welcomed back into the Celtics family after a (ridiculous) Boston exile, Ray Allen can add another token of achievement to his two NBA Championship rings: a college degree.
He also earned a shout-out from UConn's Men's Hoops team.
Allen, once the all-time NBA leader in three-pointers, returned to his alma mater, the University of Connecticut after attending the school in the mid-90s. Allen left school early for the NBA, where he was drafted 5th overall in 1996 before spending 18 years playing with the Milwaukee Bucks, Seattle SuperSonics, Celtics, and Miami Heat.
He quickly earned a reputation as one of the best shooters in the game and starred in the 1998 Spike Lee film "He Got Game." But it was in Boston where Allen achieved basketball immortality as a member of 2008 Boston Celtics, who famously broke the franchise's 22-year title drought.
Despite his greatness on the court, though, it seemed that Allen was always the guy on the trade block. This came to a head in the winter of 2012, when the guard came this close to being traded to the Memphis Grizzlies.
To that, Allen understandably said: "Enough." What irked Boston fans, though, was his decision to sign with LeBron James and the rival Miami Heat. And former teammate Kevin Garnett stoked the flames on the Green People's pitchforks by repeatedly shunning his friend from their high school days in South Carolina.
But in 2022, when Garnett's number 5 was raised to the rafters at the TD Garden, Allen did as he'd always done on the parquet and stepped up. It wasn't lost on Kevin Garnett, who got the "Three Amigos" back together for one last ride (and formally scratched Allen's name off the "unofficial" list of loathed former Celtics).
New Englanders Who Found Success After 40
Boston Celtics Who Went Hollywood
Celtics legends who starred in film and television.