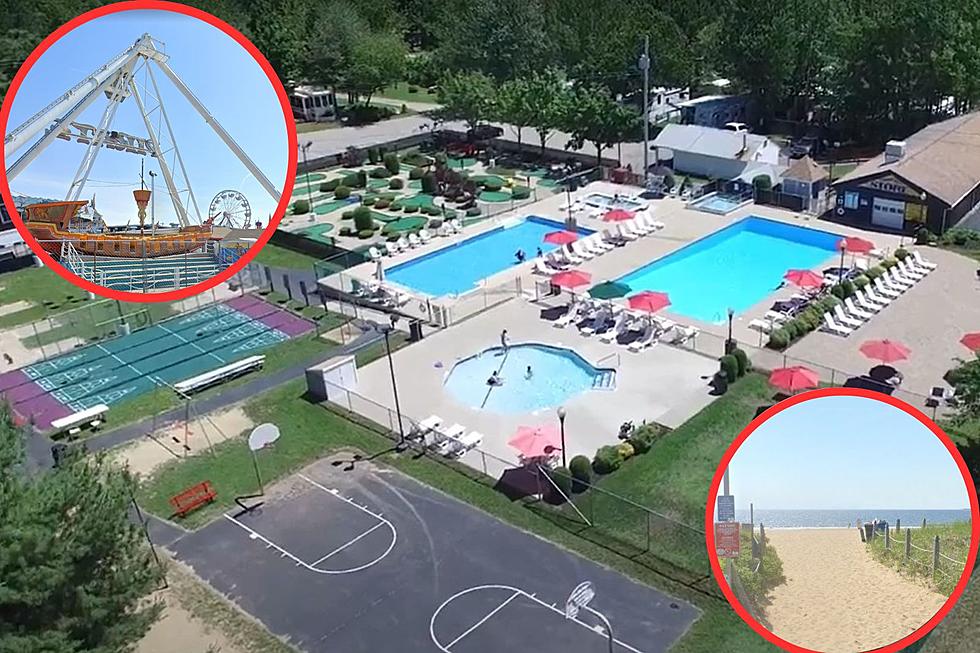 Insane Maine Campground Has SIX Pools & Hot Tubs And is Only a Mile From Old Orchard Beach!
Matt James, Canva
Maine has so many incredible things to do for both natives and tourists alike. From hiking our gorgeous mountains to frolicking on one of the state's sandy (or rocky!) beaches, to camping among the tall pines- there's literally something for everyone. And it gets even better when you can combine a couple of those activities.
For several years now we have been travelling down to Old Orchard Beach, Maine, with our friends for our annual 'adult weekend'. It's the one camping trip per year where we leave the littles behind and have a little fun as kidless couples! However, this was our first year ever staying with the cool cats at OOB's Powder Horn Family Camping Resort. And when they say resort, they mean it.
When you pull into the campground off of Cascade Road in Old Orchard Beach, you are immediately greeted by a giant sign that lets you know you've arrived. (No, the entire staff doesn't sit there waving all day).
When you turn in and get ready to check in, you don't even have to get out of your car. What kind of futuristic and convenient method is this?! When we arrived, a very polite young man came up to the truck window with an i-Pad, asked for our last name, checked my ID, then gave us a welcome packet with a map to our site and sent us on our way. We literally didn't even have to get out!
The sites are all fabulous with full 30/50 amp hookups, picnic tables, clean firepits and even a sewer hookup- (people who camp a lot know how crazy-convenient that is!) We got backed in, hooked up, and then decided to go do a little exploring on foot.
We quickly found out that this place has six, yes six pools and hot tubs. Four swimming pools, one of which is almost 10 feet deep (and massive), and two very large hot tubs. What I really like is there is an adults-only hot tub, that way you're not bombarded with children while trying to relax.
Of course this IS a family campground after all, so there is not shortage of activities for people of all ages. During our 2 day stay, the campground had a band, a DJ, multiple food trucks and even brought in a magic show and an inflatable freakin' water park- wild!
When you're ready to head out for the evening, one of the several Old Orchard Beach trolleys will pick you up right out front by the Gazebo and, for just $2 bucks, you'll ride a mile or so into town. Once there, you have access to dozens of restaurants, bars, the beach and of course Palace Playland.
For sure this is the swankiest place we have ever camped, and it was TOTALLY worth it. If you're considering taking a beach vacation with your family in Maine, this is definitely a place you want to look more into. But don't wait, because reservations fill up very fast. Ask me how I know...
For more information on booking and ammentities, check out the Powder Horn Family Camping Resort online and, as always, Happy Camping!
Get Ready to Pitch Your Tent at These 18 Camping Spots in Maine