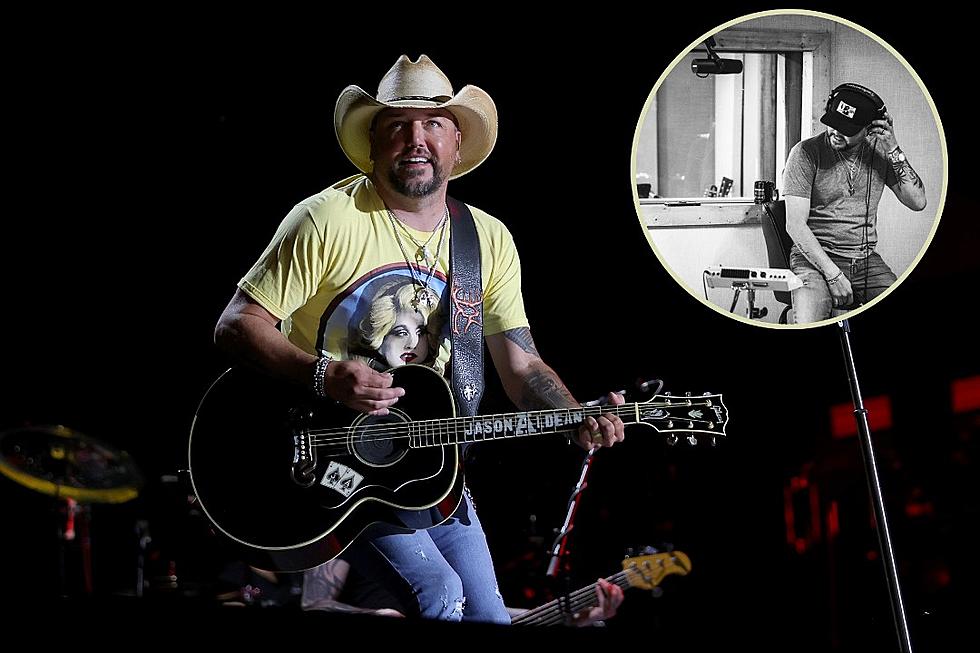 Jason Aldean Has Started Recording His 11th Studio Album [Pictures]
Instagram / Jason Kempin, Getty Images
Jason Aldean is back in the studio!
The Georgia native shared that he and his crew have broken ground on a new album, and fans are hopeful it will be here before his Highway Desperado Tour gets underway in July. The project will be his 11th studio album.
"Today was the first day of recording the new album," he writes on social media. "Always a blast when we start making new music together. Love all these guys who have played on pretty much everything with me since the beginning."
"Album #11," he continues. "Let's fu--in GET IT!!!!!!!"
Based on Aldean's tags in the carousel of photos, that familiar crew he mentioned includes his band members Tully Kennedy, Kurt Allison and Rich Redmond, as well as Adam Shoenfeld, Tony Harrell, Mike Johnson, Danny Rader and longtime producer Michael Knox.
While he didn't offer up any further details, the project will follow his double album, Macon, Georgia, which he released in two parts: Macon arrived on Nov. 12, 2021, while Georgia dropped on April 22, 2022. Before that, Aldean released his ninth studio album, 9, which was an accomplishment he might not have seen coming when he first launched his career.
"Early on I always thought if we ever got to make nine albums, I'm going to call it 9. It was my baseball number growing up, and it's just kind of always been my lucky number," he said said at the time. "I remember cutting the first album and thinking, 'That's forever away,' and now here we are. I don't know, it's really special we made it this far — so, it's more for me than anybody else — but, it means a lot."
While specifics of Aldean's 11th musical offering remain sparse, there is a possibility the album could share its name with his upcoming tour, and Highway Desperado could be the theme of his next chapter. The tour launches on July 14 and will run through Oct. 28, with Mitchell Tenpenny and Corey Kent serving as opening acts.
Top 50 Jason Aldean Songs: His Greatest Hits + Best Deep Cuts
The best
Jason Aldean
songs are spread out among his 11 studio albums. Find singles and deep cuts from his self-titled debut album high on this list, right alongside more recent hits and duets from
Macon
and
Georgia
.
Taste of Country asked readers for input and did a deep dive into Aldeans' full catalog of songs to identify those worthy of this top songs list, and those that simply aren't. Spoiler alert: A few radio singles are missing, and several album tracks rank inside the Top 20. Sales and chart success helped us round out the Top 50. Do you agree with No. 1?