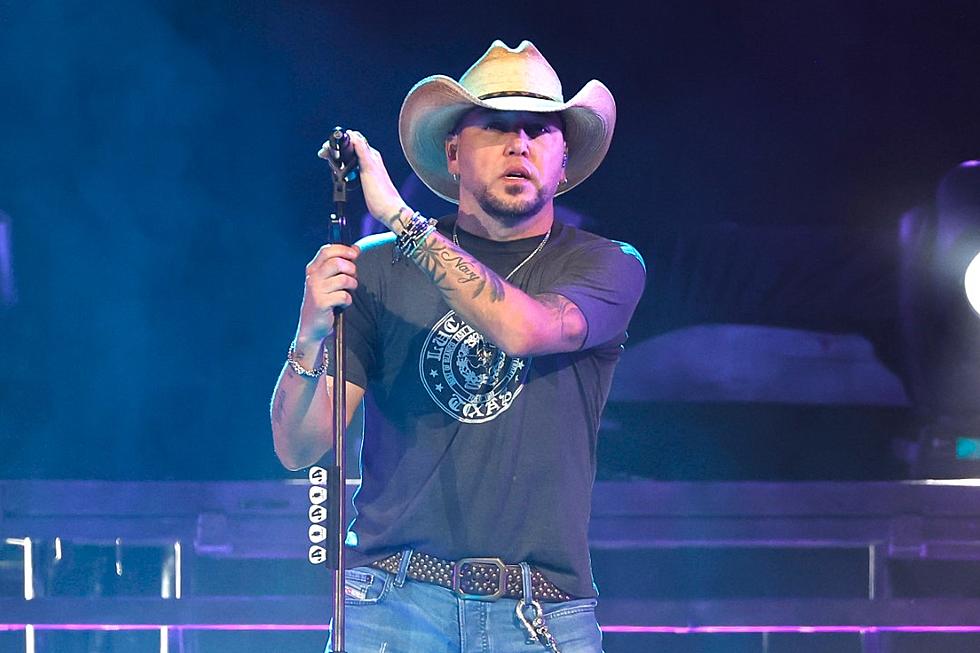 Jason Aldean Admits There's One 'Really Stupid' Tattoo He Regrets
Jason Kempin, Getty Images
Jason Aldean has never shied away from a little ink. His tattoos includes a cross featuring the names of his oldest daughters, Keeley and Kendyl, a microphone, some palm trees and his other kids' names (Memphis and Navy) among others.
While many of his choices have significant meaning to him, there is one tattoo Aldean admits he regrets.
"My very first one, I do," he tells the Bobby Bones Show. "I have it now, it's covered up."
"I think when I was 18 and I walked into a tattoo shop in my hometown in Georgia and, you know, I just, they have stuff up on the wall and I just picked out something on the wall and went, 'Yeah I want that.'"
"And then as I got older I'm like, 'That's really, that's really stupid,'" he adds.
Aldean, now 46 years old, didn't share what the tattoo was or which of his current tattoos is covering it up. He also didn't open up as to when he got it covered up. The "Fly Over States" singer did, however, reveal that the quality of the ink job also contributed to his decision to have it redone into something new.
"Not only that, but it was just a really bad tattoo," he shares. "Like, the guy that did it, he must have just started that week or something. So I ended up having to get a guy to cover it up."
"That's really the only one that I regret a little bit that I would have done different, but none of the rest of them."
The "Tattoos on This Town" singer has acquired quite a bit of body art in the last decade. In 2011, he had just two tattoos, but now he's building quite the sleeve on his left arm after Bubba Irwin — Ink Master Season 9 winner — drew a line of palm trees that wrap around his left forearm.
Aldean and his ink will be on the road this year. His 41-date Highway Desperado Tour with Mitchell Tenpenny, Corey Kent and Dee Jay Silver runs July 14 through Oct. 28. He is also in the middle of working on his 11th studio album, though details about the project have yet to be announced.
Top 50 Jason Aldean Songs: His Greatest Hits + Best Deep Cuts
The best
Jason Aldean
songs are spread out among his 11 studio albums. Find singles and deep cuts from his self-titled debut album high on this list, right alongside more recent hits and duets from
Macon
and
Georgia
.
Taste of Country asked readers for input and did a deep dive into Aldeans' full catalog of songs to identify those worthy of this top songs list, and those that simply aren't. Spoiler alert: A few radio singles are missing, and several album tracks rank inside the Top 20. Sales and chart success helped us round out the Top 50. Do you agree with No. 1?