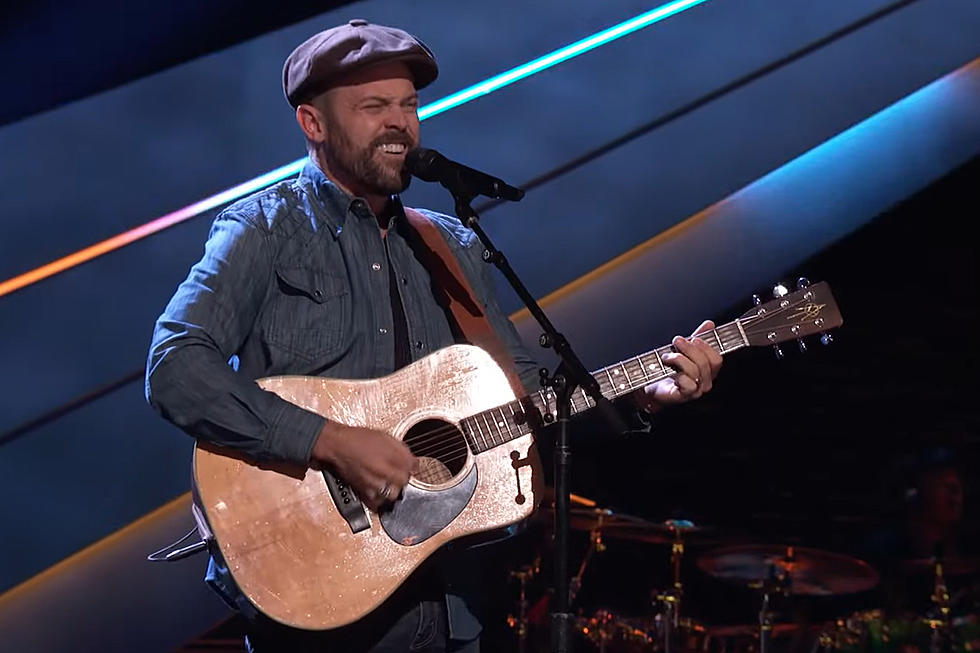 'The Voice': Country Singer Neil Salsich Scores Four-Chair Turn With Hank Williams Classic [Watch]
YouTube
It's Blake Shelton's final season of The Voice, and already he's off to a good start. The veteran country coach, who won last year's competition show with Georgia-born singer Bryce Leatherwood, was first to score a contestant for his team on Monday night (March 6) during the highly anticipated Season 23 premiere.
Shelton nabbed Neil Salsich, a 34-year-old classic country-style singer from St. Louis, Mo., for his team. And his team addition was a lucky snag, since the talented hopeful scored an astonishing four-chair-turn with his performance of Hank Williams' classic song, "Honky Tonk Blues."
Salsich was the first to take the stage during the two-hour telecast. He made a big impression on coaches with his tall order. Salsich truly made the tune his own, jamming on his guitar and incorporating some impressive yodel sounds into his performance.
Shelton was first to smack his red button, with Kelly Clarkson following suit. However, Clarkson didn't have a chance, as the "No Body" crooner blocked her from retrieving Salsich for her team.
"Man! Well. I'm bummed because Blake blocked me," Clarkson said after Salsich's performance. "Your vibe is so cool, man! It's like an old-school country. Your falsetto is incredible. You also maintain this throaty like, raspiness that's really cool."
"I mean, that's a Hank Williams, Sr. song, but I hear you kind of doing this yodel thing, and it's incredible," Shelton added. "I'd be honored for you to be on the last Team Blake."
Chance the Rapper, who also turned around for Salsich, then admitted, "I'm not very familiar with country music," but noted his appreciation for Salsich's texture and vocal tone.
"This could be interesting… I mean, it's live TV…Why not have a rapper and a country singer together? You know what I'm saying?" Chance the Rapper added. "It would be really cool if I stole the country from Blake. It's your thing! It would be cool! This guy is the definition of cool, and I'm really cool, so we can make something happen."
Last to speak was Niall Horan, who shared a story as his selling point in hopes to win over Salsich for his team.
"When I was growing up, Garth Brooks was big in Ireland, and that was it. I started coming to America 12,13 years ago for work, spending time across the south, gigging, going into bars, and hearing all these great singers. Straight away, your voice perked up to me because I feel like you're a seasoned veteran."
"Country storytelling, it's my thing. These guys can't tell a story at all," he added, making his case.
Afterward, it was Salsich's turn to speak and make his decision between the four coaches. He chose to compete on Team Blake, which means Shelton has already started his final season with a bang.
"This is my last season. So I've got to win," Shelton told viewers during the episode. "I'm going out with a bang. I don't care if these guys are new, and I should be polite. Forget that. They're going down."
Be sure to tune into The Voice on NBC Mondays and Tuesdays at 8/7PM CT and the next day on Peacock.
Famous Singers from The Voice, Then + Now
Ten years (and counting) made a huge difference for many of the most popular singers and stars of
The Voice
.
Blake Shelton
looks noticeably different, but so do some of country music's most memorable performers.
Winners like
Cassadee Pope
and
Danielle Bradbery
wore baby faces when they auditioned during their respective seasons. The same can be said for
Morgan Wallen
, a forgotten castmember from the show who's transformed more than anyone else on this list of
The Voice
stars then and now.