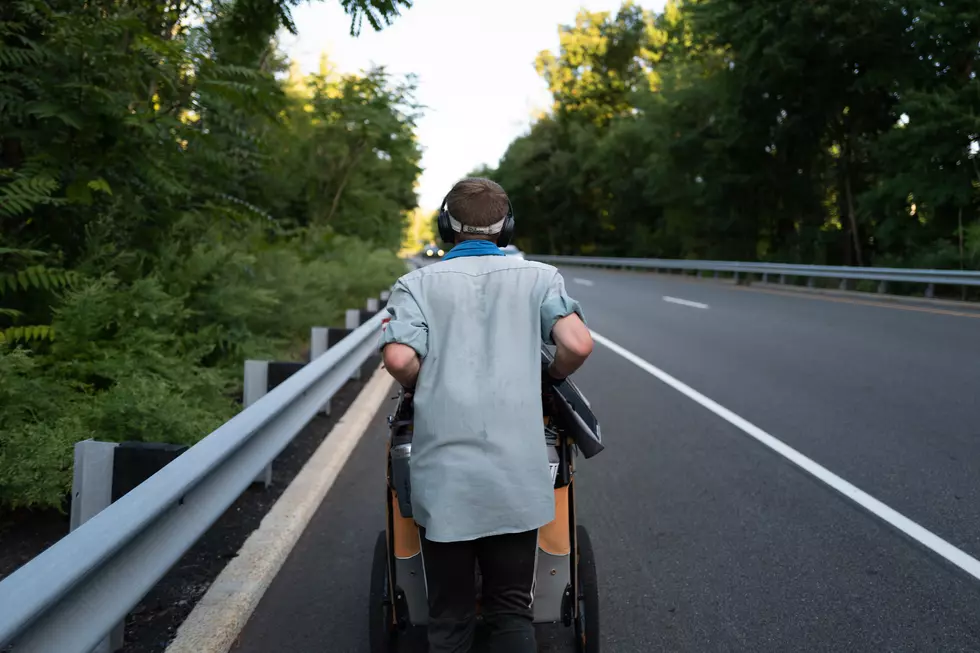 Man Who Walked Across U.S. Reflects on Finishing Journey in New England
Getty Images
A few months ago, New Englanders began following the journey of Isaiah Glen Shields, the Utah resident who walking from the Westernmost point of the U.S. in Washington state all the way to Easternmost point in Maine.
Well, Shields made it. In an exclusive interview, he recently reflected on his journey, as well as some notable experiences he had in New England as he wrapped up his trek.
"I was what they call a military brat," said Shields, explaining his comfort in changing location. "My dad was in the Air Force, so my whole life growing up, we moved every few years."
Shields got the itch to move again in the spring of 2021, when he logged onto his work computer and the background featured a valley. "I was like, 'Man, there's just way too much world, way too much history, way too much stuff that really truly fascinates me…and so I just had that thought of, 'What if I just went on a really long walk?'"
While Shields experienced a lot throughout the country, one of his most notable stories involves his arrival to New England. "I was in Connecticut, walking down some back roads…and it was just the most picturesque fall day I could imagine."
"I was writing a post on Facebook, and I was showing these pretty pictures I had taken and said, 'Connecticut is beautiful, it's the perfect fall season, I love the fact that I'm walking these back roads and seeing how the towns connect.'"
"And at the end of the post, I was like, 'I swear, I'm having the perfect day. The only thing that's missing is a warm apple cinnamon sugar donut and a hot chocolate.'"
From there, Shields just kept walking, until about three minutes later, a car came to a sudden stop just in front of him.
Says Shields, the occupants hopped out of the car and said, "Hey, we saw you on Facebook! We were literally just coming back from a farm, where we bought some warm, apple cinnamon sugar donuts and some hot chocolate. Would you like some?"
Laughing at it now, Shields recalls, "It's like I made a wish into the universe and it was granted literally maybe, like, 180 seconds later."
While passing through Massachusetts, Shields made a stop at one of his childhood homes in Hudson. While the current homeowners weren't home, Shields was able to pose for a few photographs outside and connect with childhood friends. The homeowners later contacted Shields, saying they wish they had been home when he knocked and wishing him good luck.
Shields would finish his journey in Lubec, Maine, on November, 13, 2022. "Maine turned out to be one of the most receptive places I've ever been," he says. He noted how as many as 10 towns in the state put out signs offering encouragement, and schools welcomed him on outdoor signboards.
"It just started really spreading," he says. "So, when I got to Lubec…there was a hundred or so people there with signs and boards."
Naturally, Shields' real-life journey has been compared to that of a noted fictional character: Tom Hanks' Forrest Gump. But there were some differences between running across the country and walking.
"I do think you have the potential to notice little things, to stop on a dime when you're walking. Because you see a great (camera) shot, or you notice something or you read a sign, and it's not a very big commitment to stop moving, whereas when you're running or biking or if you're driving, you see something interesting and by the time you go, 'Huh, I should go look at that,' you're already far enough away that it would already be sort of a commitment to go back and look at it."
But with walking, explains Shields, you can always stop.
For now, stopping is not on the docket, as Shields is already plotting his next journey.
To hear our full interview, CLICK HERE TO LISTEN.
You can keep up with his adventures on Instagram or by following his YouTube channel.
20 Maine Towns Have The Most Instagram-Worthy Main Streets
Are you yearning to take a Birdgerton-esque stroll down the best Main Streets in Maine? I got you.
These 10 New Hampshire Cities Have the Best Downtowns