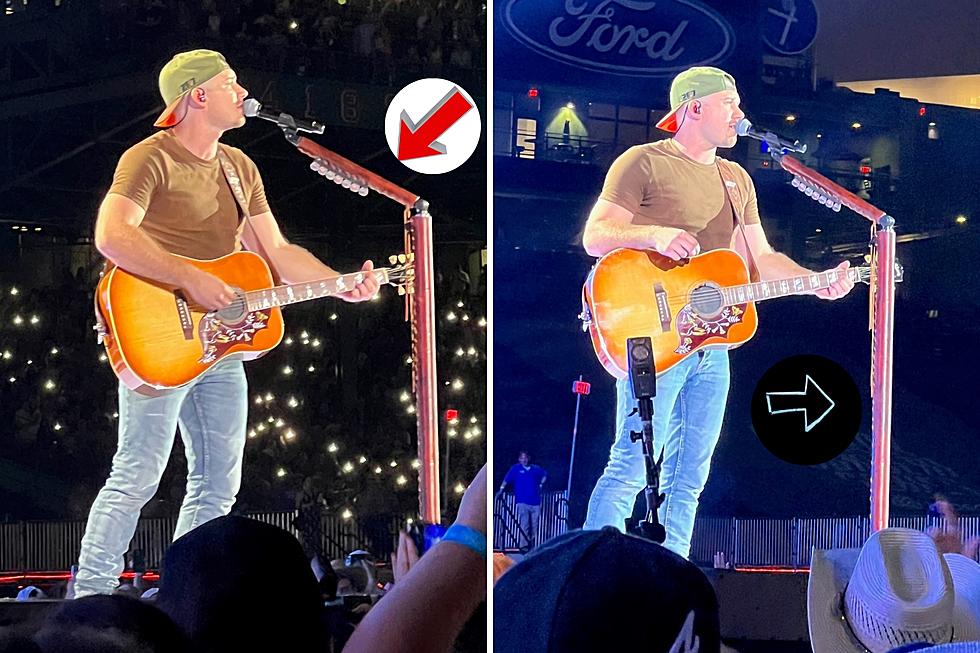 Morgan Wallen Shows This Unique Piece of New Hampshire at Fenway Park Show
Ginny Rogers
Imagine working and creating gorgeous leather items for the past 17 years, and then through sheer luck, an acquaintance you made years ago contacts you with a very special ask for a superstar artist.
If this sounds mysterious, it's not.  It's really a lot of luck and a whole lot of talent.
Lisa Cantalupo, of Somersworth, New Hampshire, began working with leather in 2005 after she purchased her first Harley Davidson motorcycle.  She needed some leather clothing, so with a degree in Fashion Design and Illustration, Lisa decided to buy some hides and get to work. A leather halter got her noticed, so she started Sexy Skins Leather, making special designs for the motorcycle industry.
I spoke with Lisa and she has clients all over the world now, plus a store on Etsy.  Her clients "appreciate style, are looking for something unique, and value quality and great service".  She looks at leather as "art for the body, heart, and soul."
Cantalupo sites the example of her client, Brad, who had a 46-year-old beat up leather briefcase he bought in England.  He wanted Lisa to restore it, and wow, did she.
She has a client who's a writer in Hollywood, and has designed a leather jacket and vest for Magic Dick from the J. Geils Band, as well as an Amari leather bracelet and Kama Braided ring for Christian artist Zach Williams, along with Pharrell Williams.  She's replicated the watch band Brad Pitt wore in Once Upon a Time in Hollywood, and truly aims to please her clientele.
Now, here's the story that's really intriguing. Lisa's friend tagged her in a post, and told her to reply.  Morgan Wallen's people reached out to her to custom design a leather mic stand for his upcoming ballpark shows.  Jay Dozer of MetalDozer Machine Works, "creator of mic stands for celebrities such as Reba McEntire, Brooks & Dunn, Prince, Backstreet Boys, and lots more," was creating a mic stand for Morgan Wallen and needed an expert leatherworker, so he reached out to Lisa after she messaged him.
Her world became smaller when the design was to cover a mic stand in leather to look like an old baseball glove with a specific thickness and laces.  With Morgan playing so many ballparks this year, he needed a special mic stand.
Lisa dug out her dad's vintage baseball glove as a reference and went to work, dyeing and sanding the leather to make it look authentic.  It was a labor of love, because leather can be hard to work with.  She still didn't know who she was making the stand for, but was happy to have the job.
Lisa states, "As look back upon the 17 years of honing my craft and developing products and a small business, this Morgan Wallen project is truly a blessing." Lisa reminds everyone to "remember to shop local and support local business...to keep us going, and continue to serve you and your community."
Find Lisa at lisacantalupo.com, or on Instagram or Facebook.  And look for Lisa's leather-covered mic stand at Fenway Park when Morgan Wallen play three shows on August 16, 17, and 18.
See Inside Morgan Wallen's Recently Sold Nashville Home
Morgan Wallen
has sold his Nashville home for $835,000. The country singer sold his home for a $135,000 profit five months after being filmed on his driveway using the N-word. The 4-bedroom, 3-bathroom house is a two-story house near Nashville's 8th Ave. It's over 2,700 square feet. Redfin confirmed the house sold on July 8, 2021, less than one month after it was listed.
Visit the Stunning Historic New Hampshire Home of One of America's Founding Fathers