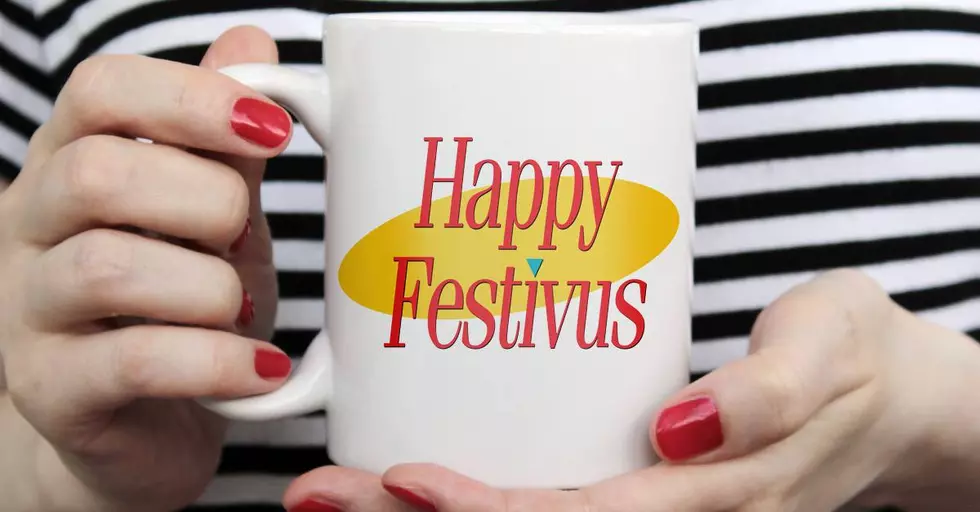 New England's Ties to the 'Seinfeld' Holiday Festivus
Seinfeld via Facebook
Chances are that when writer Dan O'Keefe was attending college in Massachusetts, he wasn't as…open about the bizarre holiday created by his father. One which would eventually become a cultural phenomenon.
As anyone who watched television in the '90s will tell you, December 23 is Festivus. As in, the one "for the rest of us." Forever emblazoned into our zeitgeist by its inclusion in the 1997 Seinfeld episode "The Strike," it has since taken on a real life, with fans of the show holding Festivus parties complete with an aluminum pole and the airing of grievances.
The concept for Festivus can be traced back to the mid '60s, when Daniel O'Keefe – himself a writer and author, and longtime editor of "Reader's Digest" – decided to formally mark the anniversary of his first date with his wife, according to "Festivus the Book: A Complete Guide to the Holiday for the Rest of Us."
But it wouldn't be until the mid '90s that the younger O'Keefe revisited the idea, after graduating from Harvard College in 1990. But if you see Larry David while he vacations on Martha's Vineyard, hold off on mentioning Festivus.
Having departed the show two seasons prior, David had no involvement in the famous episode - comedy's version of Brian Wilson being left out of The Beach Boys' biggest hit "Kokomo" (which was debuted right here in New England).
Before I lose my train of thought like Frank Costanza, it's worth noting that the New England Festivus connections continue to this day.
In fact, Salem, Massachusetts, recently held the "Festivus 5K," to raise money for autism research and awareness. It marked the 11th time the town has held the event (hopefully, none of the runners relied on Jerry to wake them up for the race).
For details on how you can contribute, visit the event's official website.
It's one of many regional ties to Seinfeld, including two cast members with New England roots and a fictional Massachusetts town that factored into the show's fate.
10 New England Towns and Places Mentioned in "Seinfeld"
While a fictional town in the show's finale was the most notable, several real New England cities and locations were mentioned throughout the series' run. Here's a recap, with some help from fan site
"Maps About Nothing."
Eight Great Holiday Movies Set in New England
From romance to comedy and even horror, here are eight holiday films set in New England to check out this year.