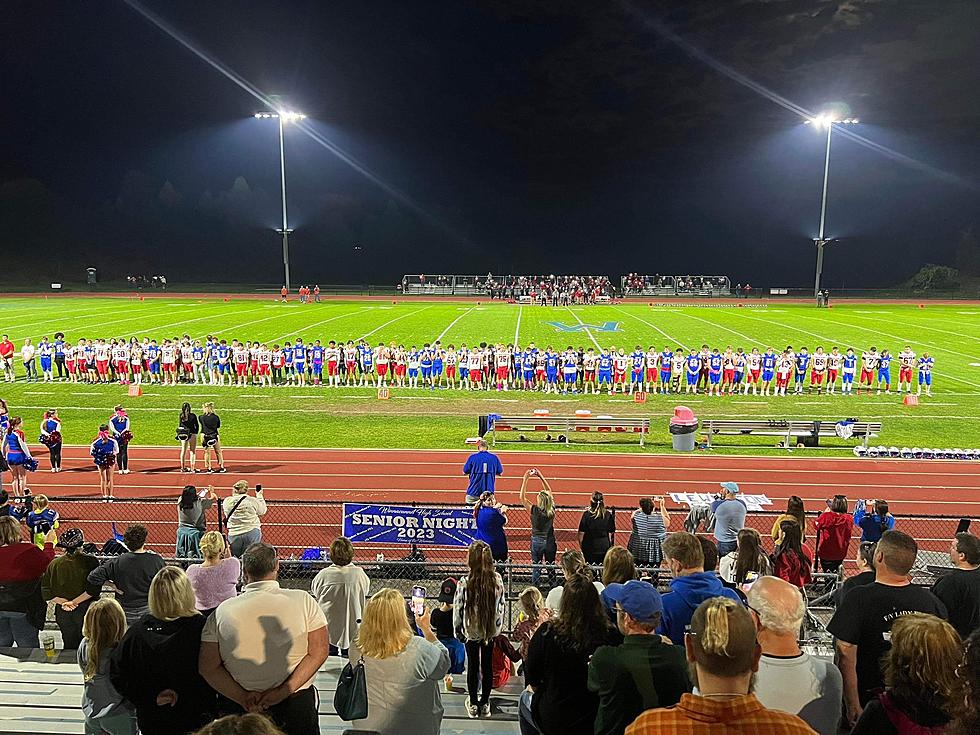 Two New Hampshire Football Teams Honor Lewiston in Beautiful Way
Spaulding Football via Instagram
It was an emotional night already, with two rival Division I high school football teams playing a big Friday night football game.
But this Friday night was different.  It wasn't about football and competition.  This night was about showing support for another team that was hurting; a team and community rattled and shaken by terror and uncertainty.
This night was about showing Lewiston, Maine, and the Lewiston football team how much their neighbors in New Hampshire care, and to honor the lives lost by a tragedy unheard of in Maine.
The Winnacunnet Warriors of Hampton, New Hampshire, hosted The Spaulding Raiders of Rochester, New Hampshire, at Alumni Stadium.  Prior to the game, there were team meetings where the plan was laid out.
Each team would walk from the high school to the field, shoulder to shoulder, in silence.
The four captains, Kaiden Melendez and Grady Collins of Spaulding and Kaleb Joiner and Jake Magri from Winnacunnet, were at the head of the procession, carrying a large "Lewiston Strong" sign, according to seacoastonline.com.
"Amazing Grace" played as the teams walked down to the field, and family and friends in the stands stood silent with their phones held high, lighting up the stadium.
The sign was laid on the ground with candles surrounding it, paying tribute to the 18 Mainers who lost their lives in the shooting.
Spaulding High School had just played in Auburn, Maine, in September, only a short distance from Lewiston.  In fact, the Lewiston High School football coach, Jason Versey, found out about the tribute and reacted on social media with gratitude for the love shown to the Lewiston community.
It was a night of tribute and honor, and something much bigger than football.
#LewistonStrong
Look Inside the Most Expensive New England Homes on the Market
These are the most expensive homes on the market in each New England state as of August 1, 2023.
Gallery Credit: Megan
Learn About the Victims of the Lewiston, Maine Shooting
The 18 people victims of the shooting in Lewiston on October 25 have been identified.
Gallery Credit: Dan Alexander