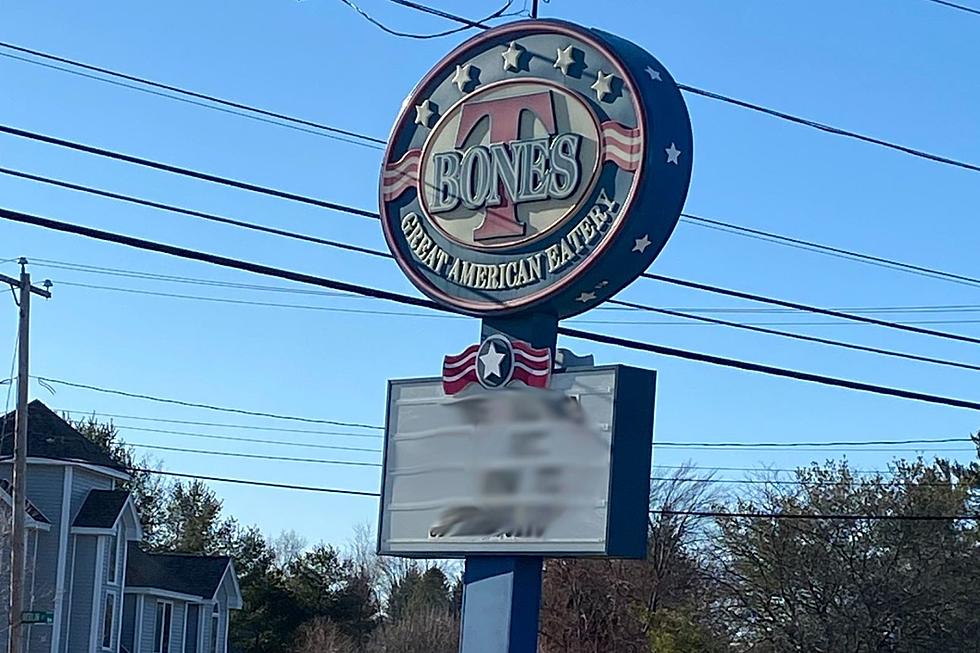 New Hampshire T-Bones Location Plugs New Menu Item With Hilarious One-Liner
Townsquare Media
Binga's Windham, Maine Signs
For years now, throughout the country, businesses have been using their signs pretty creatively. Some businesses "do battle" with each other through their signs, while others just toss up outside-the-box messages to entertain customers and the public in general.
There may be no better example of the "just entertainment" messages on business signs than Binga's in Windham, Maine, who for years has been the reigning, defending, undisputed heavyweight champion of hilarious business sign messages.
Whether it's clever happy birthday wishes, talking smack about bosses, prom-posals or even clapping back at social media hate by making the hate their new sign, Binga's just has it on lock.
And Binga's could have nothing at all to do with the latest message that the T-Bones location in Derry, New Hampshire has up on their sign to plug a new menu item, or maybe Binga's and all its fame was the inspiration.
T-Bones in Derry, New Hampshire
Not usually known for clever business signs as much as Binga's is, what T-Bones is known for is a killer bar atmosphere as well as delicious burgers, steaks, and other dishes.
Like a lot of other restaurants, T-Bones changes its menu with the seasons. Because who wants to be eating "winter meals" like Shepard's Pie and Beef Stew when the warmer spring and summer weather is rolling through?
So, to plug not only switching seasons in New England but also switching to their spring menu, T-Bones in Derry tossed up a hilarious one-liner that's a clever play on words and also a friendly swipe at the winter bodies we may have just finished "fluffing up."
We had winter fat: Now it's spring rolls
GENIUS. I mean, suddenly a chunk of us may only be eating salad until June so we ditch the fat and rolls for bathing suit season, but hilarious!
Also, suddenly I'm craving spring rolls...
The 10 Best Binga's Windham Signs Over the Past Four Years
It's impossible for us to share every single message that has gone up on the Binga's Windham sign, but we picked out 10 of our favorites.
From coast to coast: The 20 best regional fast-food chains to try
From burgers to subs and even creamy milkshakes, these tasty fast-food chains, compiled by
Stacker
, are a must-try on your next road trip.