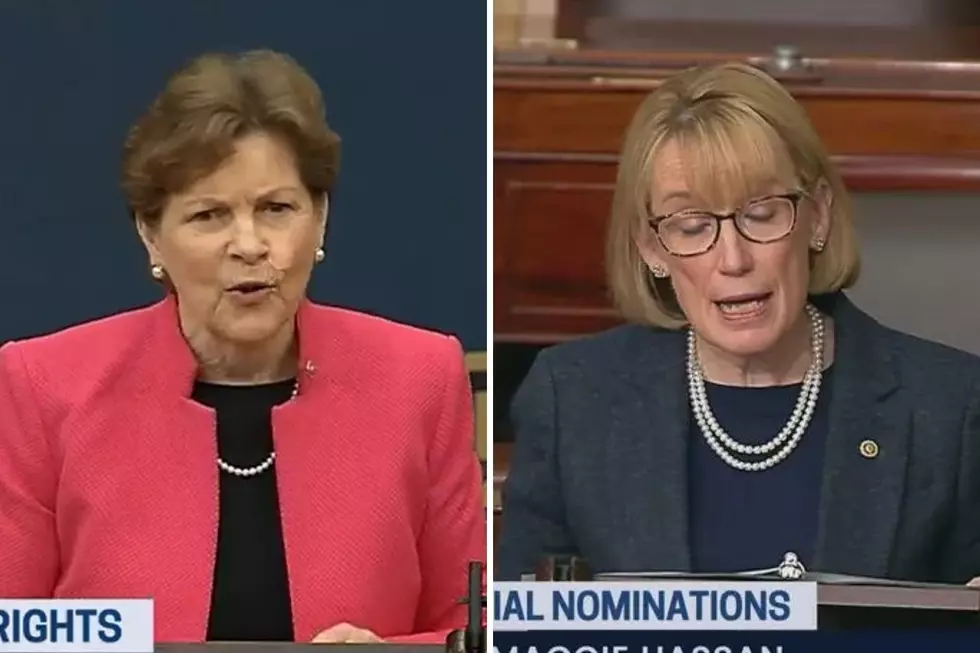 Shaheen, Hassan Support Women's Health Protection Act
Sens. Jeanne Shaheen and Maggie Hassan speak on the Senate floor in support of the the Women's Health Protection Act 5/11/22 (C-SPAN)
Support from New Hampshire's Democratic congressional delegation wasn't enough to pass a bill that would've made Roe v. Wade law, as it failed to get approval by a 51-49 vote.
The bill, called the Women's Health Protection Act, would have preserved access to abortion nationwide in what Sen. Chuck Schumer, D-NY, called one of the most important votes "not only this session, but in this century."
Maine Sen. Susan Collins joined her fellow Republicans in voting down the legislation.
President Joe Biden blasted Republicans for their vote and accused them of standing in the way of people's right to make personal decisions about their own bodies, families, and lives.
"Once again – as fundamental rights are at risk at the Supreme Court – Senate Republicans have blocked passage of the Women's Health Protection Act, a bill that affirmatively protects access to reproductive health care," Biden said in a statement."This failure to act comes at a time when women's constitutional rights are under unprecedented attack – and it runs counter to the will of the majority of American people."
Sen. Jeanne Shaheen, who spoke on the Senate floor in support of the bill, was upset by the vote.
"Every Senate Republican just made clear they don't trust women to make decisions about their own health and bodies. With the Supreme Court poised to strike down Roe, Senate Republicans are helping lay the groundwork to move our country backwards and condemn the futures of millions of women. Let's be clear: this decision won't end abortions, it will only make them dangerous and difficult for vulnerable women," Shaheen said.
Sen. Maggie Hassan, who also spoke on the Senate floor,  expressed that she was "frustrated and angry" at the vote.
"Like so many, I am frustrated and angry that Republicans blocked a bill that would protect a woman's freedom. And it's outrageous that the Supreme Court is poised to create a world where my daughter will have fewer rights than I did. Believe me: I'm going to keep fighting," Hassan said in a tweet.
The only male in the congressional delegation said the GOP showed it is "out of step" with women and families in New Hampshire with the vote.
"The vast majority of Granite Staters and Americans support Roe v. Wade as the law of the land, and I will never stop fighting to ensure every American can make their own decisions about their bodies, their health care, their lives, and their futures," Pappas said.
Rep. Annie Kuster, who helped pass the Women's Health Protection Act in the House last year, was deeply disappointed at the vote.
"For nearly five decades, women have had the constitutional right and freedom to make their own reproductive health care decisions. As the conservative majority on the Supreme Court appears poised to overturn Roe v. Wade — taking personal medical decisions out of the hands of women, their doctors, and their families — enacting legislation to codify abortion rights has never been more critical," Kuster said.
The bill had the support of Maine Sen. Angus King, an independent.
"Right now, women across the country are worried the Supreme Court may take away their basic right to make decisions about their own body. We cannot move backwards, which is why today I voted to secure the protections of Roe," King said.
Collins said she did not support the bill because it was sure to fail partisan legislation. She has teamed up with Sen. Lisa Murkowski, R-Alaska, for legislation they call the Women's Health Protection Act.
"Unlike some far-left activists, Senator Murkowski and I want the law today to be the law tomorrow. That's why we introduced legislation in February that would enshrine the important Roe and Casey protections into law without undercutting statutes that have been in place for decades and without eliminating basic conscience protections that are relied upon by health care providers who have religious objections to performing abortions," Collins said.
Contact reporter Dan Alexander at Dan.Alexander@townsquaremedia.com or via Twitter @DanAlexanderNH
Trending Stories for Seacoast Current (May 2-8, 2022)