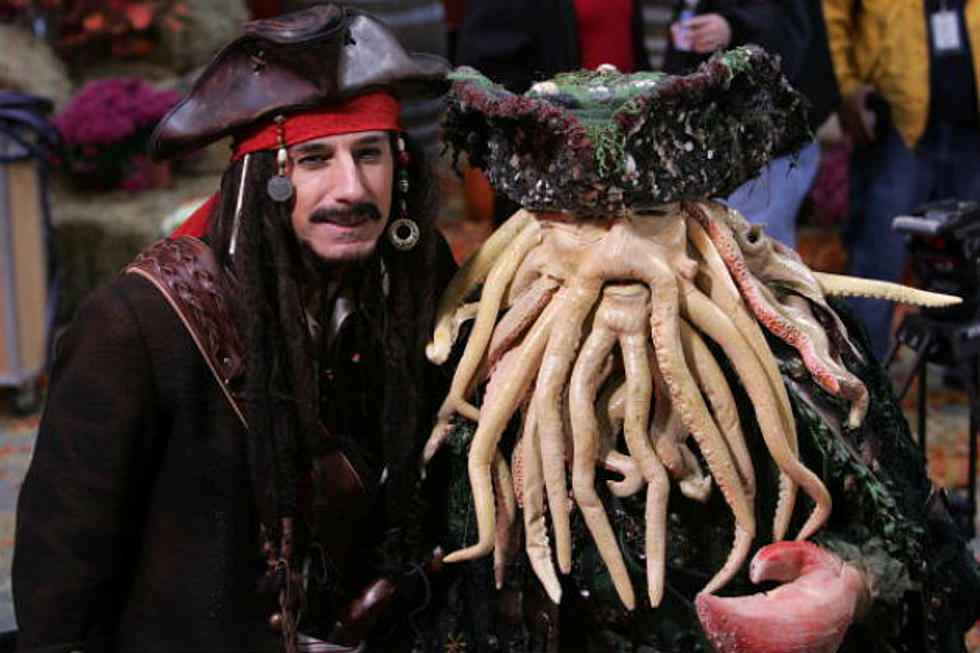 The BEST Halloween Costumes; NH Comedian Juston McKinney's Laugh Out Loud Attack Ad [Video]
Getty Images Peter Kramer
Day 3 of 'Halloween Week' with The Morning Waking Crew found us chatting about the best costumes you've ever worn, made or seen. After hearing our listeners describe some of the outfits, I've come to the conclusion some people are waaaay too crafty!
I do look forward to the 'Today' show every Halloween to see what the hosts dress up as. Some of the costumes are amazing.(above Matt Lauer and Al Rocker = Pirates of the Caribbean) Granted, the 'Today' show has help from the costume department of Saturday Night Live, but I want to find the people who have the creativity to make these costumes. Considering I literally cannot draw a stick figure correctly, it amazes me how skilled people are in arts and crafts.
Check out our Facebook pages (Yes, I said 'pages - Morning Waking Crew and WOKQ) and see for yourself some of the costume ideas that listeners told us about.
NH Comedian Has His Own Take On Attack Ads
You've heard him on The Morning Waking Crew many times, you've probably seen him perform locally or even seen him on televison. Juston McKinney has his own take on political attack ads. Watch for yourself and try not to laugh!
Morning fog gives way to some sunshine followed by clouds and afternoon showers, high 68...cloudy in the North Country with the chance of morning showers and 63.
Top News Stories
Searching for answers
NASA and officials from a commercial rocket company are searching for debris and answers following the explosion of the rocket set to deliver supplies to astronauts aboard the International Space Station. The director of NASA's Wallops Flight Facility in Virginia says crews plan to hit the ground today to search for pieces of the rocket and the cargo ship that was carrying 5,000 pounds of experiments and equipment for NASA for the International Space Station.
Man wearing dress during bank robbery, caught
A man wearing a zebra print dress and accused of robbing a bank in Rochester has been arrested. Bart Augustus was charged Tuesday with a felony count of robbery.He already was being held in jail on a probation violation charge. Police say Augustus robbed the Bank of New Hampshire's Rochester branch last Thursday.
Brunswick woman gets 20 months for embezzling
A Brunswick, Maine woman who embezzled more than $365,000 from a Wiscasset nonprofit where she worked has been sentenced to 20 months in prison.Federal prosecutors say 41-year-old Stacey Backman was also ordered Tuesday to pay restitution to Coastal Enterprises Inc., where she worked as an accountant.
Stupid News
Joke du Jour
"You know at this time of year, I wonder...what do ghosts have to eat?
"Shrouded Wheat"
"Ghost Toasties"
"Scream of Wheat"
"Terri-fried Eggs"
"Rice Creepies"
Coming Up Thursday
We also have another pair of FREE passes to Cinemagic Movie Theatres! We continue "Halloween Week" with your thoughts on the 'Scariest Movie Ever!'