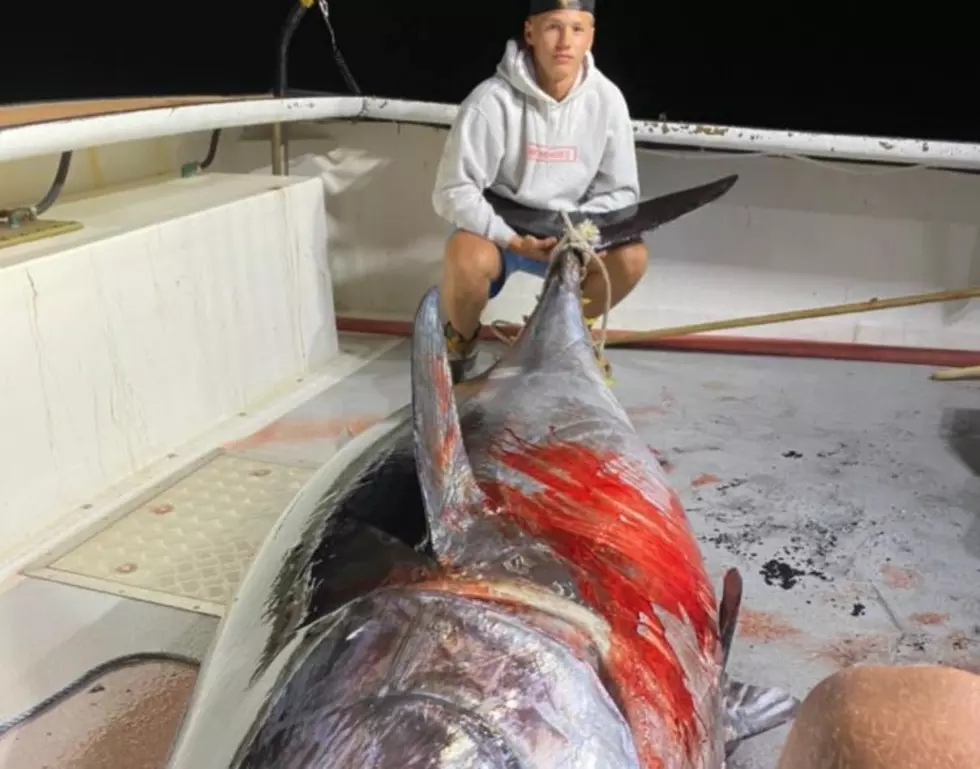 Two Teens from Fitchburg, MA, Reel in an 800 Pound Tuna
Jake Hewitt via Facebook
https://www.facebook.com/photo?fbid=2691278631113923&set=a.1469101843331614
This is the second story I've heard this summer about a group of young lads reeling in a gigantic fish.
I don't know much about how much fish sells for but it sounded like a decent chunk of change to me!
Judging by the comments on the post, people thought that was incredibly low and the teens were JIPPED. Ugh, you hate to see that.
More recently, according to thebharatexpressnews.com, two 19-year-old's from Fitchburg named Max and Jake set off on Max's boat for some night fishing off the coast of Portland, Maine. Jake hooked a tuna sometime around midnight and for about two hours it was a battle of epic proportions. He fought to bring the fish to the surface while Jake manned the boat.
The article goes on to explain that they finally reeled it in and harpooned it when it got to the surface. SAVAGE! There was no way the two teens could pull the fish onto the boat themselves so they had to call their buddies for backup. It ended up taking four of them to pull the fish aboard, the article stated.
The fish was measured at 112 inches long with the head, and 607 pounds without the head, tail and guts, according to thebharatexpressnews.com. No word on the total sale price!
Max said he just started tuna fishing this year and this was by far the biggest fish he has caught so far. (um, DUH!) He said it get's the blood PUMPING! Jake agreed and said "It's always nice to catch something big, and it's always a surprise because you never know what's on the other end of your line," according to the article.
Congrats on the catch boys! Next stop.....Wicked Tuna!
See Inside: Aaron Lewis' Luxurious $3.5 Million Rural Castle