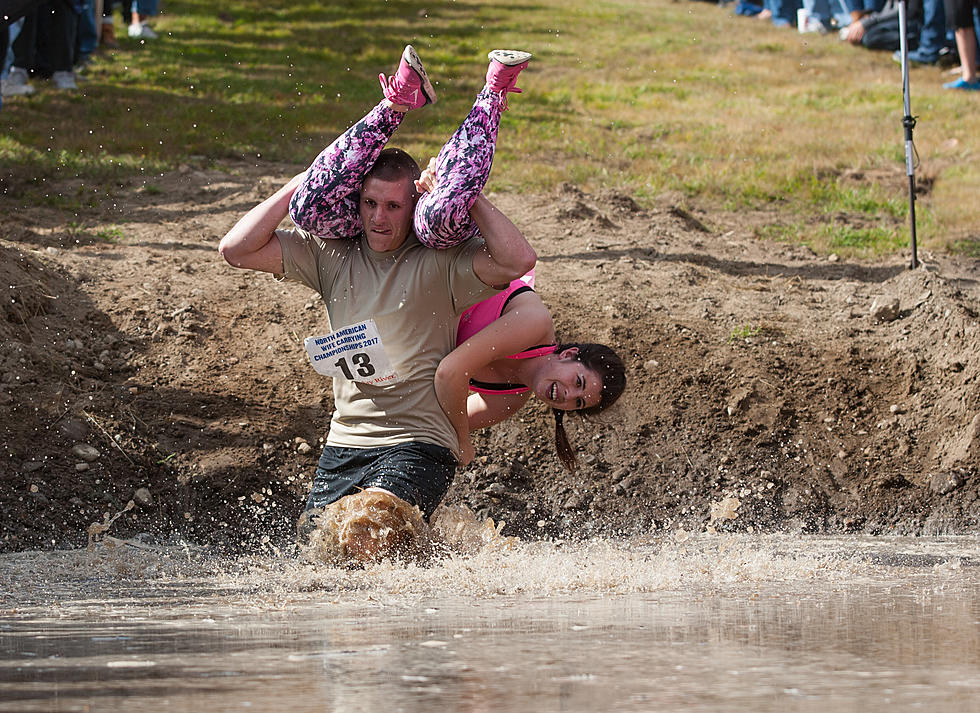 You Can Win Beer And Cash In Wife Carrying Competition In Maine
credit: Sunday River Resort
Okay, this sound like a lot of fun!
The annual Wife Carrying Championship is returning to Western Maine.  I had never heard of this before, but since it's in its 21st year, it seems like everyone else has!
According to Sunday River Resort in Newry, Maine, the tradition was started there in 1999 and takes place on October 9th.
So, what do you have to do? Well, there's an actual 278 yard obstacle course where one member of the team carries the other. You have to make it through the sand hill, the widow-maker water hazard and even a log hurdle.
All the couples are timed and the fastest one wins the grand prize!  You get your wife's weight in beer, plus five times her weight in cash.  (This is probably the only time I wouldn't lie about my weight, so I'd get more cash!).
Plus, the grand prize winner gets entry into the World Wife Carrying Championship in Finland next summer!
There have been some adjustments made this year due to the pandemic.  Spectators will be limited and will be required to wear masks. According to the press release, couples will also now race against a clock, instead of against each other, as has been done in years past.
Sunday River Resort even has a video showing you proper technques!
According to Sunday River Resort, "The legend behind the North American Wife Carrying Championship is based on 19th century Finnish legend "Ronkainen the Robber" who had high qualifications for the men he accepted into his band. To prove their worth, men had to compete through a difficult course with a heavy sack (or woman grabbed from neighboring villages) on their back."
So, if you're feeling adventurous (and strong!), you can sign up here!
LOOK INSIDE: Kid Rock Is Selling His Grand $2.2 Million Detroit Mansion