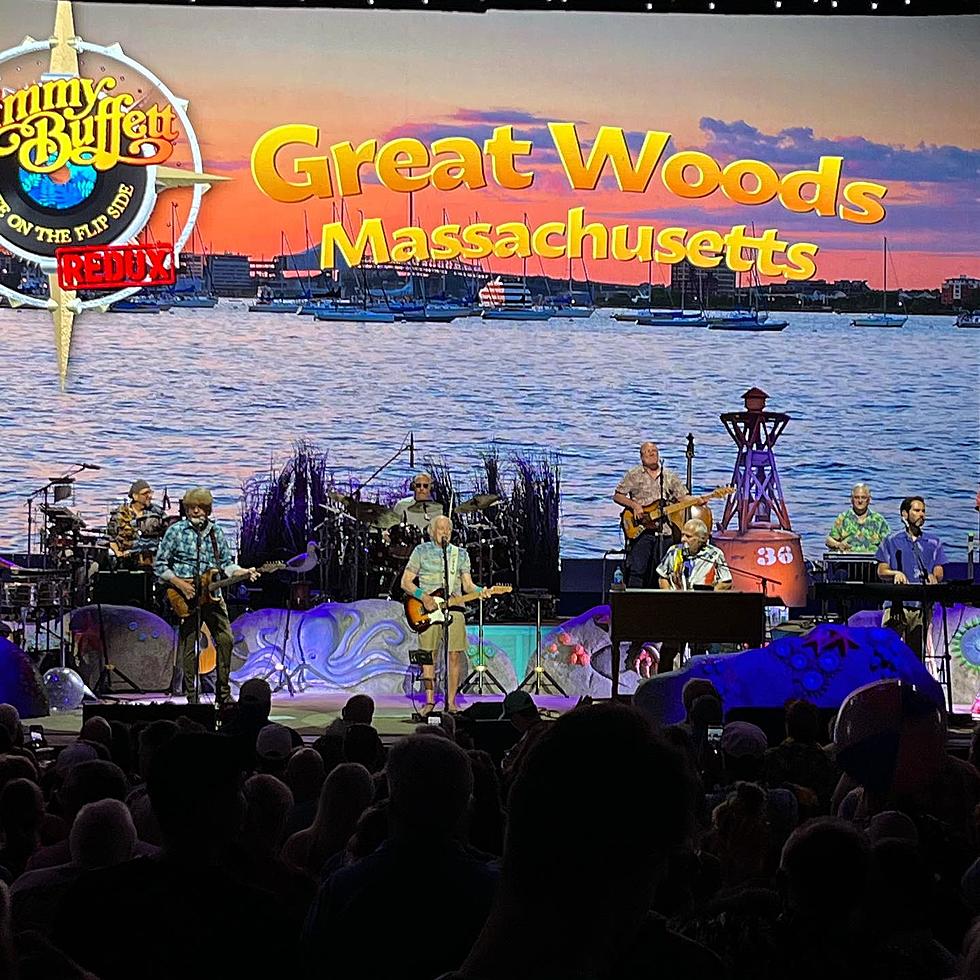 A Funny Thing Happened at Jimmy Buffett's Final Show in Mansfield, Massachusetts
Photo Credit: Jon Rineman
If you grew up in New England in the '80s or '90s, the terms "Jimmy Buffett" and "Great Woods" were almost synonymous. Even though it's now the Xfinity Center, locals of a certain age still say "Great Woods", as did Buffett himself.
I doubt the venue cared, as Parrotheads flocked to Mansfield, Massachusetts, en masse for any and all Jimmy Buffett concerts. For my family, it became a tradition – but not until my sister and I were "old enough."
You truly never knew what you were going to see at a Jimmy Buffett concert, while literally anything went if you walked through the parking lot during the tailgate. So, you'll excuse me for hesitating when I had a chance to buy a pair of tickets for my then-five-year-old daughter and I last summer.
From go, she has loved Jimmy Buffett. "Volcano." "Cheeseburger in Paradise." Even his version of "Jingle Bells" once played over 20 times on repeat per the demand of my backseat captain.
But her favorite song, without question, is "Fins." And when I paid a visit over to Setlist.fm, I noticed that song was being performed second during the 2022 tour. I figured, let's try it. If things got out of hand, we'd say we heard "Fins" and split.
When we arrived, though, I noticed that the Parrotheads looked…different. On each side, there were parents sitting with their kids just like we were. So, it suddenly made sense that the big hit about sharks was so early.
In an ironic twist, I didn't get to do "Fins Up!" at my final Jimmy Buffett concert. I was one of many who were holding up their kids so they could to it themselves.
In a bittersweet twist, we attended Jimmy Buffett's final show at Great Woods.
That fall, my daughter began kindergarten. During her first parent-teacher conference, we were informed that she was well ahead of her peers in remembering right from left. And she was eager to share with them the trick that helps her keep track.
So, there's a group of kids down in Massachusetts who honed their own metaphorical compasses thanks to one simple exercise: "Fins to the left, Fins to the right."
See Inside Jimmy Buffett's Staggering $6.9 Million Palm Beach Mansion
Jimmy Buffett
sure knew how to live the good life. His former 3-bedroom, 3.5-bathroom, 4,039-square-foot mansion in the exclusive Eden Properties neighborhood in Palm Beach is exactly the kind of laid-back home you'd expect the superstar to relax in when he was off the road.
The interior centers around a combined dining and living room with eye-popping vaulted ceilings topped off by skylights, while a massive wall of mahogany-framed sliding glass doors looks out over the pool area outside. The kitchen is decorated in gleaming white, and each of the bedrooms has its own attached bathroom, while the massive master suite also has sliding glass doors that open to both the pool and a bathroom that looks like it belongs in a high-end resort.
The exterior of the house is just as striking, centered around a sparkling pool of deep cobalt blue. The pool area features plenty of lounging, and a loggia just outside the living room offers open-air dining. There are lush gardens, brick paths that walk through elaborate pergolas and a fountain. The property also features a two-car garage with a guest suite overhead, and it offers deeded access to the beach nearby.
21 Bands That Played Foxboro's Sullivan Stadium in the 70s & 80s
Long before Gillette - and before it was known as "Foxboro Stadium" - Sullivan Stadium hosted many legendary concerts. With some help from Setlist.fm, here are some iconic acts that played in Foxboro long before Tom Brady.