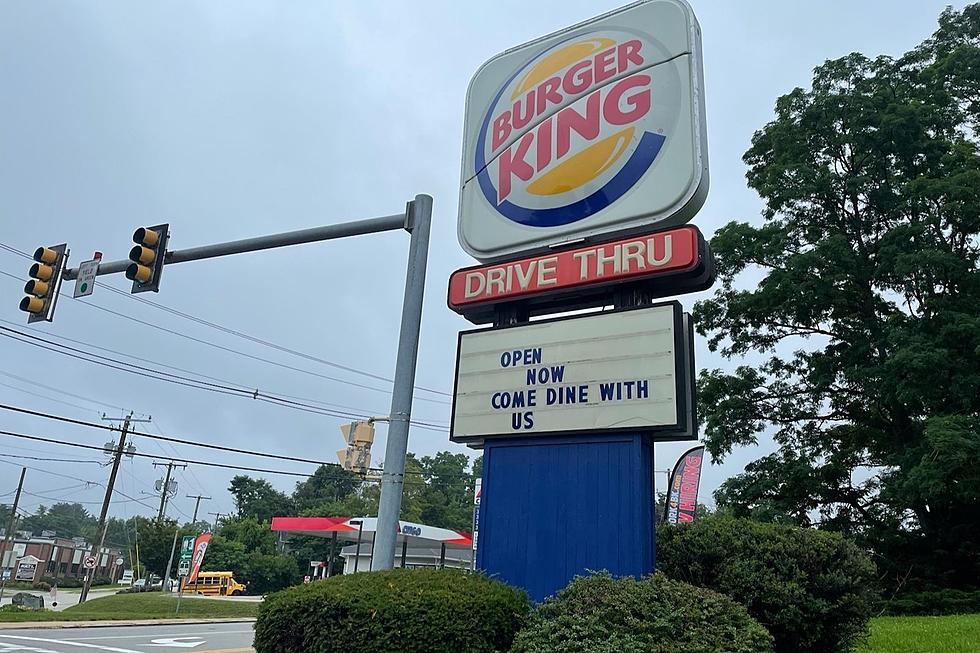 Burger King Lives: Dover, NH Location Reopens
Sign at the reopened Burger King in Dover (Kimberley Haas)
Burger King fans are rejoicing at the recent reopening of the location on Central Avenue in Dover.
The restaurant had been closed since 2018 and the subject of legal struggles since the ceiling over the grill area caved in and was shut down.  But those who missed having a Whopper close by were happy to see the sign out front announce they were hiring.
The (un)official City of Dover Facebook page was full of comments good and bad about the reopening
"Finally, the gut wrenching Onion Rings are back, best tasting rings around for a fast food place... dipping sauce recommended! Had our share of meals there when living on that side of Dover," Chuck Davieau wrote.
Some remembered it being a hangout for those who rode the C+J bus and it being close enough get there on a bike.  Others wondered how many pulled off the Spaulding Turnpike looking for a meal when the sign was still up but the restaurant closed.
"I know many disappointed people who took the exit in hopes of a burger," Carrie Giers Swienton wrote.
Others had a side of snark about the reopening especially the smell of cooking burgers that comes with many Burger Kings and the water fall inside
"Oh good I really was missing driving through greasy hamburger stink on my way to work every day especially about the indoor water fall," Ash Willow wrote.
Tom Westermayer remembered a smell that came with the water.
"It was the one thing I was excited about when I knew we'd be stopping there for lunch as a kid," Heather Ferris wrote.
Billy Jay summed it up with his comment on the page.
"Odds are that some people In this group will dine at BK. You will, have it your way."
Contact reporter Dan Alexander at Dan.Alexander@townsquaremedia.com or via Twitter @DanAlexanderNJ
50 Most Popular Chain Restaurants in America
YouGov investigated the most popular dining brands in the country, and Stacker compiled the list to give readers context on the findings. Read on to look through America's vast and divergent variety of restaurants—maybe you'll even find a favorite or two.