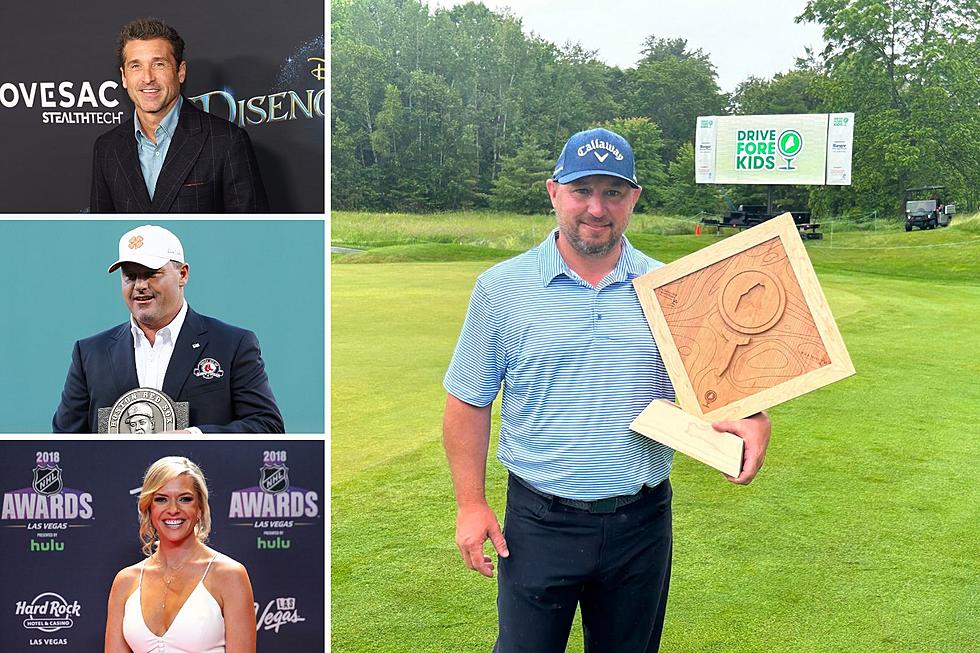 Celebrity Field Taking Shape for 2nd Annual Maine Benefit Tourney
Getty Images, Drive Fore Kids, Sean Rash Fan Club via Facebook
Following a very successful first year, celebrities from the entertainment, music, and sports worlds will once again hit the links in Maine for what should be another amazing benefit tournament.
After two successful years of hosting the PGA Korn Ferry Tour, Shamrock Sports & Entertainment seamlessly shifted to a celebrity golf tournament for 2023. The event was once again hosted by the Falmouth Country Club, just a short drive from Portland.
The celebrity field that played in the 1st annual tournament was highly impressive. Patrick Dempsey, Roger Clemens, Michael Pena, Kathryn Tappen, Mike Eruzione, and Marshall Faulk were just some of the big names that teed off for golf supremacy and to benefit the Barbara Bush Children's Hospital.
The total prize purse for the celebrities was $250,00, with the winner bringing home $50,000. That's not a bad chunk of coin for a weekend of work. Plus, is golf really work? It would be PBA pro bowler Ronnie Russell, who took home the honors of winning the tournament. The six-time PBA winner can now claim a golf championship as well.
But we all know what this tournament was truly about, and that's giving back. Kudos to all the players, sponsors, and folks behind the scenes for putting together such a beautiful event for the Barabra Bush Children's Hospital.
The initial goal for Shamrock was to raise $100,000 for the Barbera Bush Children's Hospital. That is quite a hefty goal for any fundraising event, especially when it's the 1st annual.
However, never underestimate the generosity of Mainers. The tournament ended getting to that goal, and then some. According to Shamrock, Drive FORE Kids raised a total of $110,000. That is a stunning total that everyone should be extremely proud of.
It was an epic first year for everyone involved in Drive FORE Kids. Over 11,000 fans were in attendance over the weekend. And remember, this is just the start. Are we ready for Round 2?
Well, Shamrock and plenty of celebrities are, because the dates have officially been announced for the 2024 tournament.
The 2nd Annual Drive Fore Kids is schedule for June 20-23, 2024. It will be back at Falmouth Country Club, and many celebrities have already announced they plan to return. Here is a list of the celebs that have confirmed so far.
Rhonde Barbrer
Roger Clemens
Vinny Del Negro
Patrick Dempsey
Mike Eurzione 
Doug Flutie
Robbie Gould
Michael Goulian
Noelle Lambert
Derek Lowe
Kevin Millar
Mike Modano
Blair O'Neal
TJ Oshie
Michael Pena
Chad Pfiefer
Tuukka Rask
Jeremy Roenick
Ronnie Russell
Sterling Sharpe
Jack Sock
Jeremy Swayman
Kathryn Tappen
Taylor Twellman
Tim Wakefield
This is just the start. Shamrock is expecting a field of 48 celebrities. The impact will only continue to grow.
Tickets for the 2024 edition are already on sale. You can visit the tournament's website for all the details.
Complete List of Celebrities That Played in The 2023 Maine "Drive Fore Kids" Golf Tournament
Here is a closer look at the celebrities who will be teeing it up at Falmouth Country Club June 21-24 for the "
Drive Fore Kids
" Charitable Tournament.
It's an International Experience at this Northern Maine-Western Canada Golf Course
Right on the border of Northern Maine and Southwestern New Brunswick, Canada lies a unique plot of land.
The
Aroostook Valley Country Club
is an 18-hole golf course that calls two countries its home. The course and the clubhouse sit in Canada, while the parking lot, pro shop, and entrance lie in Maine.
It's truly an international round of golf at AVCC.