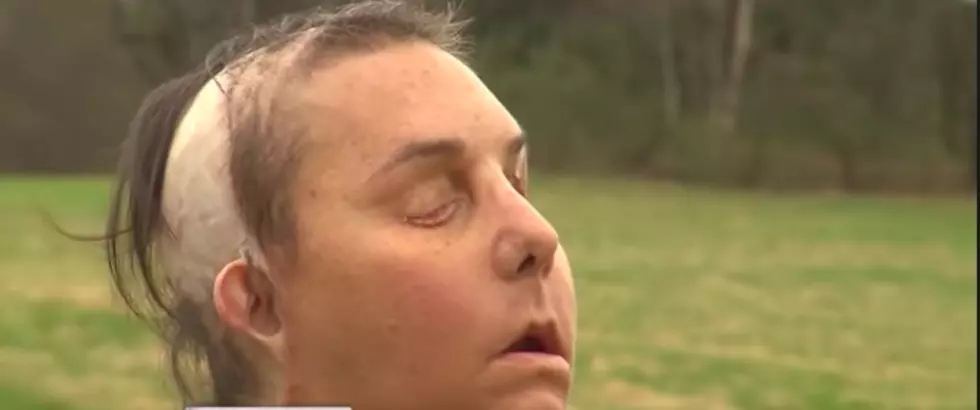 Despite all Odds, New Hampshire Woman Gets Second Face Transplant
Screen shot CNN Youtube
Our country is going through rough times.  I see that people are up in arms over wearing a mask.  I saw this following story and thought it was so inspiring.
There is a lot to complain about in 2020. I would love people that get angry about wearing a face mask to go shopping, read this story and then ask if they think it is such a big inconvenience.
Burlingtonfreepress.com reports on the story of Carmen Tarleton.  If anyone has a reason for feeling despondent, it's Carmen but instead, she is full of hope.
Carmen was attacked by her ex-husband in 2007 when she was beaten with a baseball bat by her then estranged husband who then dumped industrial-strength lye on Carmen, which burned more than 80% of her body, according to Burlingtonfreepress.com.
The attack left her fighting for her life and permanently disfigured.  But Carmen is a fighter.  She received a face transplant in 2013,according to Burlingtonfreepress.com, and even though it was not an exact match, the surgery went very well.
Unfortunately, the transplant began to fail.  COVID was a barrier when a second match was found as it put a hold on elective surgeries, according to Burlingtonfreepress.com.
On July 1, Tarleton got her second face transplant surgery.
"The pain is gone.  It's a new chapter in my life.  I've been waiting for almost a year.  I'm really happy. It's what I needed.  I got a great match," Carmen tells The Associated Press according to burlingtonfreepress.com.
At any point in her journey, most would understand Carmen giving up but instead she has thrived.  She began playing the piano and started giving inspirational speeches after her first transplant.
She is now planning on resuming those speeches once she heals a bit more, even if they are over Zoom and can't be in person due to the pandemic.
I aspire to have the strength of Carmen in facing adversity.  It makes any problems I have pale in comparison.  Carmen Tarleton should be an inspiration to us all.
MORE INFO: 7 easy ways to stop touching your face