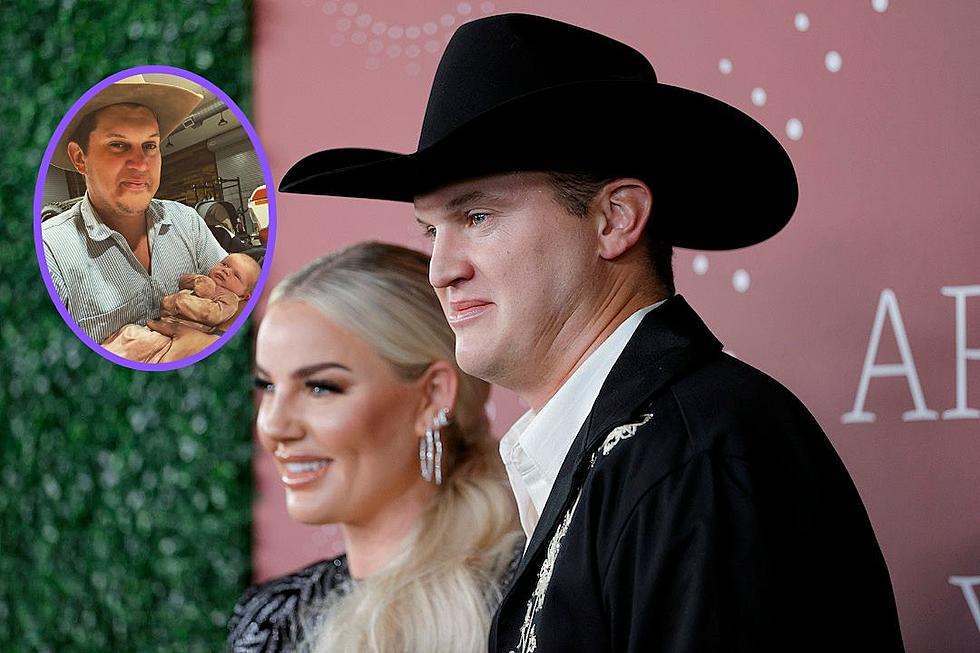 Jon Pardi's Newborn Daughter Is 'Thriving' Despite Three Days of No Power [Photo]
Jason Kempin, Getty Images/Instagram
Raising a newborn is tough enough, but for the past few days, Jon Pardi and his wife Summer have been parenting their two-week-old daughter Presley in a house with no power. After high winds and storms on Friday night (March 3) led to downed trees, damages and two fatalities in Middle Tennessee, the Pardis were among 165,000 people who lost power that evening -- and their electricity had yet to be restored as of Sunday morning (March 5.)
But the country star and his newborn daughter are making the best of the situation. On Saturday night (March 4), Pardi shared a snapshot of himself cradling baby Presley in the shop on the family's property, enjoying some light from a generator.
"In the shop with no power still from the bad wind storm, but the Hobart welder generator giving us power!!" Pardi wrote in the caption of his post. "Listen[ing] to music with little miss Presley."
In the photo, Presley is rocking a brown sleep gown with built-in mittens, while Pardi dons his signature cowboy hat, a striped shirt and a smile.
Over on her social media, Pardi's wife also assured fans that all the members of her family are keeping their spirits up -- baby Presley most of all. "And today...our power has been out for 30+ hours (yes we have a generator but don't have it scheduled to be installed till[sic] next week, horrible timing," she wrote earlier in the weekend, presumably before Pardi snapped his own photo by the light of a generator. "But this little girl is thriving still."
In that shot, baby Presley is cozily swaddled up in a custom blanket with her name on it, cradled in her mom's arms. In another Instagram story slide, Summer reveals that the whole family camped out in the shop overnight in order to keep warm.
"Day 3 no power," she logged. "Slept in the shop next to the iron stove. Presley is still thriving lol. I might start pulling my hair out tho."
In order to keep busy while the family waits for their power to be restored, Summer also shared some throwback photos and videos of Presley's first two weeks on her Instagram stories, and documented a sunny walk she and her newborn daughter took during the day.
Presley was born on Feb. 18, 2023. Pardi shared the exciting news with his fans, posting a black and white shot of the newborn swaddled in her hospital bassinet and writing "Our Baby girl is here and ready to Pardi haha DAD joke!"
Meet the Country Babies Born in 2022
Many of country music's biggest stars have welcomed new bundles of joy in 2022. Find out which artists have expanded their family or are expecting babies this year.