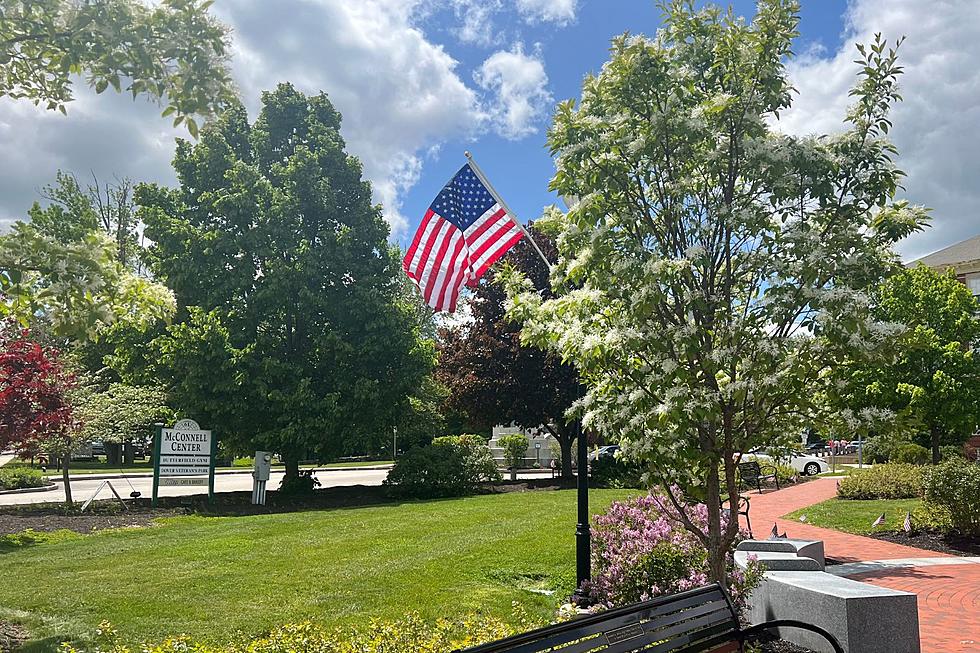 Memorial Day 2023 Ceremonies & Parades on New Hampshire, Maine, and Massachusetts Seacoast
Flag hung by the Greater Dover Chamber of Commerce and a group of volunteers (Greater Dover Chamber of Commerce)
Many Seacoast communities will take time to honor those who made the ultimate sacrifice for their country during the Memorial Day weekend with parades and ceremonies.
New Hampshire traditionally celebrates Memorial Day on the last Monday in May, regardless of when the federal holiday falls. Once again this year, both fall on the same day.
Here is a list of events scheduled for the Seacoast region.  Let us know about an event by sending an email to reporter Dan Alexander at Dan.Alexander@townsquaremedia.com
Monday: A wreath will be tossed into the Merrimack River at 7:30 a.m. From there, wreaths will be placed at the Veteran's plot in Union Cemetery, then to the Doughboy statue and Justin Memorial, then the Polish Memorial on Market Street.
A ceremony takes place at 10 a.m. inside Landry Stadium.
Monday: A Memorial Day ceremony will be held on Monday, May 29, 2023, beginning at 11 a.m. at Pine Hill Cemetery and hosted by Dover's Woodman Museum.
Monday: Remembrance ceremony on Main Street at 10 a.m.
Monday: Ceremony at Swasey Parkway at 10 a.m. and a parade from Swasey to Gale Park, where a second ceremony will be held.
Sunday:  Fireworks display at 9:30 p.m. on the beach between B and C Streets.
Monday: American Legion Post #35 hosts their ceremony at the Marine Memorial at 8 a.m.  The parade steps off at 11:30 a.m. followed by a ceremony at the High Street Cemetery.
Monday: American Legion Post #35 hosts their ceremony at Weare Common at 9 a.m..
Saturday: Kittery/Eliot VFW Post 9394 hosts a ceremony at the Orchard Grove Cemetery beginning at 9:30 a.m..
Monday: The City of Portsmouth and American Legion Post #168 host a Memorial Day Ceremony at the Plains Field. The ceremony will recognize that Operation Iraqi Freedom was launched 20 years ago with keynote speaker City Councilor Kate Cook, who worked in the US State Department with Secretary of State Colin Powell at the time.
Monday: The Stratham Volunteer Fire Department hosts a memorial service at the fire station flag pole. 
Parade starts at 1:30 p.m. on Jack Rabbit Lane, followed by a ceremony at the Veterans Memorial Garden at Stratham Hill Park at 1:45 p.m..
Monday: Parade begins at 9 a.m., followed by a ceremony at Ocean View Cemetery.
Contact reporter Dan Alexander at Dan.Alexander@townsquaremedia.com or via Twitter @DanAlexanderNH
Experience Stellar Customer Service at These 18 New Hampshire Restaurants