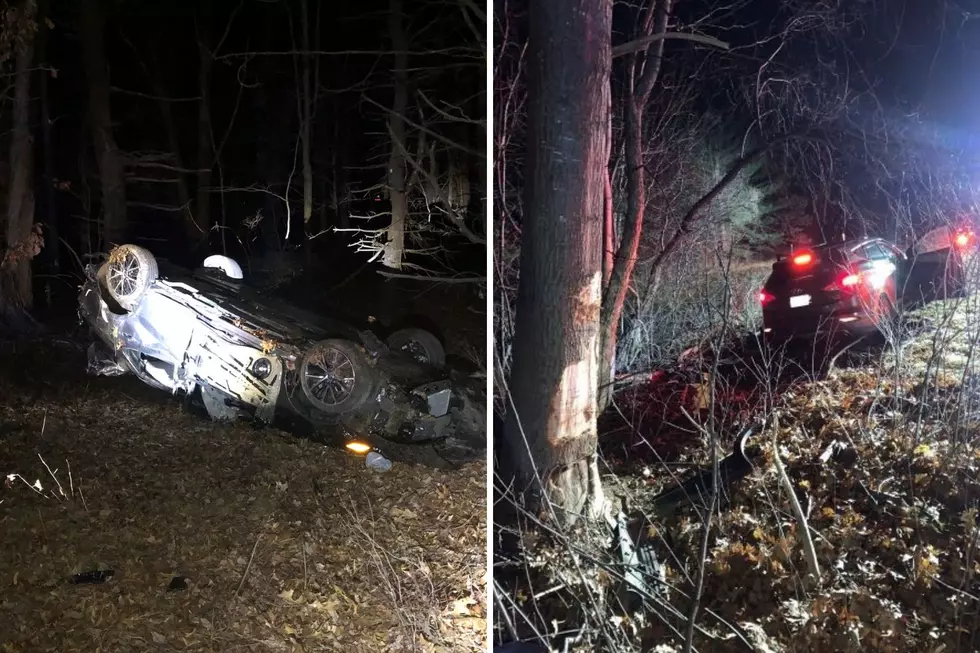 One Man Killed, Another Seriously Injured in I-293 Crashes
Overturned vehicle off I-293 in Manchester, fatal crash on near I-93 on-ramp in Hooksett (NH State Police)
Speed contributed to a tragic night on two New Hampshire highways with one person killed on Interstate 293 and another seriously injured when their vehicle flipped over near a ramp onto Interstate 93.
New Hampshire State Police said a 2013 Hyundai Santa Fe slammed into a tree around 1:10 a.m. Sunday morning along the southbound on ramp at Exit 9 (Route 3 & Route 28) in Hooksett. The driver, Kenneth J. Hallam Jr.,45, of Manchester, was pronounced dead at the scene.
The crash remains under investigation, but speed appears to be a factor, according to State Police.
Several hours earlier, a gray Toyota Camry rolled onto its roof on the ramp from I-293 south to I-93 north in Manchester. The driver, Shane A. Lugo, 18, of Manchester, suffered non-life threatening but serious injuries in the crash, and was taken to a hospital.
Excessive speed appears to be a factor in the crash, according to State Police.
Police asked anyone with information about the crashes to call them at 603-223-4381.
Contact reporter Dan Alexander at Dan.Alexander@townsquaremedia.com or via Twitter @DanAlexanderNH
Northern New England's Best Holiday Light Displays for 2022
Here are just some of the best holiday light displays you can find in Maine for 2022.