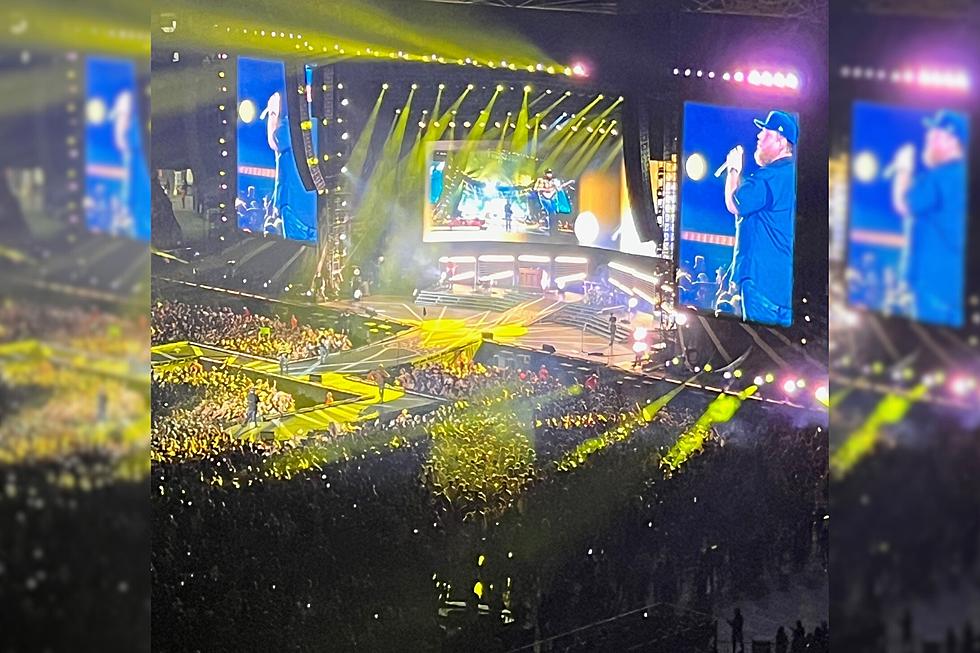 Luke Combs Takes to Heart the Disappointment of His Friday Fans in Massachusetts
Ginny Rogers
Last Friday night at Gillette, the stadium was packed with excited fans ready to see their favorite artist, and one of the hottest artists in any format.
Luke Combs was playing Gillette Stadium in his second added show, which sold out as quickly as the Saturday night show did.  In announcing a second show so late, Luke's team had to add a completely different lineup, because the Saturday openers all had other gigs booked for Friday night.
That's ok, it was still a fantastic night with the Avett Brothers, Gary Allan, and David Lee Murphy, but Mother Nature had other plans.
It's rained during concerts and sporting events at Gillette Stadium before. It's happened to Taylor Swift twice.  Kenny Chesney had to cancel one of his shows due to a hurricane, which rarely happens in New England.
However, the Friday night Luke Combs show was different.  It wasn't just rain, it was a full-on thunder and lightning storm, and the Fire Marshall said "no way" to that.  It wasn't Luke's call, but he had to abide by it and cut his show short.
It's what he said on Saturday night before his show that really touched my heart.
In the radio room, where radio people from the area get to say hi to all the artists before they take the stage, Luke came in to say hello.  We asked him about the Friday show, and his face became concerned and full of sincerity.  He said he was so upset about the backlash from the shortened set due to the storm delay on Friday night. It wasn't his call.
He did get 15 songs in on Friday night after a long storm delay, but on Saturday night, he played his full 25 song set .
One thing Luke told us in the radio room is how he wasn't allowed to continue the show due to the thunder, lightning, and heavy rain.  He also recalled how he was told in his earpiece he had two more songs, and that was it.  They were shutting him down.  So, he went immediately to his encore set to finish. He was as disappointed as the fans were.
He then said he wished he had time to think about that, because he would have, should have, played "When It Rains It Pours".  His face said it all, though, as he sported a Patriots cap.  He was genuinely sad to have to end his show early, but said he was coming back whenever they ask him again. Gillette Stadium, are you reading this?
10 Can't Miss Items From Eric Church's Country Music Hall of Fame Exhibit
The new
Eric Church
exhibit at the Country Music Hall of Fame is a treasure chest for his longtime fans.
20 Best Bars and Restaurants to Grab a Drink Before a Game or Concert at Gillette Stadium
See the 20 best places to grab a drink and a bite to eat before a game or concert at Gillette Stadium.