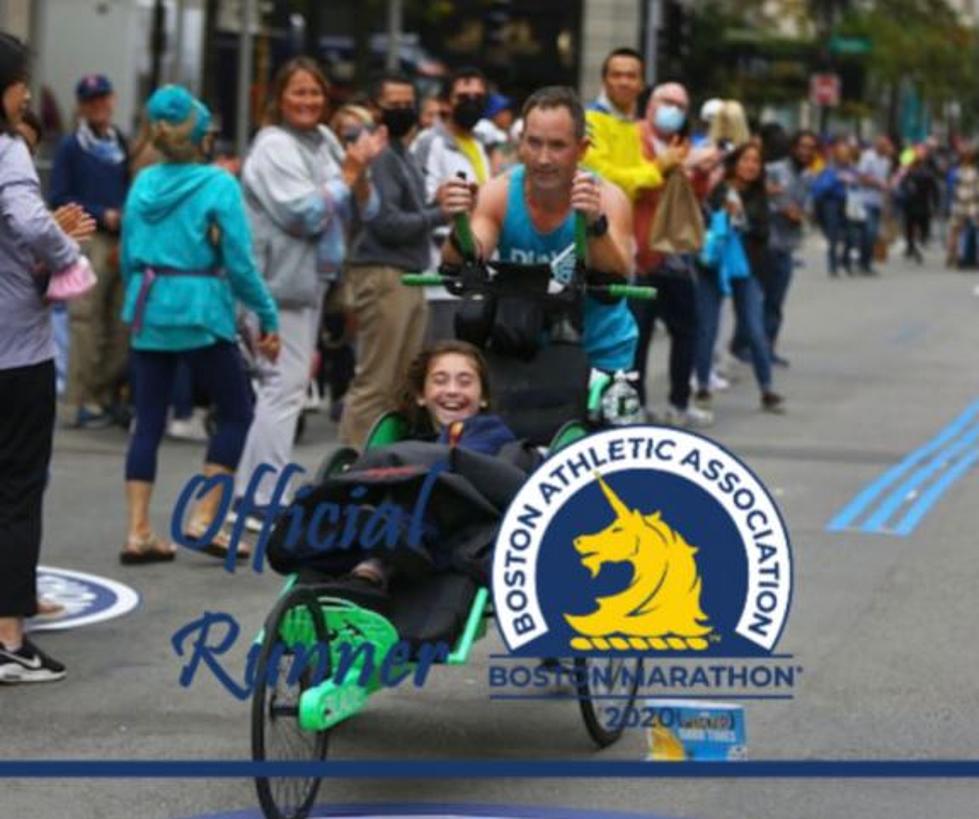 Massachusetts Dad Pushes Daughter in Wheelchair and Completes Boston Marathon
Greg Mac Curtain via Facebook
How far would you go for your child? For Greg MacCurtain that answer is pretty dang far. Like 26.2 miles.
According to People, Greg lives in Plymouth, Massachusetts with his daughter Abby. If you live in the area, chances are you have spotted this dynamic duo at some point training for one of their various races.  Abby was born with a very rare genetic disease and she is wheelchair bound. Her dad pushes her in a running wheel chair and they have completed everything from 5Ks, 10Ks, half marathons and full marathons!
Most recently the two were training for the Boston Marathon and guess what? They completed it! And they raised $10,000 to support the fight against the disease Abby is suffering from called "Leigh's Disease".
If you think running a marathon is hard, running while pushing a wheelchair is an added challenge! Greg (44) said that when you are running a race of that length it always has it's ups and downs but Abby helps get him through the downs! As you can see in the photo above, she is all smiles and radiates positive energy which inspires her dad to keep going.
Greg and Abby had to press pause briefly from running to snap a photo in front of "Hope" street on the Boston marathon course. Hope is big in the MacCurtain family. They continue to hold on to hope that one day there will be cure for Leigh's disease. In the meantime they hope to inspire other kids living with this disease and encourage them to live life to the fullest.
30 famous people you might not know were college athletes
Stacker
dug deep to find 30 celebrities who were previously college athletes. There are musicians, politicians, actors, writers, and reality TV stars. For some, an athletic career was a real, promising possibility that ultimately faded away due to injury or an alternate calling. Others scrapped their way onto a team and simply played for fun and the love of the sport. Read on to find out if your favorite actor, singer, or politician once sported a university jersey.
The Best Country Singer From Every State
Some states, like Oklahoma and Texas, are loaded with famous country singers. Others, like Nevada and Maine, are still looking for a real breakthrough artist. See the best and most successful country music artist from all 50 states, starting with
Hank Williams
and Alabama.