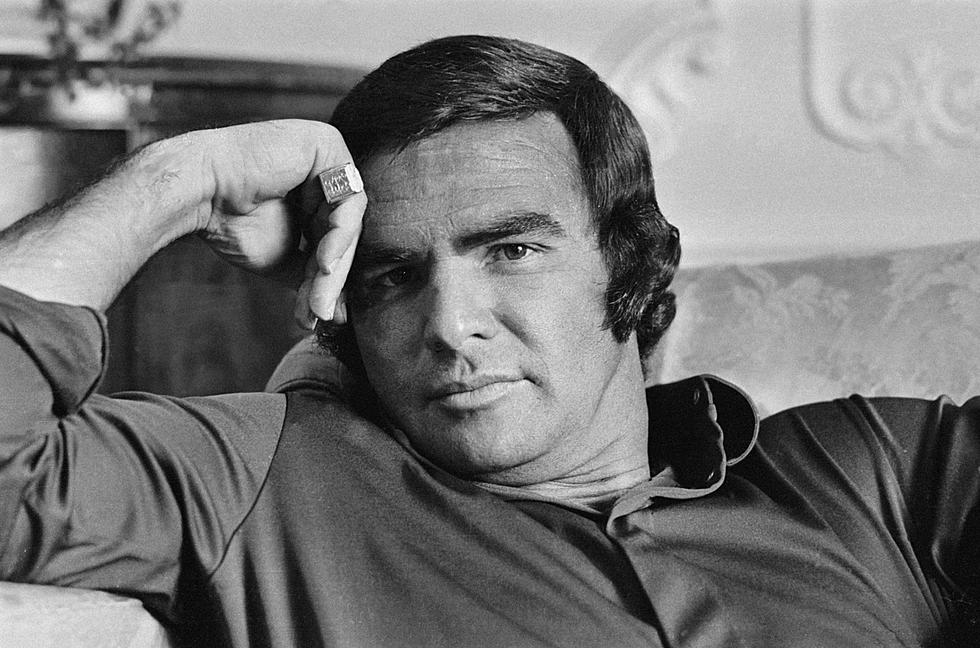 My Top 5 Favorite Burt Reynolds Movies
Terry Disney/Getty Images
All of those guys are cool. I love their movies. But to me...Burt Reynolds was THE MAN! He always looked like he was having a blast no matter what kind of movie he was in. Burt was even quoted as saying, he was never interested in growing as an actor. He just wanted to have fun making movies. And he made a bunch of great ones...along with a few flops.
I spent part of this weekend watching a few of my favorite. As I watched, I realized it's hard picking out my favorites. I tried to narrow it down to three...but couldn't do it. So here's a list of my top 5 favorite Burt Reynolds movies.
Number 5: Deliverance. I grew up in West Virginia. Although the movie is set in Georgia...this isn't too far off the mark of what Southern West Virginia is like. If you've never seen the movie, it sports an all-star cast. Burt Reynolds, Jon Voight, Ned Beatty, and Ronny Cox play four friends from the city who decide to get away from it all for a week of canoeing in rural Georgia. When they arrive, they're not exactly welcomed by the backwoods locals. Their relaxing vacation quickly turns into a fight for their lives.
This was Burt's first big movie. You can see why from this clip.
Number 4: The Longest Yard. Long before Adam Sandler decided he would re-make this classic about a bunch of convicts playing football against their prison guards, Burt Reynolds played disgraced professional quarterback, Paul Crewe in my fourth favorite movie.
In this one, Burt combined his fun loving side with his love of football. You may not known this...but Burt went to Florida State University on a football scholarship, and played halfback.
Number 3: The Cannonball Run. I loved this one for a few reasons. Burt assembled an amazing cast of big stars and iconic personalities. Farrah Fawcett, Dom DeDeluise, Roger Moore, Dean Martin, Sammy Davis Jr, Jackie Chan...and a long list of others joined in the fun. Besides that, I remember going to the theater to see this movie with my mom and dad. Something that was a bit rare in my family. Afterward we couldn't stop talking about our favorite parts.
Number 2: Hooper. This was pretty close to being my favorite Burt Reynolds movie. I've watched this one over and over again. Burt plays aging Hollywood stuntman Sonny Hooper. He wants to pull off one last stunt before fading in to the sunset to make room for the young up can comer play by Jan Michael Vincent.
This one came out after Smokey and the Bandit. Rotten Tomatoes says, "Hooper is lightweight, mindless fun that doesn't have much story, but is a stronger film than Smokey and the Bandit, largely because the characters are somewhat stronger. Everyone involved looks like they're having fun; the good-humor translates on screen."
I couldn't agree more. I love this movie.
Number 1: Smokey and the Bandit. OK...does this even require an explanation? Burt Reynolds, Sally Field, Jackie Gleason (who steals the entire movie, in my opinion) and country legend Jerry Reed star in THE BEST movie of 1977. I've lost count how many times I've watched this movie. One of my favorite memories is when I introduced my two sons to this classic. Full of one liners and hilarious scenes...this might be the epitome of Burt having a blast, and letting us all in on the joke. This movie is a pure joy. I can watch it over and over. It NEVER gets old.